Tennis championships: Rincon's Lee outlasts opponent
April 30, 2019 by Jose Garcia, AZPreps365
---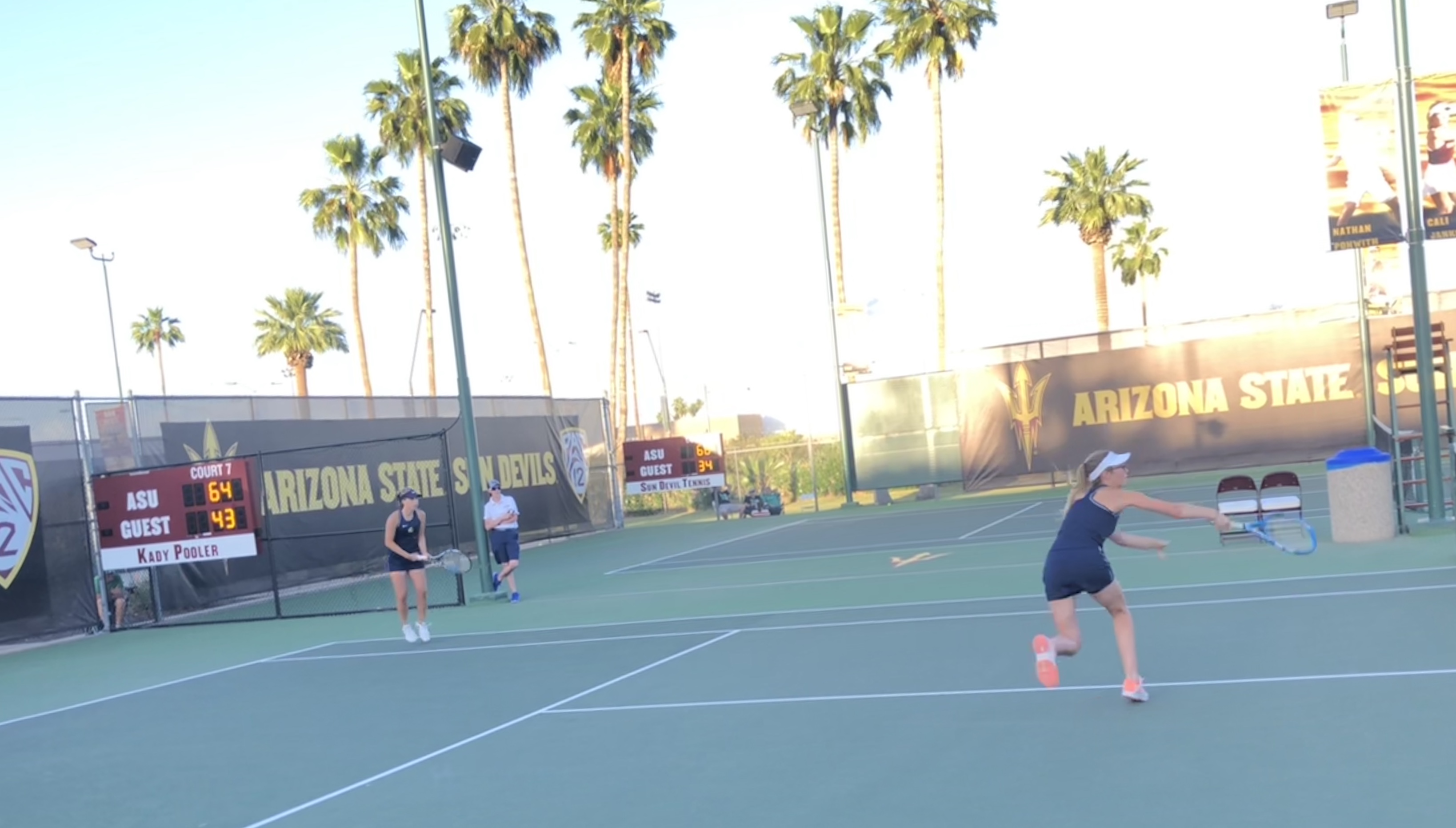 Rincon's Ethan Lee's customary cramp session came after the second set of his redemption state title tour.
A trainer and his father, who's a doctor, worked on his legs for a good 10-15 minutes. It worked.
A more crisp Lee moved the power hitting Luke Urlaub of Desert Vista from baseline to baseline, picking his spots to come up with third set winners. Lee didn't drop a game in the final set en route to a 6-7 (7-2), 6-3, 6-4 Division I singles tennis championship victory at Arizona State's Whiteman Tennis Center.
Lee wrapped up the match just in time Monday. The tournament's coordinators were concerned about approaching lightning and were huddling with coaches during the final points of the D-I singles match.
But Lee took care of business, ending the D-I-III singles and doubles portion of the the state tennis championships at about 10:15 p.m. The Rincon star atoned for last year's state singles championship loss as the sixth seed to No. 1 Daniel Dillon of Chaparral.
This year, Lee earned the No. 1 seed and only dropped one set in his four state tournament singles matches.
"I thought I played well," Lee said. "Props to (No. 2 seed) Luke. He was hitting all over the place. I just grinded and played my game."
(Ethan Lee)
Hamilton makes history
Neil Bhardwaja and Rahul Bhat delivered something to Hamilton that head coach Phil Gonzales hadn't experienced in his 21 seasons as head coach — a state tennis championship victory of any kind over Brophy.
After Gonzales' No. 1 doubles team was blanked 6-0 in the first set, it appeared that Gonzales might have to wait another year for his Brophy downing shot. But Bhardwaja and Bhat didn't tactically change anything, rebounding with a 0-6, 6-4, 6-4 Division I championship win over the No. 2 seed of Drew Postillion and Garrett Metzler.
"It was just getting over that mental block that it was Brophy," Gonzales said. "Nothing changed. They just had to regain their confidence."
(Neil Bhardwaja and Rahul Bhat)
Pusch Ridge's Harris, Reilly pull off another upset
Pusch Ridge's Collen Harris and Emma Reilly are good friends.
They grew up living about 10 minutes from each other. On Monday, they became champions.
They recorded their second upset in a row, defeating the No. 2 seed, Thatcher's Lacie Whitmer and Ashlyn McMaster, 6-4, 6-4 in the D-III state doubles championship match.
"We set each other up well, and we compliment each other well," Harris said. "Her ground strokes set me up for good volleys."
They didn't drop a match to a D-III doubles team this season but were seeded fourth in the state tournament.
In the state semifinals, Harris and Reilly upended the No. 1 seed, Emma Uhlig and Atlanta Kishbaugh of Odyssey Institute. Last year, Harris and Reilly lost the D-III state doubles championship match to teammates Kate Maxfield and Hailey Brack.
"This is so exciting," said Reilly about winning it this year. "We've been working so hard this whole year aiming toward that (title)."
(Collen Harris and Emma Reilly)
2019 D-I-III singles, doubles champions
D-III singles girls
No. 1 Sofia Fetsis (Pusch Ridge) def. No. 2 Sangeet Bhalla of Chandler Prep 6-1, 7-6.
D-II singles girls
No. 1 Emily Flowers (Catalina Foothills) def. No. 4 Madeline Monroy (Canyon View) 6-1, 6-0
D-II doubles girls
No. 1 Danielle and Nicole Quenzler (Cactus Shadows) def. No. 2 Maysa Tuftin/Natalie Hoffman (Notre Dame) 6-4, 6-2
D-I singles girls
No. 1 Josie Frazier (Desert Mountain) def. No. 3 Savanna Kollock (Desert Mountain) 6-2, 6-0
(Josie Frazier)
D-I doubles girls
No. 1 Emi Visic/Rimona Rouf (Desert Vista) def. No. 2 Hailey Stelse/McKenna Koenig (Desert Mountain) 3-6, 6-2, 6-3
(Visic and Rouf)
D-III doubles boys
No. 4 Ntal Richards/Josue Cortez (Scottsdale Christian) def. No. 2 Tyler Bierman/Michael Greer (Thatcher) 6-3, 6-4
D-III singles boys
No. 3 Ashton Kroeger (Phoenix Country Day) def. No. 1 Wilder Cooke (The Gregory School) 6-1, 6-2
(Ashton Kroeger)
D-II doubles boys
No. 1 Harry Carrozza/Ryan Hildebrand (Cactus Shadows) def. No. 2 Mason Lee/Anton Nazaroff (Catalina Foothills) 7-5, 6-3
D-II singles boys
No. 3 Oliver Boleratzky (Deer Valley) def. No. 4 Rush Williams (Arcadia) 6-7, 6-3, 6-4
(Oliver Boleratzky)