Notes from the North: Parker, top 3 teams in 3A East happy to be home for playoffs
October 28, 2021 by George Werner, AZPreps365
---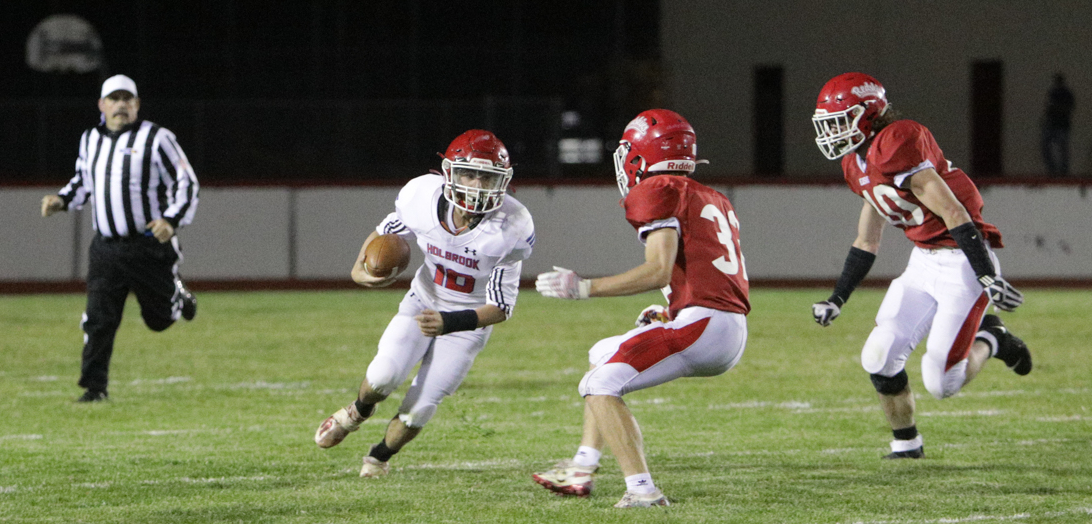 Whew! What a past two weeks it has been, and what a week it will be to come, especially in the 3A Conference.
Eight-man football teams already know who and where they are playing in the 1A quarterfinals after a roller-coaster first round. The four games ranged from the blowout--No. 7 Bagdad thrashing No. 10 Lincoln Prep by 50--to a shootout survived by host El Capitan over No. 9 Salome, 52-50.
So much good it will do those four winners when road trips to high-powered offenses like top seed Mogollon and fourth-seeded Mohave Accelerated Learning Center await Friday and Saturday, Oct. 29 and 30. Third-seeded Williams will even welcome to its stadium sixth-seeded Hayden High School, unbaptized by the fires of tournament play after its opening-round opponent, 11th seed Valley Union, was forced to cancel due to COVID-19 positive tests.
If all top four seeds advance to the semifinals Friday, Nov. 5, they will face off at Coronado High School for the right to play for the 1A championship there at 6 p.m. Saturday, Nov. 13...
Northern Arizona's banner-bearer in football as well as badminton, Prescott has racked up two straight postseason shutouts and is one semifinal victory away from its first-ever shot at the Division II badminton championship Thursday, Oct. 28, at Cortez High School.
Junior Megan Townsend, along with the top-ranked doubles team of senior Nicole Raiss and sophomore Riley Crockett, overcame the disappointment of their Oct. 23 singles and doubles losses at Independence High School to rout first-round opponent Millennium in straight sets.
But to get to the promised land, they will need to also overcome opponents who overcame them in the postseason--specifically, No. 2 Ironwood, No. 3 Campo Verde and No. 4 Sunrise Mountain. The former and the latter top singles players doubly eliminated Townsend from the semifinals and consolation match in the Division II singles tournament, while the Coyotes' No. 2 doubles team knocked Raiss and Crockett out of their first doubles match...
Head football coach Cody Collett's celebrated comeback a month after suffering a heart attack continues Friday, Oct. 29, against Flagstaff. Although a home loss to eighth-ranked Mesquite dropped the No. 7 Badgers out of Open Division consideration, they continue to hold a one-game edge over Coconino High School for the Grand Canyon Region's playoff host seed in the first round, beginning Friday, Nov. 19.
Despite senior Cooper French becoming just the fourth player in school history to rush for 300 or more yards in his 28-14 win over Mingus Union High School, the Panthers are a solid regional runner-up at 5-2. They close out their regular season on the road, including at 12th-ranked Lake Havasu and 19th-ranked Bradshaw Mountain, right on their heels in the Grand Canyon…
Barring COVID-19 or a complete collapse against two of the bottom five of the 2A Conference, Chino Valley boys soccer should play in their friendly confines all the way up to the state championship Saturday, Nov. 6, at Williams Field High School.
Head coach Todd Carey's unbeaten Cougars are a half-game ahead of 8-0-1 St. Augustine Catholic, of Tucson, in the power rankings with two games to play. Winning out would keep Chino in the top seed and likely host Show Low at 6 p.m. Tuesday, Nov. 2, before hosting the fourth- or fifth-seeded team in the Nov. 4 semifinal...
With a 10-1 record, the Cougar girls finished their regular season deadlocked atop 2A with top-ranked rival Northland Prep, which must still travel Thursday, Oct. 28, to fourth-ranked Show Low. A loss there would flip home field to Chino for its state quarterfinals and semifinals, where head coach Allen Foster beat Northland Prep for the Chino Cup.
Of course, excluding an Oct. 1 shutout at Faith Lutheran High School in Las Vegas, Nev., the Spartans have not lost to any team other than Chino Valley for the past five years. So, although the Cougars have 2A's top two leaders in goals and assists as well as two of its top five goalkeepers, more faith may be warranted in Spartans junior Milly Gindorf, the state's top fall girls soccer goalie--and only one to record 100 or more saves this season...
The rest of the football seedings in 2A and 3A, along with all volleyball seedings, will be determined one giant Selection Saturday morning Oct. 30, as the brackets will be revealed at 9 a.m. live on the NFHS Network as well as on the AM radio dial at 1580, "The Fanatic."
You will definitely want to pay attention to this one, as with these teams' regular seasons entering their final days, seeds can go from as high as second to seventh, or even lower depending on wins by lower-ranked teams Oct. 29.
These seedings stand regardless of any results from select regions that choose to play their own postseason tournaments. This includes the 2A North Region, in which Round Valley, St. Johns and tourney host Ganado are all assured play-in state tournament berths Nov. 2. Nevertheless, Thursday, Oct. 28, Pinon will host Valley (Sanders) for the right to face regular-season regional champion Round Valley and advance to the North Region tournament championship Saturday, Oct. 30.
Here, on one handy webpage, is your organized guide to what your favorite Northern Arizona teams should be facing for "win or go home" time in November, updated as of Wednesday, Oct. 13:
After first loss, Mogollon surpassed by Rock Point for top 1A volleyball seed
First of all, congratulations to Sedona Red Rock High School and athletic director John Parks. The 2A volleyball program's only head coach since the school began in 1994, Parks led the Scorpions to three wins in three days, clinching his second Central Region title in three years Saturday, Oct. 23, at 13th-ranked Scottsdale Prep.
The Scorpions won their fourth regional title since Parks' state championship season of 2014, when the Scorpions were a tiebreaker at Mingus Union High School and a shutout at Flagstaff away from going a perfect 15-0 in conference play.
To enjoy another championship season like that one and earn an 11 a.m. slot in the first of five conference title matches Saturday, Nov. 13, at Veterans Memorial Coliseum, the Scorpions will need to further ride their potent pass-set-spike connection of junior Bella Williams and seniors Stephanie Medel and Emma Bettie…
Parks' long-time Freedom rival Snowflake is two-thirds of the way there in its attempt to duplicate his past feats. The top-ranked, 15-0 Lobos, a season-long favorite to take home the 3A title trophy, end their regular season in the Interstate 40 corridor Thursday, Oct. 28, at Holbrook.
Outside hitter Macee LeSueur celebrated her Senior Night by becoming 3A's second-biggest kill artist and sending 10th-ranked Blue Ridge home Tuesday, Oct. 26. Setting up the vast majority of LeSueur's fall smashes has been sophomore Braxton Jones--who, at over 650 assists, is not only tops in the conference but 13th in the state.
Junior libero Kadee Penrod, one of 3A's top seven servers, had two key aces to preserve her team's undefeated status and deal fourth-ranked Monument Valley High School its first loss in a 15-10 tiebreaker Saturday, Oct. 23. It was the Lobos' first match in which they lost a game since their Aug. 31 opener...
The loss in Kayenta was not only the Mustangs' first of the season; they had lost just one non-tournament set total prior to their 3-2 setback. Head coach Rennell Gilmore's girls rebounded Oct. 26 by winning a tiebreaker, this one against ninth-ranked North Region runner-up Tuba City, whom the Mustangs may face--led by senior Trista Bennett, one of the conference's top five hitters--again at the regional tournament on the Warriors' home court Saturday, Oct. 30…
Also 15-0 is Rock Point, 1A's new top-ranked team after sweeping an Oct. 26 doubleheader from 11th-ranked St. Michael. Since the second date on the Cougars' schedule, a Sept. 4 doubleheader sweep at Williams, the Cougars have dropped just one game.
That was the total number of non-tournament games the previous No. 1, Mogollon, had lost its entire season. Then came Oct. 26, and the Mustangs visited St. Johns, coming home on the wrong end of their tiebreaker. Unless 17-0 Tempe Prep loses at San Manuel, the best the Mustangs can finish is 16-1 and a third seed, even with a Senior Night win Thursday, Oct. 28, over Williams.
With an Oct. 28 season finale also in the offing for the Cougars--a doubleheader at El Capitan--there is still time for the postseason tables to turn. But as Scottsdale's Coronado High School is hosting all postseason matches Friday and Saturday, Nov. 5 and 6, that time is running short...
All other postseason seeds and their first-round opponents are projected below, from Nos. 1 to 16. An asterisk (*) indicates an automatic bid, meaning the starred team is projected to win its region title. Included in brackets are each Northern Arizona team's overall won-loss records, followed by region records, then any previous Notes from the North ranking, followed by their projected opponent and seeding.
These are projected opponents only. Catch the Selection Show here Oct. 30 or listen to The Fanatic beginning at 8 a.m. to hear official seedings.
Remember, I have no "insider" information or other secret knowledge of the power rankings. I do, though, get them two hours early. You can, too--simply download the AZPreps365 Live! app on your phone. Each Tuesday through Friday, at 10 a.m., hit the AIA icon at the top of the app then, right below the Top Stories, select "Rankings," then your desired sport. The updated postseason seeds will be available to you two hours early!
1A tournament: Friday and Saturday, Nov. 5 and 6, Coronado High School
1. Rock Point [15-0, 8-0; previous rank- second]* vs. 16. Valley Union [9-9, 5-1]: Junior captain Arianne Begay remains 1A's top hitter and top 15 in Arizona in hitting percentage, leading her team with more than 25 blocks and 100 kills. Senior co-captain Tamira John continues to lead the Cougars in digs and aces, but head coach Kyle Arthur maximizes the talents of the other eight players on his roster as well. Senior setter Shelby Chee's 120 assists place her in the conference's top seven, while junior defensive specialist June Yazzie controls her team's service return game. Rock Point has had a history of early tournament exits but should be able to handle Valley Union, which is entering the postseason on a three-game losing streak. Outside hitter Daleigh Ebert leads the team in kills, while fellow senior Kamrielle Wyatt is the focal point for aces and assists.
3. Mogollon [15-1, 13-0; previous rank- first]* vs. 14. North Valley Christian [12-7, 8-1]: Multi-talented junior Ellie Hancock is beginning to take ownership of the Mustangs after leading the team with 12 kills and 12 assists at Seligman--a doubleheader Mogollon went on to sweep in straight sets. She is supported along the net by middle blocker Paige Parry, one of the state's top hitters and a conference leader in blocks as well. With passing help from setter Tylinn Mclaws and a service game led by fellow senior Brooke Valdez, the Mustangs have the team and the program pedigree to overwhelm the Lions' deep, 18-player roster, led by senior co-captains Lindsey LaPorte, at middle blocker, and libero Simida Romanet. Head coach Cory Romine's team is second in the West Region despite losing a lone match to 10th-ranked Anthem Prep.
4. Red Mesa [11-2, 6-2; sixth] vs. 13. El Capitan [11-5, 5-4; 14th]: The Redskins took the first game Oct. 21, 25-22, from Rock Point and took the top-ranked Cougars to 28-26 in their third game. That is the good news for head coach Henrietta Haven's Red Mesa program, which balanced that improvement with 25-18 losses in the second and fourth games. The other uncertainty, besides the team's entire statistical scouting report, including co-captains, senior outside hitter Jada Begay and junior setter Shaniley Dugi, is that the Redskins haven't beaten any playoff teams outside of St. Michael. Prior to the Eagles' doubleheader with Rock Point, head coach Jennifer McKay's team had lost just twice in the month of October--both times at fifth-ranked Red Mesa High School. Senior co-captains Brenda Knudson, at setter, and middle hitter Margie Timpson have to work together not just to preserve their postseason seed, and an above-.500 regional record, against Rock Point but make a good first-round showing against the Mustangs.
6. Joseph City [13-4, 11-3; fourth] vs. 11. St. Michael [8-7, 6-2; unchanged]: Before getting swept out of the first round in straight sets last year by Thursday, Oct. 28, opponent Anthem Prep, the Wildcats had not tasted postseason play since 2014. But whereas that previous squad under head coach Charlsye Miller was a No. 13 seed facing a No. 4, this Joseph City team, seeded at least sixth, should taste first-round victory against a free-falling 11th seed, St. Michael, back in the postseason after a year in quarantine. Junior libero Kassidy Juarez's stock continues to rise, as she is sixth in the state for the Wildcats with nearly 450 digs. Sophomore Ajhana Tagler and juniors Kadence Armstrong and Kate Edwards are three of the conference's top four blockers, combining for more than 150, while senior Kayle James and sophomore Arami Miller are two of the conference's top five assists leaders, combining for over 500. Who really makes Joseph City go, though, looks to be Edwards, top five in 1A in both digs and hitting percentage who leads the conference in kills and is four aces away from the team lead, third in 1A.
9. Williams [12-5, 11-2; 12th] vs. 8. St. David [12-4, 4-2]:The Vikings, despite potentially entering the postseason on a three-match skid, are absolutely playoff-worthy behind 1A's top hitter in Shaelee Echeverria, who is also second in the conference in blocks, fourth in kills and eighth in digs. The middle hitter has support from fellow juniors like top-seven hitter Riley McNelly and Brianna Baldosky and Rory Stevens. The libero Baldosky leads the team in digs, while Stevens, the setter, is third in the conference in assists with 276. St. David, on the other hand, has played seven fewer regional matches than Williams, yet boasts one more player in the top 10 of 1A statistics. Sophomore Anissa Jacquez is right behind Echeverria in hitting percentage but has teamed up for 85 blocks with junior Jasmine Pacheco and freshman Alayna Didion. Anissa's older sister Taylee, a junior setter, is 10th in 1A in aces, but senior Makenzie Comaduran leads the team in kills with 140. All of this makes this matchup the toughest to call.
2A semifinals: Friday, Nov. 12, vs. winners of Nov. 6 first round, quarterfinal play, Mountain Ridge High School, and 6 p.m. play-ins at higher seeds Tuesday, Nov. 2
8. Sedona Red Rock [14-3, 10-1; previous rank- 10th]* vs. winner of 24. Arete Prep [9-8, 5-5] at 9. Arizona Lutheran [12-5, 7-2] play-in: "You never want to be in that play-in situation": Those were Parks' words Thursday, Oct. 21, after the first of his three straight wins, 28-26 in a nail-biting fourth game at Northland Prep. Winning their Senior Night over 17th-ranked Desert Heights Prep Academy would ensure the Scorpions avoid that extra 2A match Nov. 2 and go, with an extra four days' rest, straight to the first round in northwest Glendale to take on the winner of the play-in between the 24th seed and the ninth seed. Beattie led the Scorpions with 22 kills and nine digs Oct. 23 at Scottsdale Prep, but she had support with 13 kills from sophomore middle blocker Rachel Roderick as well as Medel's game-high 35 assists and seven aces. They will all need to bring it in the first round against their play-in winner, particularly if it is West Region runner-up Arizona Lutheran, whose play-in would host the last team into the 2A tournament--likely Arete Prep, even though its first-round loss in regionals was its second straight. The Coyotes took Red Rock victim Scottsdale Prep to a 15-12 tiebreaker before falling Sept. 9. Junior Sierra Gomez has the fourth-most aces in the state and is seventh in Arizona in assists, while her upperclass Coyote teammates are two of the state's best hitters, with Elise Bayer's 378 kills sixth overall.
10. Round Valley [12-2, 9-0; previous- ninth]* play-in hosting 23. Glendale Prep [7-10, 5-6], winner to play 7. Rancho Solano Prep [14-4, 8-2]: The aforementioned North Region tournament may only serve to make the Elks sick of seeing Oct. 19 victim St. Johns, the second seed in regionals despite losing two straight-set matches to the Elks, both home and away, during the regular season. Off 23 assists from fellow senior Shiloh McCall, Mackenzie Merrill's 16 digs and 14 kills Oct. 19 showed the Redskins why she is one of the conference's 10 best in the latter category. Junior Riann Cluff's 15 additional digs demonstrated her eighth rank in 2A in the former. Setter and captain Nicole Kao leads the Griffins, who will be followed by first-round opponent Rancho Solano, Oct. 27 regional championship opponent to the Titans of the Valley Region and of the 2A Conference, 17-0 Chandler Prep. One of just two regional opponents to win a game off the 2A top dogs, Rancho Solano has one of the conference's wickedest service games, led by senior middle hitter Bela Potocnjak and sophomore Ariel Eytan, second in the conference with 93 aces. Return serves, and Round Valley has a chance at multiple matches at Mountain Ridge.
12. Northland Prep [11-5, 9-3; previous- 13th] play-in hosting 21. Madison Highland [9-3], winner to play 5. Veritas Prep [14-4, 4-1]: With 252 digs and nearly as many kills on the season, Spartans senior Maggie Auza is having an all-state kind of year. Her leadership of the Central Region runners-up will be put to the test to advance from Northland Prep's Flagstaff play-in to a date with the fifth-ranked Falcons, which made quick work Sept. 9 of Red Rock's Central Region rival, Glendale Prep. That does not bode well for the Spartans, who lost in straight sets Oct. 13 at Glendale Prep. They would then likely face the aptly-named Amanda Power of Veritas Prep. The senior middle blocker is sixth in 2A in blocks, while junior setter Savana Cash will finish at least sixth in the conference in assists with more than 500. That may be too much strength for head coach Annette McCord to survive the first round.
15. Kingman Academy [12-4, 6-3; previous- 11th] play-in hosting 18. Ganado [11-5, 6-4; previously unranked] play-in, winner to play 2. Phoenix Country Day [15-1, 4-0]*: Kingman Academy will finish third in the West Region after being swept by Arizona Lutheran by a combined six games to one. But, regardless of the outcome of their Oct. 28 finale at fourth-ranked Trivium Prep, the Tigers do have home court Nov. 2 for their play-in with Ganado. Seniors Maliah Gardner and Ashlee Steele continue to lead the way, with Gardner one of the region's top six hitters, fourth in assists and eighth in kills. Steele has a top-10 hitting percentage in the West as well and is fifth in blocks in front of junior assist leader Anika Larsen. But if the Spartans do draw the Hornets, their postseason hopes will rest on the small shoulders of senior middle hitter Mya Dalgai, team leader in kills, aces and blocks. Statistically, she paces five other seniors, including setter Lauren Burns and outside hitter Mikaela Bitsuie, and as many juniors. Whoever wins will see what their team is truly made of against 2A's second-best team, Phoenix Country Day, and one of America's top up-and-coming hitters, freshman Teraya Sigler. By the time her season is through, Sigler, seventh in 2A with nearly 260 kills, may have cracked the top three hitting percentages in the country. Also seventh in 2A with nearly 500 assists is her benefactor, senior setter Lilly Robinson. They are the primary reasons that the Eagles, were it not for a 15-12 loss to 3A second seed Valley Christian in their tiebreaker to open the season, would be in a dogfight with Chandler Prep for top seed, having lost just one other game all season.
19. St. Johns [8-6, 7-3; unranked] at 14. Scottsdale Prep [10-7, 7-4], winner to play 3. Scottsdale Christian [13-2, 3-1]: Redskins head coach Joy Whiting has just a lone senior, middle hitter Lizzie Farmer, who forms a formidable duo with first-team all-region outside hitter Olivia Wiltbank, a junior. They will face their toughest test in a play-in contest on the road Nov. 2, at likely No. 14 seed Scottsdale Prep, 3-1 victims Saturday, Oct. 23 and Tuesday, Oct. 26, to Red Rock and Northland Prep. Head coach Dan Chen's Spartans have a sophomore, outside hitter Samantha Ferro, leading the team in kills, while freshman Zoe Kohoutek leads the way in aces and blocks. Experience takes over in digs with senior Abigail Benham, while junior Kiana Khayami is the assist woman at setter.
3A first round, quarterfinals: Nov. 6, Marcos de Niza High School, vs. winners of play-ins at higher seeds, 6 p.m. Tuesday, Nov. 2
1. Snowflake [16-0, 9-0; unchanged]* vs. winner of 17. Benjamin Franklin [7-9, 2-7] at 16. Pusch Ridge [11-6, 6-5] play-in: The Lobos faced a rigorous challenge at previously unbeaten Monument Valley but pulled it off by five points in the tiebreaker. The Lobos haven't lost a game since, letting only 10th-ranked Blue Ridge break 20 before shutting the Yellowjackets down in the third game. In that match, senior outside hitter Macee LeSueur collected her 300th kill of the season--top five in the conference, while junior libero Kadee Penrod stayed among 3A's top ace servers. As for their play-in opponents, they both have their areas of strength. Benjamin Franklin's senior libero Jacey Sparks is fifth in the conference in digs with 285, belying a tenacity in the Chargers' rally game. But Pusch Ridge needs a win over 21st-ranked Safford to avoid entering the postseason having lost three matches in a row. It was just a month ago when junior Vienna Elliott's eight aces and four blocks combined with senior Christina Shaffer's 11 kills to beat 14th-ranked Tanque Verde High School in four games.
4. Monument Valley [16-1, 10-0; fifth]* vs. winner, 20. Show Low [8-7, 4-5; previous- 15th] at 13. Yuma Catholic [11-4, 4-3]: Middle blocker Kayelani Maiava is hitting at an all-state level for the Mustangs. Her 22 kills, 20 digs and three blocks fired the Mustangs to a 2-1 lead, with help from fellow senior Shree Yazzie's team-leading 16 digs. Senior Night against Tuba City, Maiava had seven more kills than that, while Yazzie and junior setter Shantel Denetsosie each rallied the Mustangs from 1-0 and 2-1 deficits to the Warriors with 20 digs apiece. Denetsosie would go on to combine with senior Melendy Harvey for 87 assists over the two-match, 10-game tiebreaker saga, which the Mustangs were at last triumphant in by double digits in Games Four and Five. They may get another shot at an East Region team if fourth-place Show Low can go to West Region runner-up Yuma Catholic and pull off the upset. But Shamrocks junior outside hitter Rian Martinez, who has more than 200 kills, 170 digs and 40 aces on the season, will have something to say about that--just as soon as she and head coach Dusti Williamson end their team's two-match losing streak Oct. 28 against Kingman. Senior Alyssa Seville and juniors Reese Sellers and Jessica Kershaw made their last win, a tiebreaker over The Odyssey Institute, happen with double-digit digs and assists. The Cougars are 14 players deep, have 109 digs from junior Hanna Buchholz and have 38 aces and 116 kills from senior outside hitter Halle Gibbens, assisted 168 times by senior setter Emma Lewis. But head coach Melissa Brimhall's Cougars would still need the breaks to go their way in Yuma..
9. Tuba City [12-5, 8-2; 8th] play-in hosting 24. Payson [6-10, 2-7; unranked], winner to play 8. Northwest Christian [11-5, 9-0]: With senior middle hitter Trista Bennett, junior Ellyce Begay packs a powerful punch. The two front-liners combined for 42 kills in an Oct. 23 doubleheader sweep of Alchesay. Add Begay's 17 digs and Bennett's four blocks, mix well with Alaina Dugi's 36 digs and fellow junior Asia Sixkiller's 54 assists, and you have a recipe for a two-day postseason run. The Warriors just need to not wear themselves out in too many rallies Nov. 2 with Payson's conference ace leader Rylee Carnes, who had 22 assists and 12 digs Monday, Oct. 25, to win at Winslow in a tiebreaker. Their subsequent opponent in the first round, defending 3A champ Northwest Christian, does not resemble the stacked three-peaters of old but still went undefeated through the North Central Region without losing a game. Junior Jessica Jacoby has gone from backup to beast in the assist department for the Crusaders, feeding senior Jaeden Nagai when she is not leading the team in kills or putting up double-digit digs.
10. Blue Ridge [10-6, 6-3; previous- 13th] hosting 23. Parker [9-6, 4-3; unranked], winner to play 7. Gilbert Christian [12-4, 6-3]: Head coach Lisa Gross' Knights had an early tiebreaker win over second-ranked Valley Christian as well as a sweep of No. 18 Eastmark to vault them into a home seed that avoided the 3A play-in round. They have a tall, experienced front line featuring two of the top three hitters in the conference, senior Elli Wolthuis and junior Kali Nielsen. What they lack, as evidenced by their last two consecutive losses, is a bench that can go three games or more in a match. As with one of the last teams into the tournament, Parker, only one Knight reserve can regularly do that. If that does not catch up to Gross' team against Blue Ridge or Parker, it will catch up to the Knights by the marathon second day of the postseason. Senior Tallia Robledo not only leads the Broncs in kills and aces, but also assists. Helping her out in digs is younger sister Tyra, a junior, along with senior defensive specialist Cassie Sandoval, but head coach Marie Maya rotates just one player off the bench in and out of every game, which can exact a toll against the Yellowjackets. Head coach Ryan Fergen, for has part, have a regular eight-girl rotation, including junior outside hitter Anna Berges, top 10 in 3A with 228 kills. Setter Sarah Miles is seventh in the conference with' 444 assists, but ranks second in the East Region, while fellow junior and outside hitter Hanna Carlson continues to lead the team with 157 digs. Seniors Meagan Urbanski and Clare Yorksmith are the team's leading blocker and hitter, respectively.
12. Winslow [11-6, 4-5; previous- 10th] hosting 21. Safford [7-9, 6-5] in play-in, winner to play 5. American Leadership Academy - Gilbert North [12-4, 7-2]: Eagles head coach Steve Crook's Metro Region runners-up, who regularly spread 30 or more kills between seven players, await one bunch of Bulldogs or other in the first round. Safford's version is 14 girls deep and wins through rallies under head coach Robert Abalos. Winslow, meanwhile, is a team of statistical standouts, including junior Shaelene Singer, top 10 in 3A in both aces and digs. Sophomore Jaci Gonnie's 70 aces are second-most in the conference, while junior Brynlee Barris' 84 blocks are third and, come the Selection Show, senior Kylie Begay will be the active 3A leader in digs. Winslow needs to play to its mascot's aggressive nature if it wants to break through the first round, though.
2A leader Parker back home for football playoffs--along with half of 3A East
Even if, by Saturday, Nov. 27, it must join 3A's final two teams to play for state titles beginning at 2 p.m. at Campo Verde High School, undefeated Parker knows there's no place like home for the post-Halloween holidays. Head coach Jeston Lotts, staff and team had not been able to play there, though, since their Aug. 27 opening win over Gilbert Christian High School.
Joe Bush Stadium, where the Broncs play, is on land leased by the Colorado River Indian Tribes. Before the tribal council would grant permission for the football team to play in front of crowds, it requested that the Parker Unified School District adopt a uniform COVID-19 mitigation plan.
Just in time for Homecoming on Oct. 20, the news all Parker fans had been waiting more than six weeks for at last arrived, as the tribal council approved the district's mitigation plan. In front of a reduced capacity crowd using hand sanitizer, masking and social distancing at least three feet by family groups, senior Anthony Taylor joined the state's top 10 scorers, rushing for 243 yards and four touchdowns without a pass being thrown in a 50-20 blowout...
So, with home field restored for its Oct. 29 season finale against Highland Prep and at least the next two Fridays leading up to the 2A Conference semifinals, the cream of the Colorado River's crop of four football juggernauts rose even higher. Mohave Accelerated, River Valley and Yuma Catholic are no longer dogged by the pressure of being undefeated to open their the postseason.
Therefore, Parker's dominance is perhaps matched only by defending 1A champ Mogollon, which thrashed eight of its nine regular-season opponents by 40 or more points. The Mustangs and the Broncs have all but reduced title competitions in the above two conferences to one-horse races...
Conversely, as the last two weeks witnessed River Valley, Round Valley and Valley Christian all absorb their first losses, all but one of 3A's host seeds for the playoffs have identical 8-1 records.
No matter what the scores of their Oct. 29 finales are, a 3A team or two likely won't agree with its tournament draw or seeding. No matter which teams get automatic bids, fifth-ranked River Valley should join the top half of the East Region--namely, Round Valley, Show Low and Snowflake, the latter two of which face off that Friday to decide the regular-season title--as solid hosts through at least the first round of the playoffs Friday, Nov. 5.
The other three East schools--Blue Ridge, Payson and Winslow--each have their shot, and their obstacles, to the postseason, listed in descending order of likelihood. Catch the Selection Show, then debate the rest of my 2A and 3A projections below:
2A first round, quarterfinals: 7 p.m. Fridays, Nov. 5 and Nov. 12, at higher seeds
1. Parker [8-0, 3-0; ranking unchanged]* hosting 16. Alchesay [4-2, 1-1, previously unranked]: With 78 more yards on the ground Oct. 29, Cameron Poole will join fellow upperclassman Taylor as 1,000-yard rushers for the Agua Fria Region champion. Together, they form a two-headed monster wearing down opposing defenses that try to take them down. Taylor's four Homecoming touchdowns tied him with five other running backs for fourth in 2A with 17, while junior Damien Najera nabbed three interceptions to tie him for fourth in that category as well. But to take their first step in shrugging off a 50-year state title drought, the Broncs will first need to quell an early challenger who travels well. No. 16 Alchesay has floated in and out of playoff contention--and Coronavirus quarantine--this fall. But the Falcons appear to be peaking at the right time after a 56-8 dismantling of San Juan Region champ Red Mesa. Senior Kakoa Upton has scored 20 fewer points but just one less touchdown than Taylor this season, remaining solidly a Top 10 back in the conference in both categories. He had two more touchdowns' worth of help from fellow upperclassman Rowen Begay, whose 95-yard score highlighted another 136 yards on just nine carries. Head coach Brandon Newcomb's athletic defense shut out the Redskins for over three quarters, as Trent Walker had a sack to go with his 13 other team-leading tackles and fellow senior Buckie Yazzie added two sacks. If the Broncs can control time of possession and win the turnover battle, they should have little opposition all the way through Thanksgiving. Allow a big play early, however, and all is up for grabs.
8. Camp Verde [7-2, 2-1; previous- 10th] hosting 9. Willcox [7-1, 2-1]: Being regional runner-up to Parker and opening the postseason at home would be another feather in Camp Verde head coach Rick Walsworth's experienced cap. Even if the game does turn out to be against more Cowboys, one of the last of the conference's teams to fall from the ranks of the undefeated. Former San Pedro Region ruler Willcox rode 1,200-yard rusher Cristian Pando to its first seven straight, as the junior's 21 touchdowns and 138 points scored are second-most in 2A. Junior Alexis Hernandez's 21 extra points and three field goals make him a top-five kicker in the conference--a position Camp Verde has little answer for. But neither of those scorers could make up 17 points Friday, Oct. 22, against the defense of fifth-ranked Morenci, which held Pando to six yards on eight carries, despite one of them going for his team's lone touchdown. Third-ranked rival Benson may back head coach Eric Hjalmarson into the 2A playoffs, and Walsworth's two-way interception threat Matthew Nechvil can extend Willcox's losing streak to three and advance if his defense can similarly bottle up Pando. Senior quarterback Jacob Oothoudt is the key. Nechvil and fellow senior Matt Loza also lead an experienced receiving corps, and another upperclassman, Kayden Boggess, should become the seventh 2A rusher to join the 1,000-yard club while also stepping up his sack game. But it is Oothoudt, one of the conference's top 10 scorers who has run and passed for nearly 2,000 career yards combined, who makes these playmakers go.
10. Holbrook [7-2, 2-1; previous- sixth] at 7. Scottsdale Prep [8-0, 4-0]: Although the AIA may very well be too intrigued to pass up a road rematch of the Roadrunners' Week Two win over Camp Verde, more intriguing would be a first-round trip to Scottsdale Prep, 2A's only other undefeated team if it can pass its toughest test, Oct. 29 at 14th-ranked Scottsdale Christian. Ready for either contingency will be quarterback Marcus Oberriter, building up to be one of Arizona's top returning signal-callers after rushing and passing for more than 2,500 yards, second-most in the conference. But on offense, he will need to unleash two of the conference's top kickoff returners, juniors Daniel Montijo and Kyle Smith, as well as other targets than fellow junior Izzy Ramos, a top-three receiver and top-five scorer in 2A confined to just one 18-yard reception and one rushing score in a 61-28 loss Oct. 22 at St. Johns. The Redskins also intercepted Oberriter three times--more than his season total thrown to that point. Spartans head coach David Primavera will be crafting a defensive strategy on film around that atypical inefficiency while providing junior quarterback Tyler Johnson protection from senior sack monster Caden Tom. Johnson hasn't been too shabby a dual-threat underclassman himself, throwing for 538 yards and 16 touchdowns just to senior Carson Boyll, one of the conference's top three punt and kickoff returners. Holbrook head coach Chris Starkey has no answer in the kicking game, though, for Spartans senior Wills Niemann, one of just nine players in Arizona with 40 or more PATs this fall. But Primavera also has no answer for winning by an average of 47 points in six of his eight games, only to eke out 13-7 and 14-6 victories in the other two.
11. St. Johns [6-3, 2-0; previous- 12th] at 6. Pima [6-2, 3-0]: Focusing his defensive coverage on Izzy Ramos and forcing Holbrook out of its comfort zone was head coach Mike Morgan's most impressive strategy of his 33rd season in St. Johns, and a 33-point win. A similar effort at susceptible Pima, coming off Senior Night against No. 3 Morenci, could be a springboard to an even more impressive road upset, especially if the Redskins can grind out more than 300 rushing yards, like they did with seven different backs Sept. 17, in a 48-point win at Arete Prep. Junior J.T. Richardson had two rushing touchdowns and another receiving against the Chargers, enabling half of senior Leo Hernandez's six extra points, which he combined with a field goal to for a perfect kicking night. The sixth-ranked Roughriders have won five in a row since a 1-2 start in which they scored just six points in their consecutive losses. Their signature win was Sept. 30 at third-ranked Benson, in which their defense shut out the Bobcats for the final three quarters to win, 14-7, despite being outgained on the ground.
3A first round, quarterfinals: 7 p.m. Fridays, Nov. 5 and Nov. 12, at higher seeds
2. Snowflake [8-1, 4-0; previous rank- fourth]* vs. 15. Phoenix Christian [6-3, 4-2]: The Lobos are only gaining steam in their push to repeat as 3A champions, punctuated by a 52-8 wallop Oct. 22 of previously undefeated East leader Round Valley. While the Lobos defense was responsible for five interceptions and 13 tackles for loss, senior quarterback Caden Cantrell completed 14 of 19 passes for 325 yards and four touchdowns, including two to favorite target and fellow upperclassman Noah Baum. Junior Lance Christensen was the biggest surprise, however, leading all receivers with 156 yards in catches--38 more yards than Baum and nine more yards receiving than in all of his other previous varsity games in his Snowflake career combined. Even slowing down this sort of winning machine, which can draw on so many weapons, will be an overwhelming task for Cougars head coach Dan Fort, whose three losses are by an average of over 45 points. Booming kickoffs by the big leg of sophomore Addison Fisher, another interception or two from 2A leader Angel Gutierrez, and a big night from senior Cristian Mackey, one of 2A's leading passers at over 1,500 yards, all couldn't hurt.
5. River Valley [8-1, 3-1; previous- third] hosting 12. Blue Ridge [5-3, 1-2; previous- 10th]: Dust Devils head coach Jonathan Clark understands the importance of the kicking game. Two missed field goals and two missed extra points by the state's top PAT kicker, senior Johnny Delgado, made all the difference in River Valley's 29-26 home loss Oct. 15 to fourth-ranked Yuma Catholic, which took over control of the West Region. They bring a unique challenge to their first-round home game, as road warrior Jeremy Hathcock brings his double-wing formation into Anderson Auto Group Fieldhouse. Heading the first-year Blue Ridge head coach's Slaughter House Five is junior Seth Slaughter, who rushed for 166 yards and all four Yellowjacket scores in a 28-7 win Oct. 7 at Winslow. Senior playmakers Hunter Martinez and Cody Wallace are also warriors in the secondary for Hathcock. As in most games, getting the ball into senior Zach Hammett's hands, and keeping it there until he becomes Arizona's first 2,000-yard rusher this fall and takes the national lead in touchdowns scored, is priority. Hammett even burned the Shamrock secondary on a 33-yard scoring pass to keep the game close. Also important is getting more sacks than just Michael Dulin's, one of just two tackles the senior had against the Shamrocks. Clark's tackle leader, junior Gavin Hogencamp, is also his quarterback who must push the action more in the postseason.
6. Round Valley [8-1, 2-1; previous ranking- second] hosting 11. Eastmark [6-3, 3-0]: The Elks' Senior Night, Oct. 29 against 16th-ranked Winslow, will finally be where the 3A East cannibalizes itself out of a postseason berth. Another loss would drop the Bulldogs out of the playoffs, yet Round Valley seeks redemption too for its 44-point blowout by rival Snowflake. So a fool's hope of winning under the dome at Eager is the only hope for the region to remain together in the postseason, and for Winslow to live another day. Otherwise, the Central Region's finest, Eastmark High School, will come up to the dome from Mesa for the first round, head coached by former Corona del Sol quarterback Scooter Molander. In their first three games, his Firebirds lost to eighth-ranked Pusch Ridge Christian Academy and River Valley by a total of 11 points. They beat No. 15 Payson by a field goal, and their only other loss was to 4A top five team Poston Butte. So Eastmark is a young, explosive, overlooked double-digit seed, even going up against 1,000-yard rusher, and second-leading 3A touchdown scorer, Seth Wiltbank. If the Elks senior has one last, better run in him through the postseason, junior Kevin Flores can be counted on to cap those scores with extra points or follow them up with at least the sixth-best kickoffs in the conference. Senior Jovan Ortiz has run back five kickoffs for more than 300 yards. They will need to keep at bay younger versions of themselves: Firebirds sophomore running back Javien Celaya, top 10 in the conference in scoring, touchdowns and kickoff returns; kicker Spencer Elzinga, fifth in 3A in kick scoring, third in extra points and second in field goals made; and fellow junior Austin Johnston, a top-three wide receiver in the conference.
8. Show Low [8-1, 3-1; previous- sixth] hosting 9. Sabino [6-2, 2-1]: The Cougars' East Region title game Oct. 29 at Snowflake will go one of two ways: Win, and move back to its previous sixth seed against a likely dangerous 11th-seeded Eastmark; lose, and take the last 3A host seed against a Tucson school. Head coach Carlo Hernandez has enjoyed stunning success his rookie season. His postseason seeding, win or lose, would reflect that, as there would be absolutely no shame in falling to the Lobos on the road. Senior Colton Yeager, though, needs to get his passing game untracked, as he has completed just six passes for 91 yards and no scores the last two games.at quarterback. Fortunately, line play has won out, especially in a 61-8 throttling of Payson in which seven Show Low running backs spread seven touchdowns among themselves, gaining over 300 yards in a game that was over by halftime. If they draw Sabino, they will likely be chasing dual-threat quarterback Cameron Hackworth, fifth in 3A with 2,274 total yards, all over the field at least as much as fellow sophomore and sack monster Mason Cade will be chasing Yeager: another sack will move Cade into the conference's top three. Junior Steven Bishopp has missed just eight out of 61 career PATs and is a Top 10 punter in 2A as well, while senior slotback Derek Sanchez is a Top 10 returner.
13. Wickenburg [5-4, 3-1; previous- 15th] at 4. Yuma Catholic [8-1, 4-0]: Groundhog Day for the Wranglers, who have a Senior Night opportunity Oct. 29 to avoid it and play spoiler against the Shamrocks. They won't, however. Head coach Mike Mitchell's trio of playmakers--senior Calogero Dicamillo and juniors Korbyn Dowdy and Eleazar Dominguez--would need to live up to their punt and kick return prowess while controlling the run game in either matchup, home or away. The hope is that Wickenburg can get in a shootout with head coach Rhett Stallworth's defense, led by junior Jarred Marquez's 17 tackles of fifth-ranked River Valley in the Shamrocks' 29-26 road upset. More likely, though, at least some of the Wranglers will have recurring nightmares of junior quarterback Richard Stallworth, Arizona's only 3,000-yard passer. More than 1,800 of his 3,284 yards in completions have gone to seniors Mario Martinez and Austin Rush, both top five in the state. A second loss for the Shamrocks, and they likely host ascending Blue Ridge.
16. Payson [5-5, 1-4; previous- 15th] at 1. American Leadership Academy - Gilbert North [8-1, 3-0]: Junior quarterback Dexter Waterman had his best game Oct. 22 in at least the last month for the Longhorns, completing 11 of 15 passes for 178 yards and two touchdowns in an important 32-30 win at Winslow. Senior Travis Christianson led on both sides of the ball, collecting 14 tackles and rushing for a team-leading 129 yards and a score as head coach Bryan Burke was able to dial up four other touchdowns, spreading the wealth evenly among two receivers and two running backs. As 3A's last team in, however, they will be playing at a team at a whole other level in the top-ranked Gilbert North campus of the American Leadership Academy. Only the second-ranked 4A Queen Creek campus and Yuma Catholic have come within single digits of the Eagles on their schedule, and with his season finale against Coronado cancelled, head coach Randy Ricedorff has an extra week of rest and to prepare. The last time he enjoyed that was prior to his opener with The Odyssey Institute; the final score was 69-0. Quarterback Adam Damante trails only fellow junior Stallworth in state passing yardage, with over 800 of those 2,865 yards going to senior Johnny Bellino. Senior cornerback Dawson Morris has returned four interceptions the other way, and junior kicker Luc Asay has missed just five extra points in 82 career attempts. The Eagles have not yet landed, but will continue to soar--at least until they host a possible quarterfinal against Show Low.
Next Time
Small School playoff wrap-ups in all fall sports, including cross-country, along with final results in badminton and fall boys and girls soccer. Also updates on the postseason hopes of Flagstaff, Prescott and senior Cooper French's quest for rushing immortality at Coconino High School heading into wrestling season. Remember, your hot takes and feedback are always welcome! Follow me on Facebook and Twitter at @ProfGWerner, or email me at gwerner@azpreps365.com.