Notre Dame wins 4A Championship over Canyon del Oro
November 14, 2021 by Andy Morales, AZPreps365
---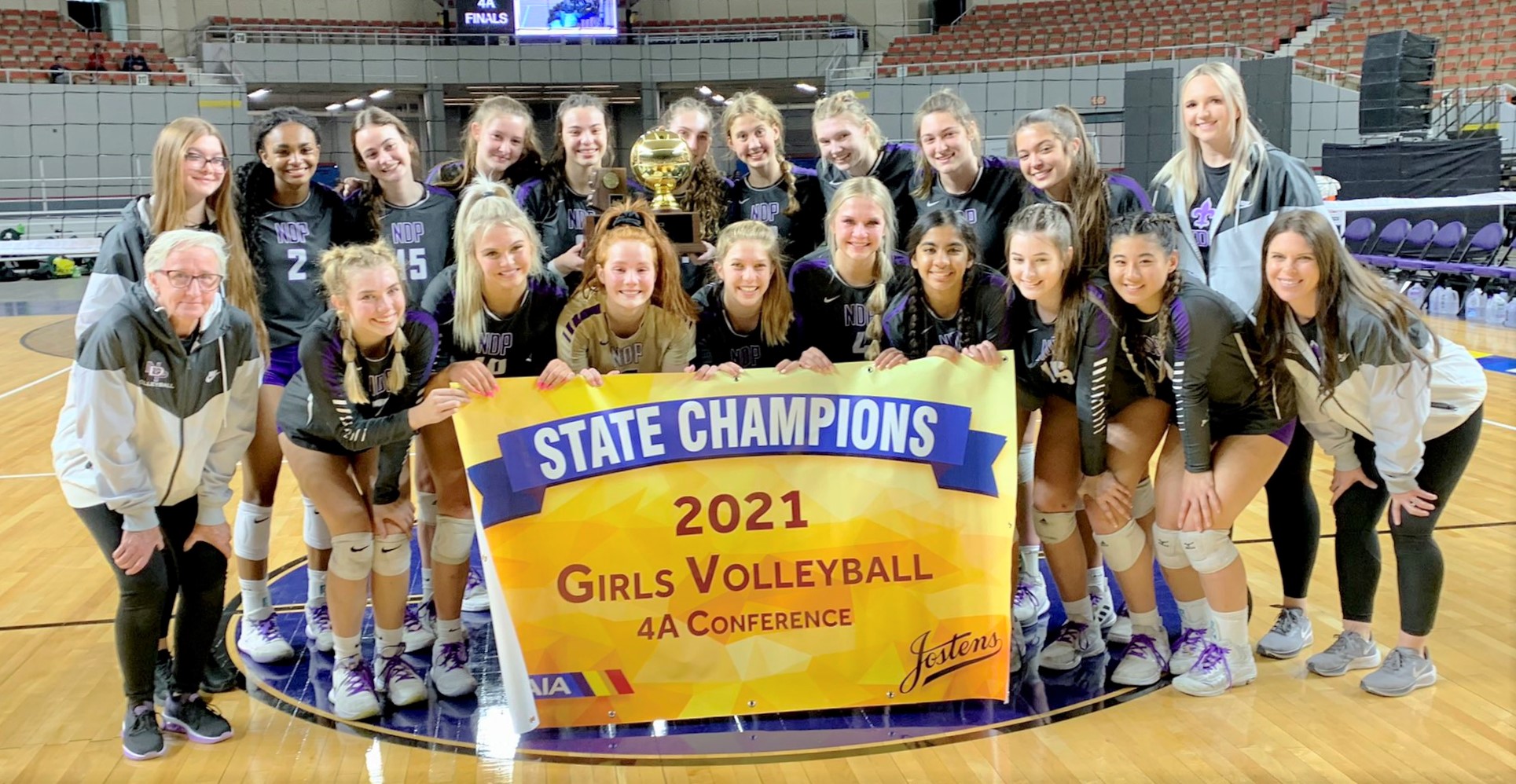 Top-seeded Notre Dame is on an incredible 21-1 run dating back to a semifinal loss of the 4A state playoffs in 2019. Since then it's been almost heavenly for the Saints except for a 3-2 loss to Salpointe in the state championship match last fall. That one loss has been the only blemish on the run that saw the team sweep No. 2 Canyon del Oro 3-0 Saturday at the Arizona Veteran's Memorial Coliseum to win the third team title in program history but the first for this set of seniors.
Speaking of seniors, there are six of them on the current Notre Dame roster including Sophia Garrow Ross, who is second on the team in kills, and Katherine Malloy, who is right behind Ross on the kill ledger. The team also loses senior libero Mckenna Douglas, who leads the program is digs, and senior setter Ashleigh Bolton, who leads the team in assists. It was a mature group of athletes that took care of the Dorados in a rather quick match with the set results coming in at 25-10, 25-20, 25-12.
But the Saints also come with some youth in 5-foot-8 outside hotter Evan Hendrix who was seemingly unstable at the net with an unofficial 20 kills in the championship match. The sophomore plays some club ball with her counterpart on the Dorado squad, Alina Nunez.
"You know, it's not just about winning, it's about the relationships that we all have with each other," Hendrix explained. "I think our coach did a really good job of getting us to bond as a team really well. You know, all of them are my sisters and I think it really showed on the court today"
Nunez transferred from Valley Vista to Canyon del Oro as a sophomore and she picked up her pace of excellence with 384 kills this year including 11 in the final loss to go along with half a dozen more from Dorado senior hitter Abby Whatton.
"I feel like our team is just more tight knit than it has been in the past," Whatton said. "We worked so hard. The team's great, it's so supportive and it's just more of a community than it ever has been," Whatton added.
Whatton has been a major force on a team that swept No. 4 Salpointe this fall and taking out No. 3 Estrella Foothills in the semifinaal round while finishing 21-1 on the year with a state runner-up trophy, This was easily the best finish by the Dorados including the runner-up teams from 1978 and 1980. 41 years of heartbreak might not be fully erased by a loss in the championship match because these are all athletes who play to win, but this was a magical year that was ended by a team on a mission in Notre Dame.
Canyon del Oro loses five seniors, including Whatton and libero Morgan Hains, so it will be interesting if Hendrix and Nunez will be able to be a strong enough nucleus to force another playoff run next fall for their respective teams or will Salpointe reinsert itself into the conversation? It will be fun to find out.