Northwest Christian edges ALA-Gilbert North for 3A baseball title
May 16, 2022 by Les Willsey, AZPreps365
---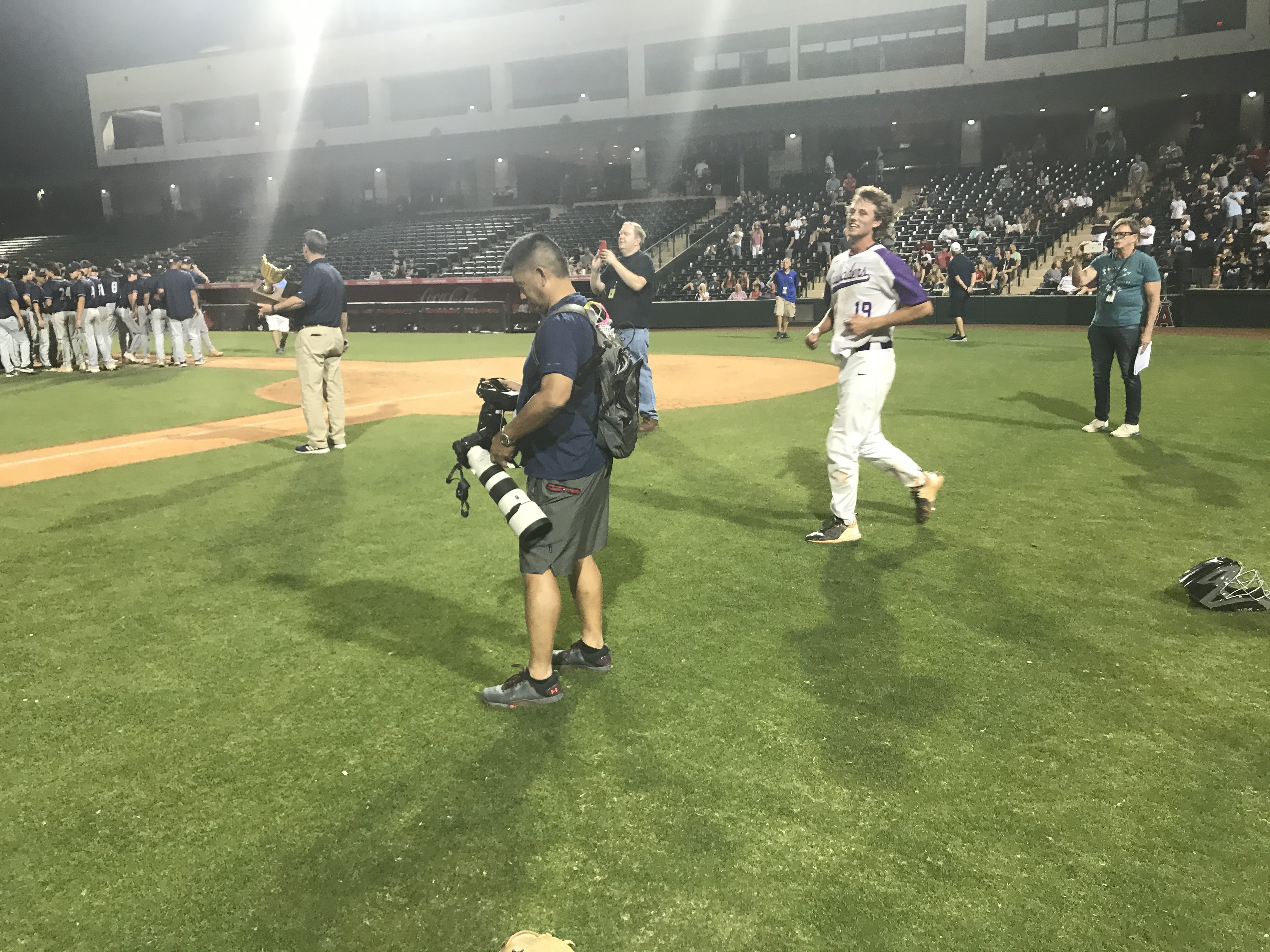 Northwest Christian pitcher Dale Fry was difficult to hit in the 2022 baseball postseason. The senior right-hander allowed three hits in 13 playoff innings (recording two wins). Fry finished the season with a complete-game, two-hitter on Monday night guiding the Crusaders to a 2-1 victory over American Leadership Academy Gilbert North in the 3A title game at Diablo Stadium.
The championship is NWC's (27-4) third baseball title in seven years - the others were in 2017 and 2015. ALA Gilbert North, which opened in 2017, got its first taste of a deep postseason run. The Eagles finished 24-7.
As title games often are, it was a pitcher's duel - Fry facing off with ALA GN senior right-hander Dawson Morris. NWC manufactured the winning run in the bottom of the sixth. With one out Cole Muscari legged out an infield hit and stole second. Martin brought home Muscari with a single to left just past a diving attempt by ALA-GN shortstop Spencer Nielson.
The teams traded runs in the first (ALA GN) and second (NWC). The tie-breaking and game-winning hit came in the bottom of the sixth. NWC's eighth-place hitter Cole Martin put the finishing touches on a perfect day at the dish with two-out, RBI single. Martin walked in each of his other plate appearances.
Fry was stellar after the first two batters he faced in the game walked and singled. Boston Morris, who drew the walk, scored on a ground out by Spencer Nielson for a 1-0 ALA GN lead. NWC evened the score in the second off Morris. Camden Tripi singled in courtesy runner Zach Veilleux, who ran for catcher Cole Knipp who'd reached on an error.
Fry retired 18 batters in a row (the final three of the first inning) plus 1-2-3 frames in the second through sixth innings. That streak was halted by a leadoff single in the last of the seventh by Hayden Clegg.
There were no worries from NWC coach Bob Howry. Fry entered the seventh having thrown just 68 pitches. After Clegg's single, Fry closed the game with a strikeout, fielder's choice and pop up to short.
"Dale showed what he could do tonight," Howry said. "Our sophomore class (five sophs started) is special. During the regular season the top of the lineup was strong and in the tournament it's the bottom that's done well (five of the Crusaders six hits were from the 6-9 spots in the order).
"It's really enjoyable when everyone plays a part in a win."
Dawson Morris pitched well enough to win. His final line was 5 2/3 innings, six hits, two runs, (one earned) three walks and eight strikeouts.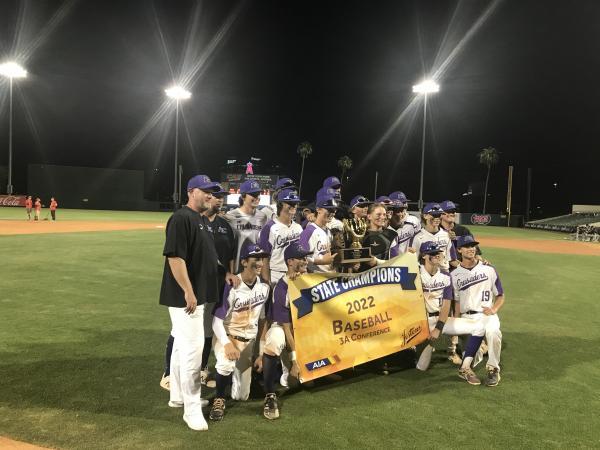 NWC players and coaches pose with school's third baseball banner and title trophy this decade. (Azpreps365 photo)