Northland Prep tops Chino Valley for girls fall soccer title
October 29, 2022 by Les Willsey, AZPreps365
---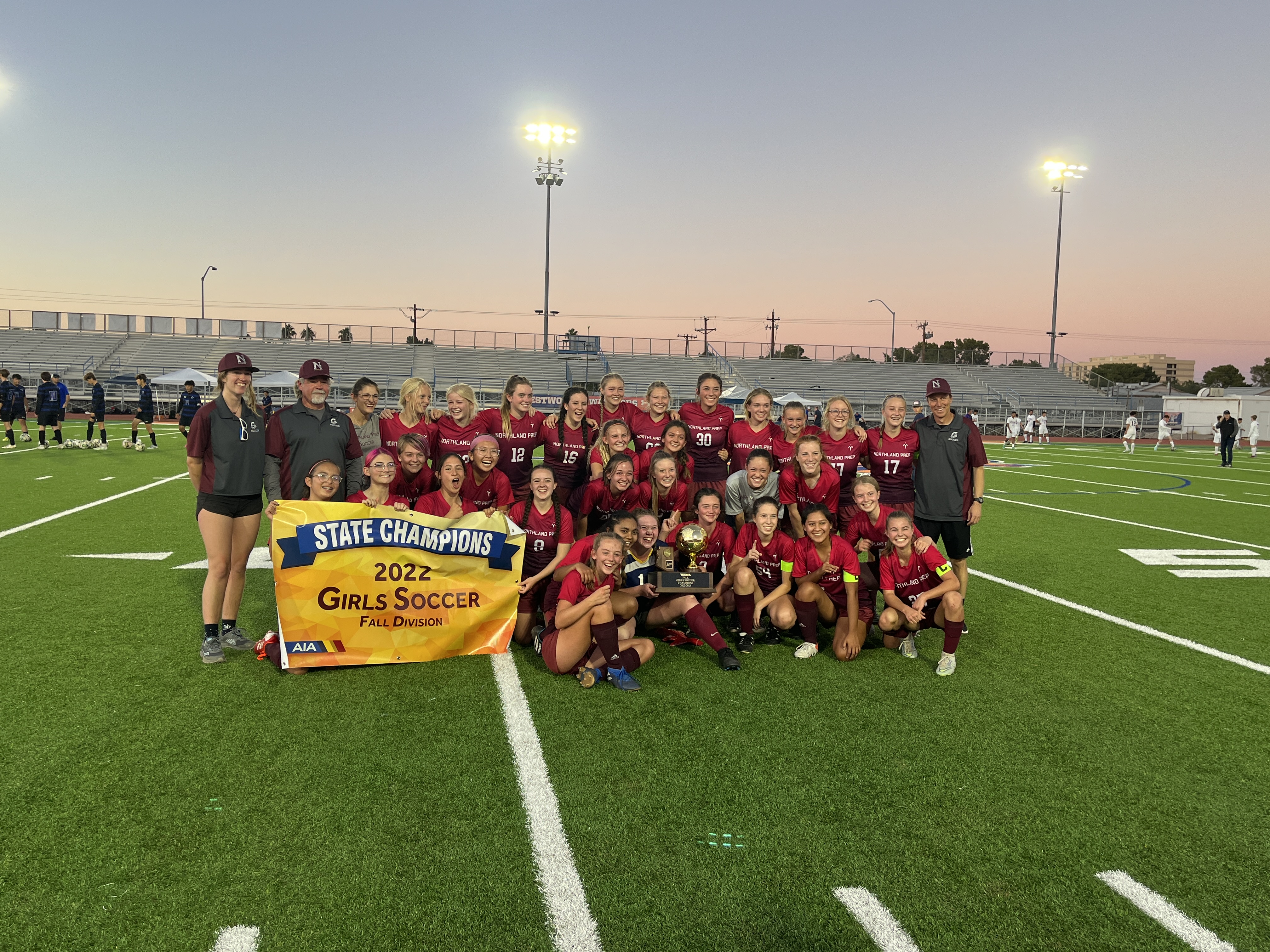 Northland Prep's modus operandi in its bid to keep its girls fall soccer domination intact did not deviate. The Spartans relied on goal-scoring machine Hannah Petrucci and assist-minded Campbell Blair for both goals in their 2-0 triumph over Chino Valley at Westwood High.
It's the fifth soccer title for the girls program at Northland Prep. The Spartans have been to the state final seven of the last nine years. They won consecutively (2017-2020) and finished runner-up twice (2014 and 2021). The Spartans (20-2) finished 2022 with a 13-game winning streak. Their last loss and lone Arizona defeat was Sept. 9 to Chino Valley. Chino Valley also closed the season 20-2.
Northland Prep scored first and early. The Spartans managed to make that tally hold up until the insurance goal was netted in the final minutes. The first goal was Blair feeding Petrucci from about 25 yards out and Petrucci did the rest. The insurance tally came via a set piece with Blair launching a corner to the box and Petrucci finishing with a header. Petrucci's goals were her 46th and 47th of the season and Blair's assists were her 23rd and 24th. Senior keeper Milly Gindorf notched her ninth shutout.
No doubt Northland Prep is good, but the number seven was a good omen. The Spartans scored their goals in the seventh minute and 77th minute. Petrucci wears #27 and Blair dons 17.
BOYS FALL SOCCER
Chino Valley got a second chance Saturday to claim a fall soccer championship. Its boys team obliged.
Osmar Gomez scored two goals and Carlos Rodriguez one in the Cougars 3-1 victory over Sedona Red Rock at Westwood High school.
Chino Valley's title was its eighth in school history and second in a row. And it's the fifth year in a row the Cougars (19-1-2) have won a title or finished runner-up.
Gomez goals came via free kicks. He nailed the first one in the 17th minute from 35 yards out. The second goal came in the 25th minute the conventional way. Chino Valley gained possession in Red Rock's end after a lazy cross-field pass. Senior Carlos Rodriguez nailed a 30-yard shot straight away. The third goal Gomez went far post on another free kick from 35 yards in the 53rd minute.
Red Rock averted a shutout in the final minutes with a goal from junior Brenden Lafferty.