Eastmark punches ticket to 3A state finals, rolls past Lions 45-10
November 19, 2022 by Brian M. Bergner Jr., AZPreps365
---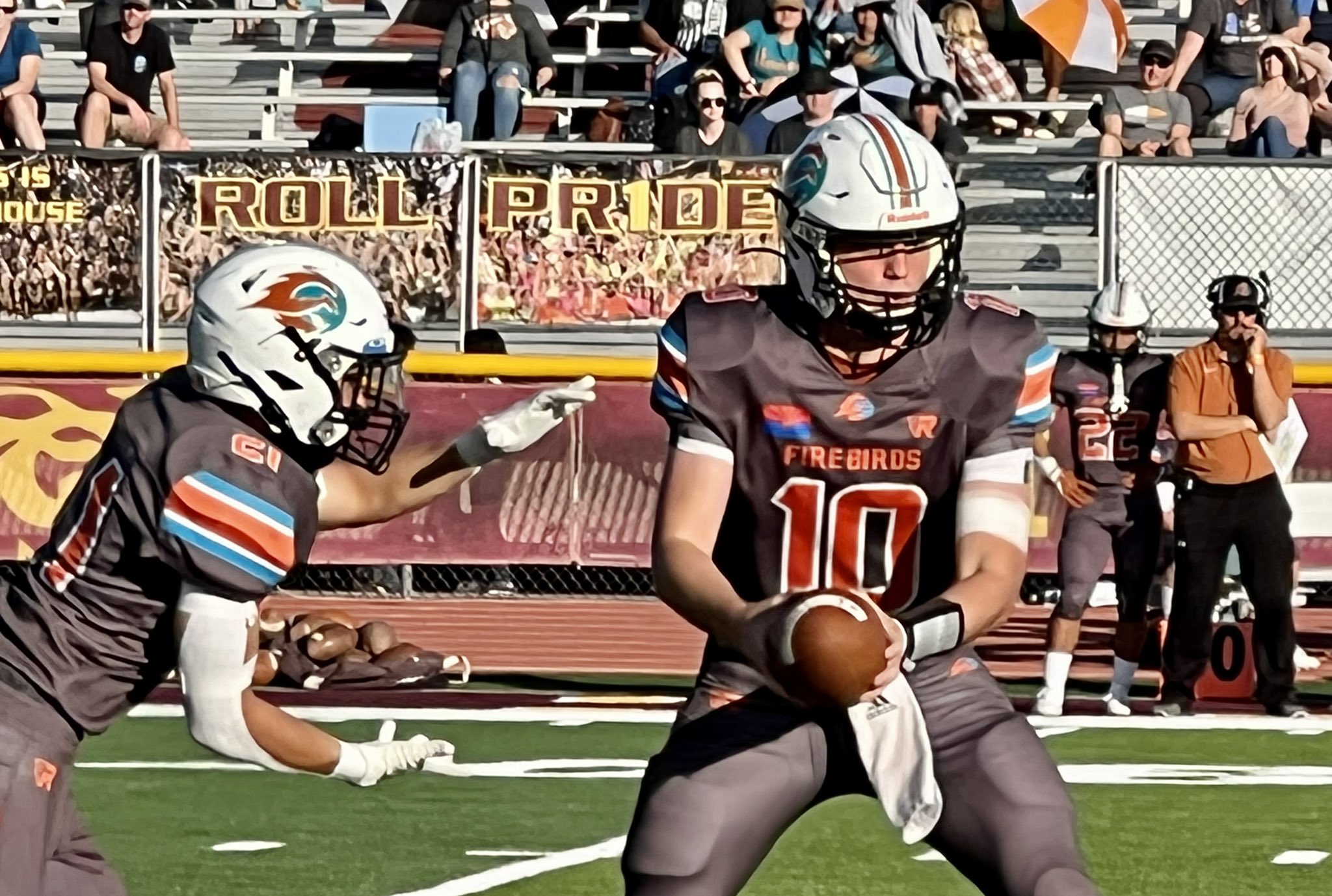 PHOENIX — Austin Johnston scored three touchdowns and nabbed an interception late in the fourth quarter to lead Eastmark to the 3A state finals with a 45-10 win over Pusch Ridge on Saturday afternoon.
It is the 11th straight victory for Eastmark (12-1, 4-0 3A Central), which had more than 350 yards of offense in the semifinal victory.
To begin the second quarter, Johnston scored on a 4-yard run to put the Firebirds up 7-3. He later caught a 30-yard touchdown pass from quarterback Mack Molander with 1:12 to play in the first half.
The same two hooked up with 10:46 to play in the game on a 58-yard strike down the left side of the field on a go-route they ran four plays earlier that earned them a pass interference call.
Johnston's third touchdown of the afternoon put Eastmark up 31-10, and they never looked back.
The 6-foot-1, 184-pound senior had five catches for 134 yards and two touchdowns.
Molander completed 12 of 18 passes for 216 yards and two touchdowns, while recording 65 yards rushing on nine plays to go along with another score.
INJURY ENDS GAME
With 2:39 to play in the game, Eastmark defensive tackle Israel Krize was taken by stretcher off the field by local first responders in a near 20-minute delay. The officials held a short conference together before the injured player was taken off the field and called the game.
It was not reported what the injury was.
OTHER NOTABLES
Pusch Ridge quarterback Bubba Mustain completed 18 of 29 passes for 92 yards. The 6-foot-1, 180 pound junior had 30 touchdown throws this season, completing 148 of 229 passes for 2,487 yards.
Brysen Barrios had 18 carries for 100 yards against Eastmark, but he did not score despite collecting 18 prior to Saturday's contest.
Pusch Ridge (11-2, 4-1 3A South) averaged 46.75 points per game entering the 3A state semifinals.
UP NEXT
Eastmark will await the other semifinal Saturday night featuring No. 4 Show Low (11-1, 7-0 3A Northeast) and No. 1 Thatcher (12-0, 5-0 3A South).
The 3A state finals are set for Saturday, Nov. 26, at Desert Vista High School. Kickoff is set for 6 p.m.
Brian M. Bergner Jr. has covered professional, collegiate and high school sports for more than 20 years. Follow him on Twitter @AzPreps365Brian. Have a story idea? Email Brian at bbergner@azpreps365.com.