AZ Coaches Hall of Fame adds inductees
April 23, 2023 by Les Willsey, AZPreps365
---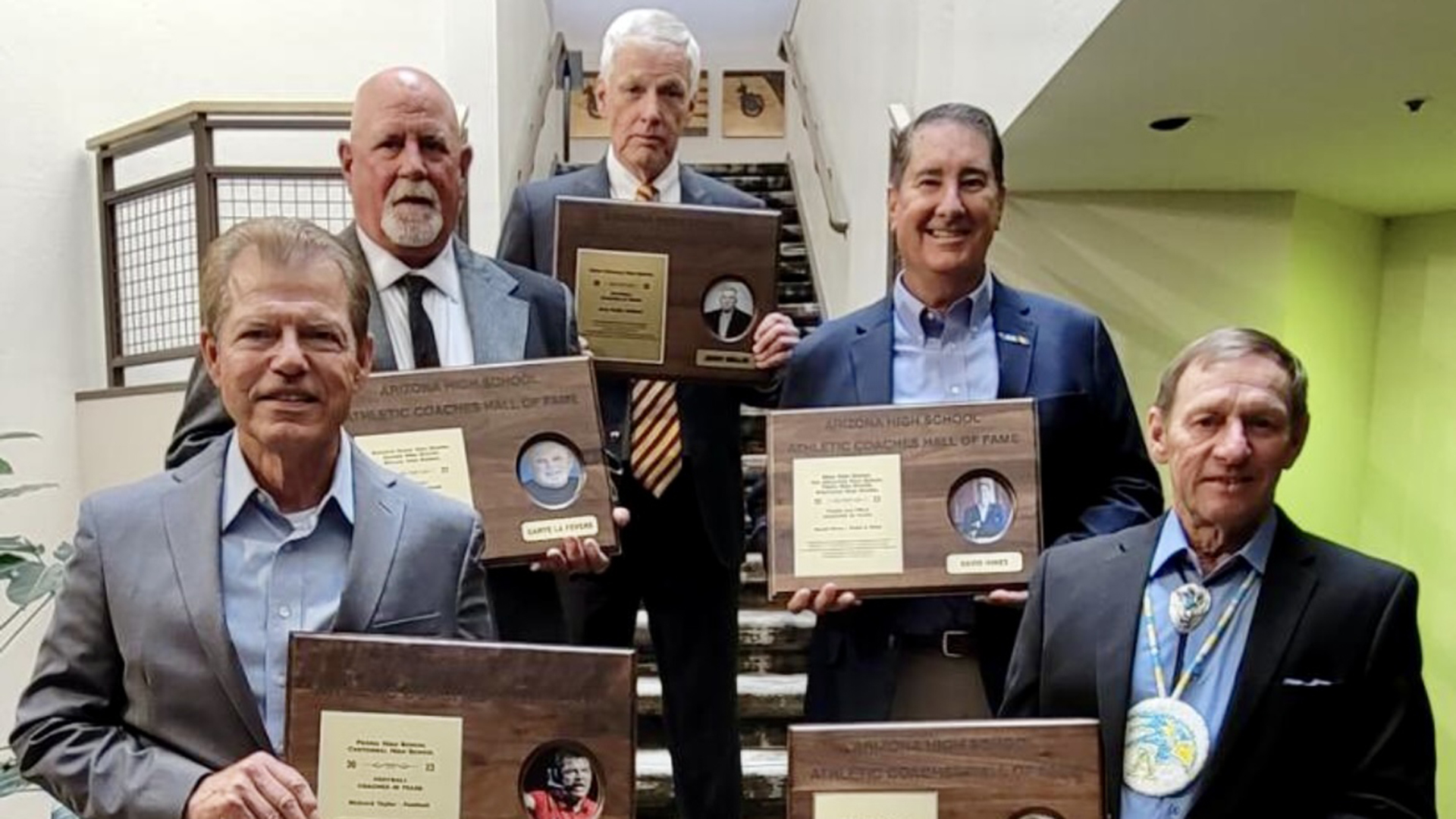 The Arizona High School Coaches Hall of Fame honored six new inductees on Sunday.
In the induction ceremony held at Glendale's Arrowhead Country Club, the Hall added Reedy David (Alchesay boys basketball), David Hines (track and cross country at Mesa High and Red Mountain); Gary LaFevers (baseball at Buckeye, Hayden and Chaparral); Jerry Mullin (Seton Catholic softball); Richard Taylor (Centennial football) and Wolfgang Weber (Salpointe Catholic boys soccer).
Reedy David mentored Alchesay for 23 years starting in 1977. His teams won five consecutive 2A region titles (1990-1994), played in four state title games and won a title in 1993.
Hines piloted four region title squads, state runners-up four times, a state track title at Mesa High in 1988 and girls cross country title at Red Mountain in 1991. Hines went on to become athletic director at Mesa Mountain View and moved on to become Assistant Executive Director at the AIA in 2015. He is currently the AIA's Executive Director.
LaFevers has coached baseball for 40 years. Was region coach of the year seven times and in 1997 named both 2A Coach of the Year and Arizona Coaches Association Coach of the Year. He has served and is still serving as president of the Arizona Baseball Coaches Assocation, a position he took in 2005.
Mullin began coaching at Seton in 1985 with softball the constant and helping other sports at the JV and varsity levels. Mullin has coached more than 750 games with a winning percentage just above .700. His teams have won 14 region titles and 11 state titles. He's earned region coach of the year honors eight times.
Taylor came to Arizona after beginning his football coaching career in Ohio in 1972. He moved to the Valley in 1986 and was named head coach at Centennial when the school opened in 1990. Taylor has compiled a caeer record of 322 wins and 124 losses, and while leading Centennial is 247-85-3. Centennial has won 24 region titles, earned state runner-up honors four times and won state titles seven times.
Weber enjoyed an extensive career as a player, emigrating from Germany to the U.S. in 1973. He made his home in Tucson and started the boys soccer program at Salpointe Catholic. He is still active as a coach. Salpointe has won nine state titles, earned four runner-up finishes and won 36 region titles. His overall record is 733-18-27 - a winning percentage of .851.