'Goose' goes maverick to help pull off upset over two-time defending 5A champ
May 16, 2023 by Jose Garcia, AZPreps365
---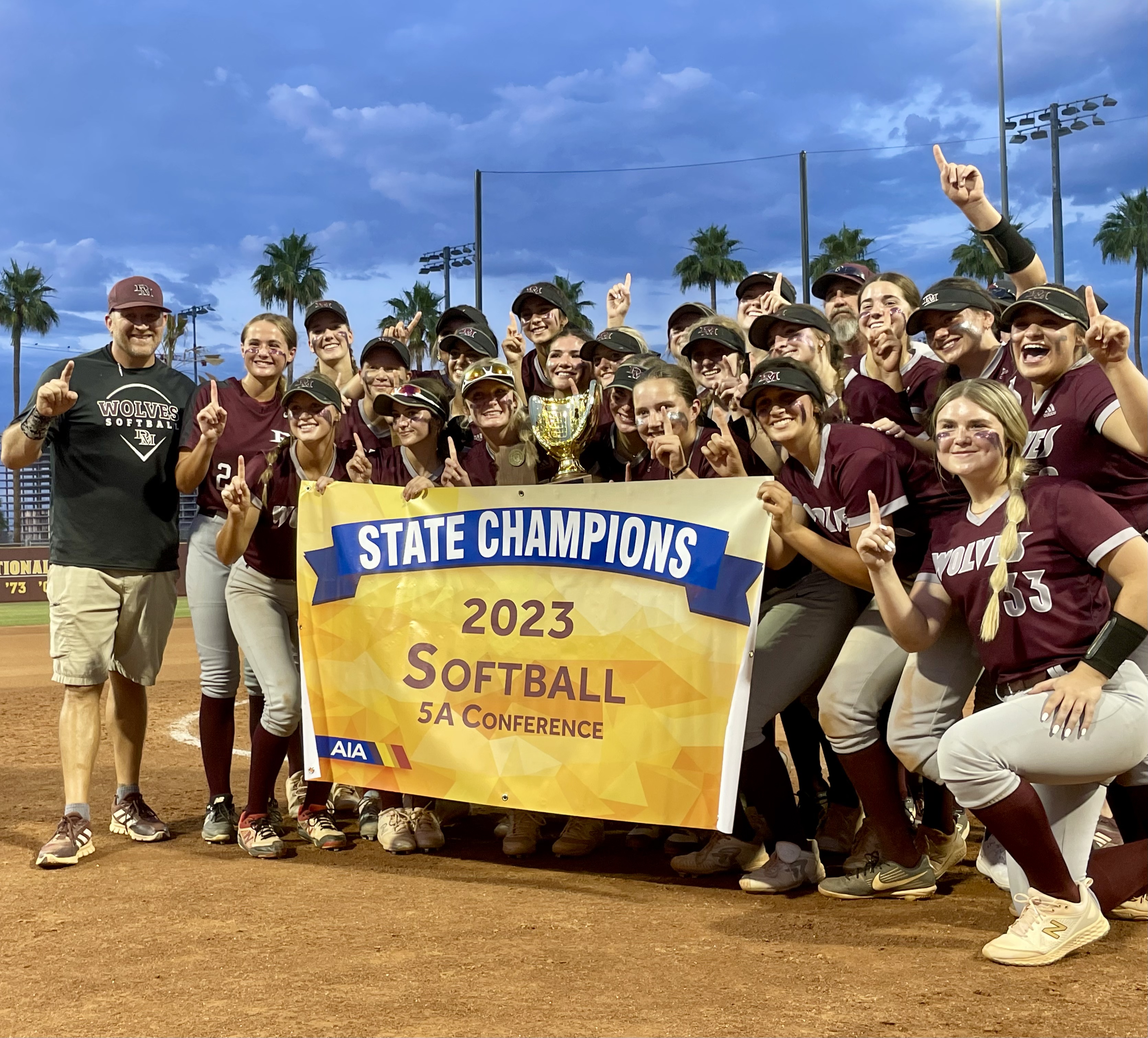 Somewhere lying on the dirt right after the game was Lilly "Goose" Goodwin.
It turns out Goodwin was on top of the world, surrounded by her softball teammates in the circle where a legend was born.
The precocious 14 year old completed one of Arizona's all-time greatest seasons by a freshman high school pitcher Monday in grand fashion. Goodwin led her team to a 4-2 upset over two-time defending 5A champ Willow Canyon, finished 18-0 in the circle and helped clinch the first softball crown for Desert Mountain.
"It's insane," said Goodwin about what unfolded at Farrington Stadium.
That's an understatement.
But Goodwin is apparently not done making statements.
"I can't wait to do it again next year," she added.
Slow down, kid.
Let's appreciate Monday's performance first.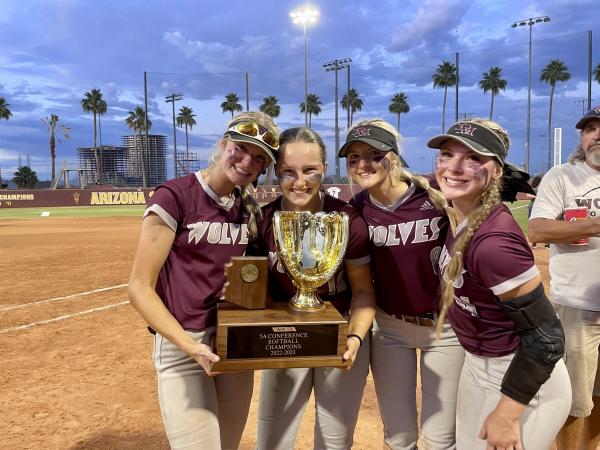 Lilly "Goose" Goodwin (second from left) and her teammates went home with the biggest prize in 5A softball Monday. (Jose Garcia/azpreps365)But it did take some spunk and talent to help pull off what Goodwin and her 28-4 team did. Not only was 30-2-1 Willow Canyon's lineup (.398 team batting average) loaded, it started in the circle the masterful Marissa McMann, who had lost only twice in her 50 career starts prior to Monday.
The Missouri right-handed commit began by retiring the first 10 batters she faced, striking out eight of them. The left-handed Goodwin, however, started the game by allowing a check swing single and double.
But the freshman's nerves settled after that despite also giving up an RBI sacrifice fly in the first inning to Rylee Turlington. Goodwin and McCann then went mano-a-mano.
After those two first inning hits, Goodwin didn't allow the next 19 batters to get a hit. Meanwhile, Desert Mountain's lineup, which had a pedestrian .296 team average, delivered some clutch hits.
In the fourth inning, the second batter in Desert Mountain's batting order, Mackenzie Durr, hit a one-out single to left for her team's first hit. Durr had a good chance to get to second but fell as she rounded first.
But the next batter made sure to pick her up. Emily Strittmatter liked what she saw from McCann's first pitch, because she launched it over the left field fence.
"We're sitting good," said Desert Mountain coach Chris Fredericks about Strittmatter's sixth homer of the year. "We've got confidence that we can go out and play with anybody."
In the top of the seventh inning, with two strikes on her, Desert Mountain catcher Katie Hofmann led off with a single to left. Goodwin, also facing a two-strike count, then showed off her swing, driving a pitch to the left-center gap that scored courtesy runner Dyan De Luigi.
Josie Kaparski followed and executed a perfect bunt in front and to the right of the dish, which led to a throwing error by Willow Canyon's catcher and courtesy runner Kylee DeGreoris scoring Desert Mountain's final run.
The bottom of the sixth, when Goodwin retired the side in order, also was key, because cleanup hitter, Turlington, opened the bottom of the seventh with a mammoth shot over the left field wall. The next batter, Kylie Bearden, then earned a full-count walk to bring up the potential tying run.
But Goodwin wasn't about to let the game slip away. She induced a ground out and ended her special night with her 10th and 11th strikeout in the game before getting mobbed on the field by her teammates.
The freshman also finished her first varsity campaign as the 5A's leader in strikeouts with 261 in just 133.2 innings. When she was younger, her mom used to call her Silly Lilly but dad went with Silly Goose.
When she played on a club team with another player with the same first name, Lilly, that's when Goose stuck. There's something else you can call Goose and her team now: state high school champs.
Goodwin likely wasn't kidding about going after another title next year.
Heck, what about the next three years?
"Maybe," she said. "You never know."
To be 14 and have the whole world in front of you.