It took 5 sets, but Notre Dame defeated defending champ again
September 20, 2023 by Jose Garcia, AZPreps365
---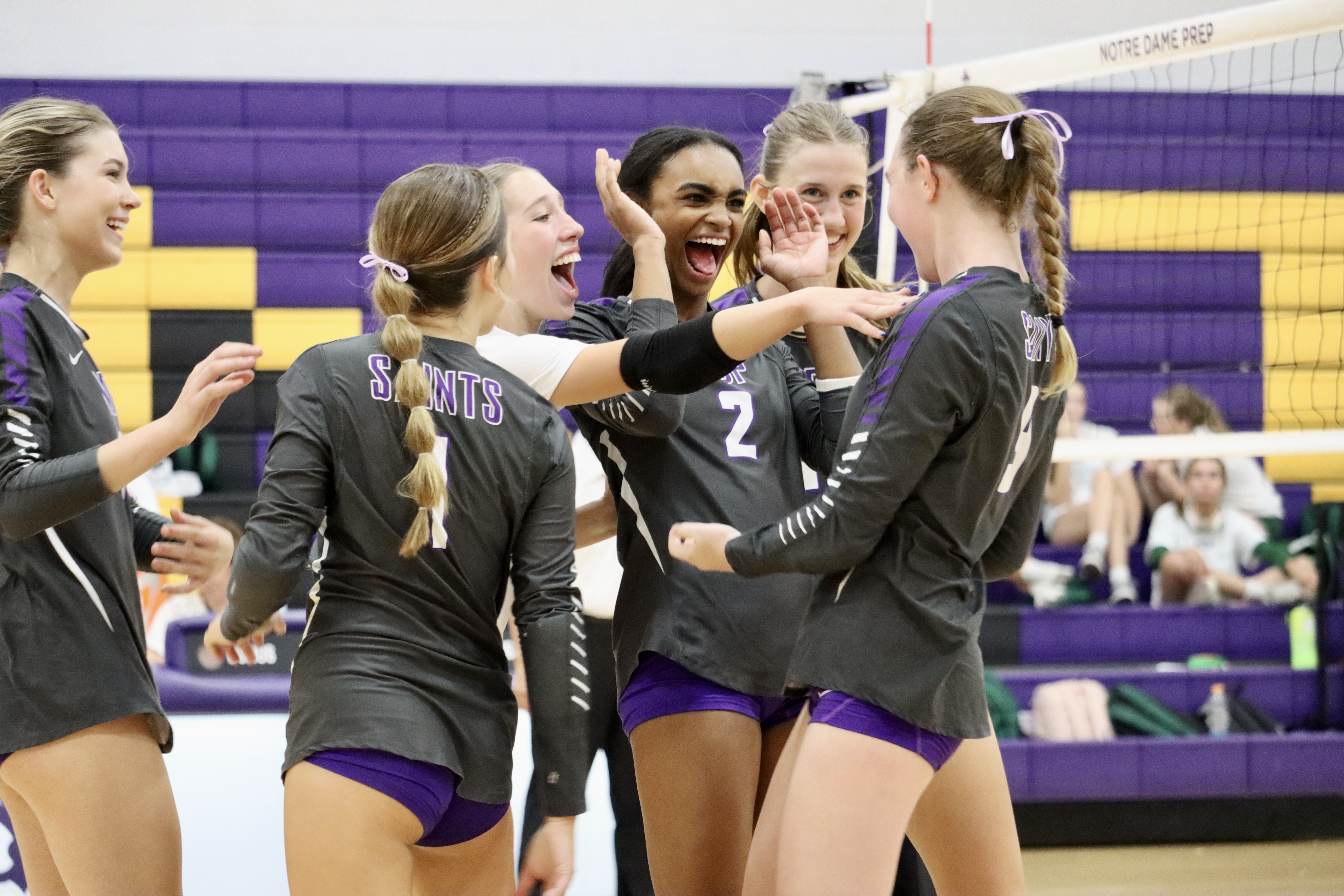 The Horizon Huskies were seeking some pay back.
But Notre Dame deposited another 'W' against the two-time defending 5A champ.
The volleyball programs met just 10 days ago in pool play during the Westwood Tournament of Champions, with Notre Dame winning two closely contested sets. On Tuesday, Notre Dame withstood visiting Horizon once again, this time 19-25, 25-21, 23-25, 25-16, 16-14.
Midway through the volleyball season, the 5A state title race is beginning to take shape. With losses to Notre Dame, Millennium and Casteel in the last 15 days, the powerful yet young Huskies learned that there's plenty of talent chasing after their crown.
The prime matchup in Tuesday's volleyball slate featured evenly matched teams with two of Arizona's heavy hitters, Notre Dame's Texas Christian-bound Evan Hendrix and U.S. National U-19 representative Teraya Sigler.
Neither team led by my more than two points in the final set, when Mya Clay's kill gave Notre Dame its first match point at 14-13. Horizon's Sigler then responded with a kill off two blockers to level the match.
But Hendrix's final kill of the match and a Horizon passing miscue ended the match.
"It's hard to do that twice (defeating Horizon), especially when you have a target on your back, and with (Horizon) coming off that loss to Millennium," Notre Dame coach Holly McLean said. "So you know they are hungry. I thought Horizon made some really great adjustments that challenged us in the middle of that match."
Two of the state's best 🏐 teams, Horizon and Notre Dame, just completed a five setter. After two plus hours of high level play, ND won 19-25, 25-21, 23-25, 25-16, 16-14. Final points of the match: pic.twitter.com/IOILTuS3YX

— Jose E. Garcia (@AZPreps365Jose) September 20, 2023
The young players on each side of the net gained some valuable experience during their Northeast Valley Region opener.
The liberos for each squad, Notre Dame's Lauren Watson and Horizon's Ava Lambert, were superb and so too were Notre Dame's Clay up front and setter Emma McSorley.
"Mya's knowledge of the game and leadership skills made a difference in the match, slowing down Horizon's weapons," said McLean about the three-year starter.
This is McSorley's first year running the offense.
It didn't look like it, especially down the stretch.
"At the start of the game I feel like it takes 10 points, and then I'm like in the match," said the smiling McSorley. "I'm so proud of our team. They really stepped up. We had the endurance. It was a mental game."
For 10-5 Horizon, freshman Olivia Kauffman's blocks and sophomore Sienna Markovich's kills helped set the tone early, when their team won the opening game.
"I told the girls right away (after losing the match), 'That's the best I've seen you play in a long time,'" said Horizon's first-year coach McKennna Skaggs. "They fought together the entire time. And we picked up balls that we used to let go. So I'm proud of them.
"We're not the same team we were last year. We're a little bit younger, but that doesn't mean we're not going to be just as good if not better."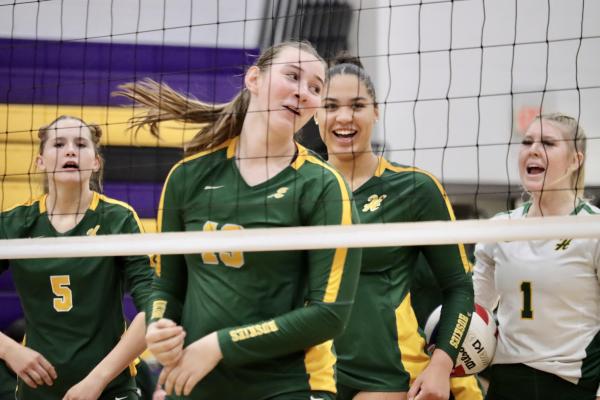 Horizon players celebrate after winning a point during the final game of their Tuesday match against Notre Dame. (Jose Garcia/azpreps365)In the second game, Horizon rallied from a 7-3 deficit.
But Notre Dame (12-1) never relinquished the lead after that game was tied 12-12. In the third game, Notre Dame lost another five point lead, this time when its most potent hitter, Hendrix, remained in the left back during a rotation.
After regaining the momentum, Horizon wound up winning the game, which ended with a Kauffman block and Flora-lynn Vandenberg kill.
Notre Dame was in control in the fourth game, highlighted by a stretch in which Payton Palecek served four aces.
Notre Dame's Evan Hendrix is scheduled to appear on azpreps365's radio show Saturday at 9:30 a.m. on 1580 AM The Fanatic and 99.3 and 95.9 FM.