4A girls hoops: Seton stymies Pueblo for 10th title
February 24, 2018 by Les Willsey, AZPreps365
---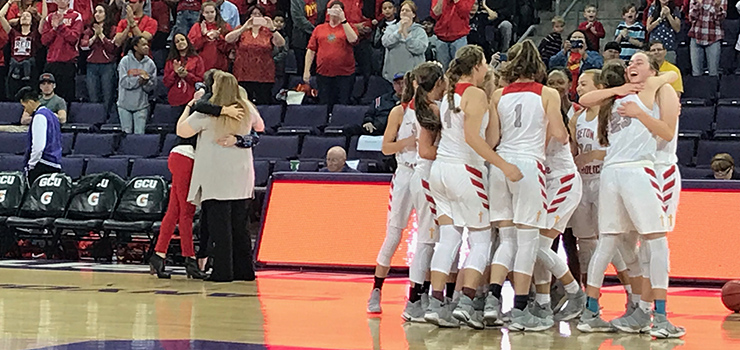 Seton coaches (three) hug and the players do the same after title win over Pueblo (AzPreps365 photo)
Seton Catholic girls basketball program has done this before. The scoreboard now reads: State championship No. 10. Title No. 7 this decade in eight tries. And its third threepeat.
It wasn't easy as No. 2 Pueblo gave the top-seeded Lady Sentinels all they wanted before pulling a away enough in the final quarter for a 55-42 triumph in the 4A championship game at Grand Canyon University Arena.
Senior guards Sarah Barcello and Kendall Krick bowed out with 18 and 13 points, respectively. They both are headed to Marist College in the fall to continue their careers. Seton is now 10-4 in championship games with the threepeats (1997-99), (2010-12), (2016-18) and 2014.
"I wasn't sure we could win it," Seton coach Karen Self said in completing her 25th season with her 687th career victory. "I felt their pressure and depth was impressive and could give us some trouble. Early in the game (Jasmine) Belt was killing us. We had no answer."
Pueblo (30-3) which was playing in its first title game ever, took a 10-5 lead after the first quareter dominating the boards and scoring inside via sophomore post Jasmine Belt. Seton (31-3) didn't take its first lead unti a couple minutes into the second quarter and although they maintained it the rest of the game there was no comfort level for Self and her squad. Belt scored six points in the first period, but foul trouble idled her for much of the second period, a chunk of the third and most of the fourth. Belt finished with 10 poiints and nine rebounds before fouling out with 6:23 to play.
Seton poses for another girls basketball title, the 10th in school history. (AzPreps365 photo)
Seton led 19-13 at half thanks to 10-0 run to start the second quarter. It wasn't until the final period when Seton brought a 34-29 edge that the a 10th title seemed on the horizon. Sarah Barcello netted her third 3 tof the afternoon to begin the quarter. Two free throws by junior McKenna Klecker and a transition layin by Krick pushed the lead to double digits for the first time at 41-29.
The lead was 47-33 with 3:45 left, but Pueblo senior guard Ilyssa Diamond Galindo wasn't going down quietly. Galindo scored 11 of her team-high 17 points in the quarter. Her final points -- a 3 with 128 left pulled the Warriors within 48-42. Sara Pfeiffer closed it out for Seton making 7 of 8 free throws in the final minute to complete the scoring. Pfeiffer normally a high-precentage shooter from anywhere on the floor, made just 1 of 12 shots, but her nine points all came in the final quarter
Seton got a spark in the second quarter from reserve Kendyl Thompson, who scored all six of her points in that quarter. All of Seton's lineup was struggling to score at that point so her contribution was timely. Thompson made 3 of 5 shots in helping Seton salvage 30 percent shooting from the field in the first half.
"One of the things with this team is everyone has to do their part," Self said. "We knew they were concentrating on other players so we made sure if the shots were there they needed to take them."
Krick said the emphasis at hafltime was threefold. and the plan worked reasonably well.
"We needed to play great defense, get to the basket and draw some fouls to get to the line," Krick said.
Seton's Kendall Krick defended by Ilyssa Diamond Galindo (Photo by Rory Self)
Seton's Sarah Barcello fires up a critical 3 in 4th quarter (Photo by Rory Self)
Pueblo shows off the pride and accomplishment of its runner-up finish to Seton on Saturday. (AzPreps365photo)