Aztecs slip past Liberty in play-in game
February 7, 2019 by Jason Krell, Arizona State University
---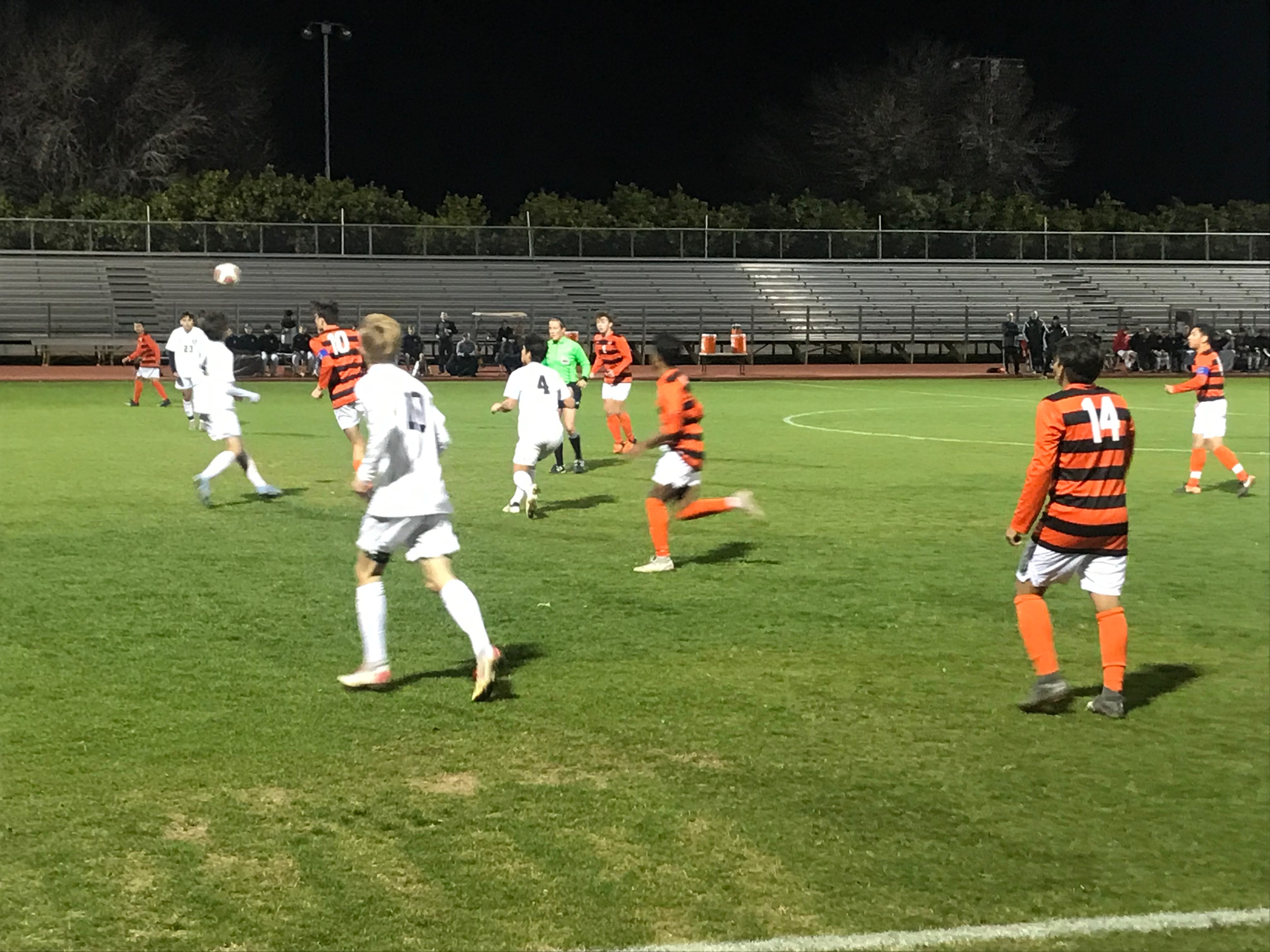 The Corona del Sol Aztecs kept their heads as cool as the evening's temperature in a 4-1 play-in game victory over Liberty High School on Thursday night.
While it was barely 50 degrees on the field, Corona goalkeeper Isaiah Garay had ice in his veins to close out the first half. With three seconds left on the clock and a 3-1 score-line, Liberty was awarded a penalty kick and the opportunity to swing momentum in their favor. But Garay tracked the shot perfectly, diving to the goal's left corner and knocking the ball away.
"That was the best high school penalty kick save I've ever seen," Corona head coach Dan Salas said. "That was unbelievable. And I think what that did is it provided that reassurance that 'hey, we're good.' I think if that kid scores that goal, it's a whole different halftime talk."
Despite being up two goals at that point in the game, Salas pointed to that save as a key moment that helped Corona put the game away. But for Liberty head coach Tyler Hussey, he said the save encapsulated the bad breaks that have hounded his team all season.
"It's frustrating because there's so much talent on this team, but that's the game," Hussey said. "You can have such a good team, but you've got to get a little lucky now and again."
Hussey said Liberty did start off the game well, but their early pressure quickly gave way to Corona's methodical ball-movement across the middle of the field. Then, when Hussey moved players forward in an attempt to equalize the score, it created space that Corona capitalized on.
Captain Jacob Flores scored Corona's first goal in the sixth minute after receiving a cross pass across the other side of Liberty's goal. Then, Milt Hatzidakis punched the ball through defenders near the goal to score in both the 13th minute and the 26th minute.
Salas said the whole team got comfortable from a technical standpoint, which helped Corona make good decisions and maintain control of the ball for most of the game. According to Flores, who was often in the action as a midfielder, his goal was to break Liberty's pressure by playing quickly.
"When they get into you, when they hit you, you've got to keep your cool and just keep playing your game," Flores said. "Then they get more frustrated and do stupid stuff."
Not all of Corona's decisions were good, according to Salas. When Liberty scored in the aftermath of a free kick near Corona's goal, Salas blamed it on a sequence of poor attention to detail.
"It's a combination of their pressure and our complacency," Salas said. "I think there was a string of poor decisions that led up to the 45 seconds before the goal, to 15 seconds before the goal, and then all of a sudden you're going 'wait a second, what's going on here?'"
Salas added that the team plans to examine those details in the practice before their next playoff game but stressed that he was ultimately happy with what his players did right. After all, Corona kept cool in the second half and didn't give Liberty many chances to score. Nikhil Chagam even added a goal in the 70th minute to seal the game for his team.
After winning their play-in match, Corona (12-7) continues their playoff run on Saturday at 2 p.m. Their opponent and the location of their match will be posted on AZPreps365's playoff bracket on Friday.