3A basketball semifinal recap: Holbrook in title game for 1st time
February 22, 2019 by Jose Garcia, AZPreps365
---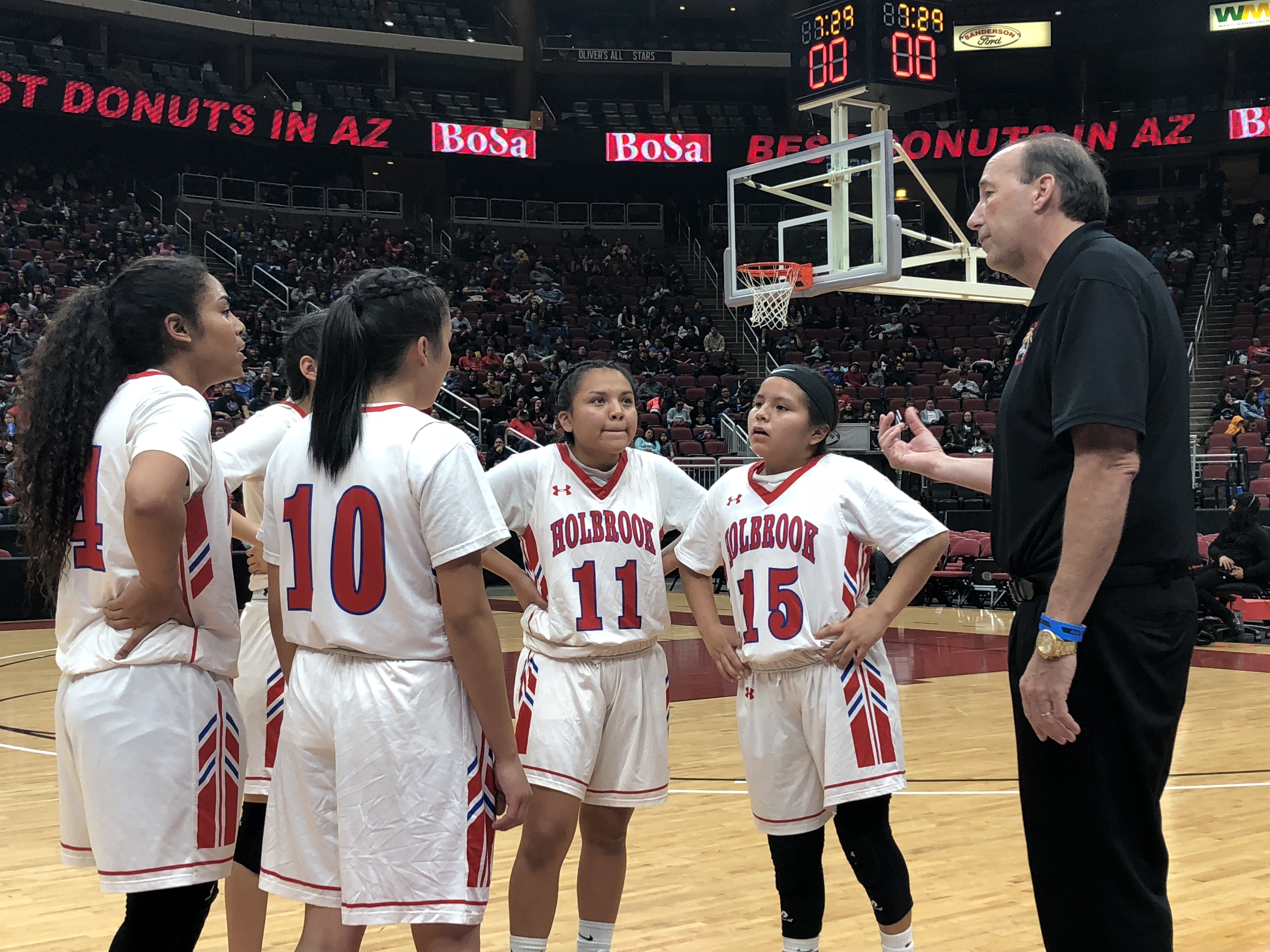 A disappointed Greg Perkins called a timeout, took his young five players out and replaced them with his starters with 30.2 seconds left in the game.
His Holbrook team was up 46-32.
"I have five freshmen on the team, and they have to learn," Perkins said.
A coach's job is never over.
The details, to Perkins, matter.
That's probably why his team clinched a 3A title berth for the first time in Holbrook's history. It did so after defeating Chinle 46-32 in Friday's semifinal.
Some of his young players, despite some hiccups late in the game, didn't play that bad during the game. The youngsters actually helped turn things around for Holbrook when Chinle trailed 26-24 in the third quarter.
"I put some young girls in who have some speed, and their job is to create chaos," Perkins said. "We got the momentum back. The bench helped speed things up for us. They got us back in the lead and settled the starters."
Post player Matehya Aberle (13 points) and Madison Chappell (10 points) led the way for Holbrook.
Coach Perkins will be on azpreps365's radio show Saturday at 8:30 a.m. The show runs from 7-9 a.m. on 1580 AM the Fanatic.
Valley Christian defeats Paradise Honors during 4th meeting of season
Valley Christian boy's basketball coach Greg Haagsma was honest.
Paradise Honors not having one of its best players was a factor in his team's 67-52 3A state semifinal victory, Haagsma said.
Friday's meeting was the fourth time the region rivals met this season, and each of those games were close. But Paradise Honors' missing player was ruled ineligible just before the playoffs.
Take nothing away from Valley Christian, however. The team shot well, especially from beyond the arc, where it converted 7 of its 15 shots.
Guard Phillips Logan made four of those threes to finish with a team-high 20 points.
"We didn't (keep them out of the lane) well enough tonight but did make it hard for them to score," Haagsma said. "We were patient on offense and got to rim a lot ourselves. I thought Logan and Peyton Hanzal (8 points) hit some big threes. Timely offense and just grinding them on defense."
The play of guard Jalen Grijalva (14 points) also was key.
Jon Jackson finished with a game-high 11 rebounds and 22 points for Paradise Honors. Haagsma is in his 22nd season with Valley Christian's boys program and so are his assistants, the Hanzal brothers, Trent and Troy.
They'll go for their sixth title Saturday.
Page going for 4th title this decade
Page will defend its 3A girl's basketball title.
The reigning champ won 43-26 in Friday's semifinals at Gila River Arena, holding Winslow to a season low in points.
"We are excited," Page coach Ryan Whitehorse said. "We knew that we had a chance to get back to the final four and championship game. We had so much leadership coming back from last year. We lost two seniors, but the group of seniors we have stepped up a lot this year. We also have a great group of underclassmen also."
One of those underclassmen, sophomore post player Torrance Begay, helped turn the momentum in Page's favor with the game tied 13-13 in the second quarter.
She scored a couple of baskets inside to ignite a run, as Page outscored Winslow 18-0 in the paint. Whitehorse also made sure he was heard during the game, encouraging his players to push the ball.
Page's Camryn Nockideneh listened. She scored a basket in transition to give her team a 29-19 advantage in the third quarter.
That led to a Winslow timeout.
"We just started to settle in to what (Winslow) wanted to do," Whitehorse said. "We got a little tired. But that was a reminder at halftime that we have to stick to our game plan and that's playing aggressive defense and being patient and letting the game come to us offensively."
No. 2-seeded Page (26-4) is 3-1 in title games since 2012. This is the second consecutive year that Page knocked Winslow out in the postseason.
Page's Myka Taliman (13 points) was the only player to score in double figures, but 10 different players scored for Page.
(Page coach Ryan Whitehorse talks to his team during his team's state semifinal victory at Gila River Arena. Photo by Jose Garcia/azpreps365.com)
Pusch Ridge defeats region rival in OT
Pusch Ridge defeated region rival Sabino 54-47 in overtime to advance to the 3A title game.
Jared Clark hit a clutch three with 1:55 left in OT to pull his team ahead 48-45. He took six 3-pointers, but that was the only one he made.
"I had struggled early in the game, actually throughout the whole game," said Clark, who led his team with 17 points. "But I just never lost confidence and knew my teammates didn't lose confidence in me. I just knew we needed that shot and just knocked it down."
Clark's team never lost the lead after the three.
Sabino missed two shots and turned the ball over in its last three possessions. Pusch Ridge had a chance to end the game in regulation but missed two shots just before time expired.
In the Saturday's final, Pusch Ridge will play Valley Christian.
Lucas Elliot, the nephew of Tucson great Sean Elliot, finished with 10 points and 10 boards for Pusch Ridge.