5A girls basketball championship: Different outcome for Millennium, finally
February 25, 2019 by Jose Garcia, AZPreps365
---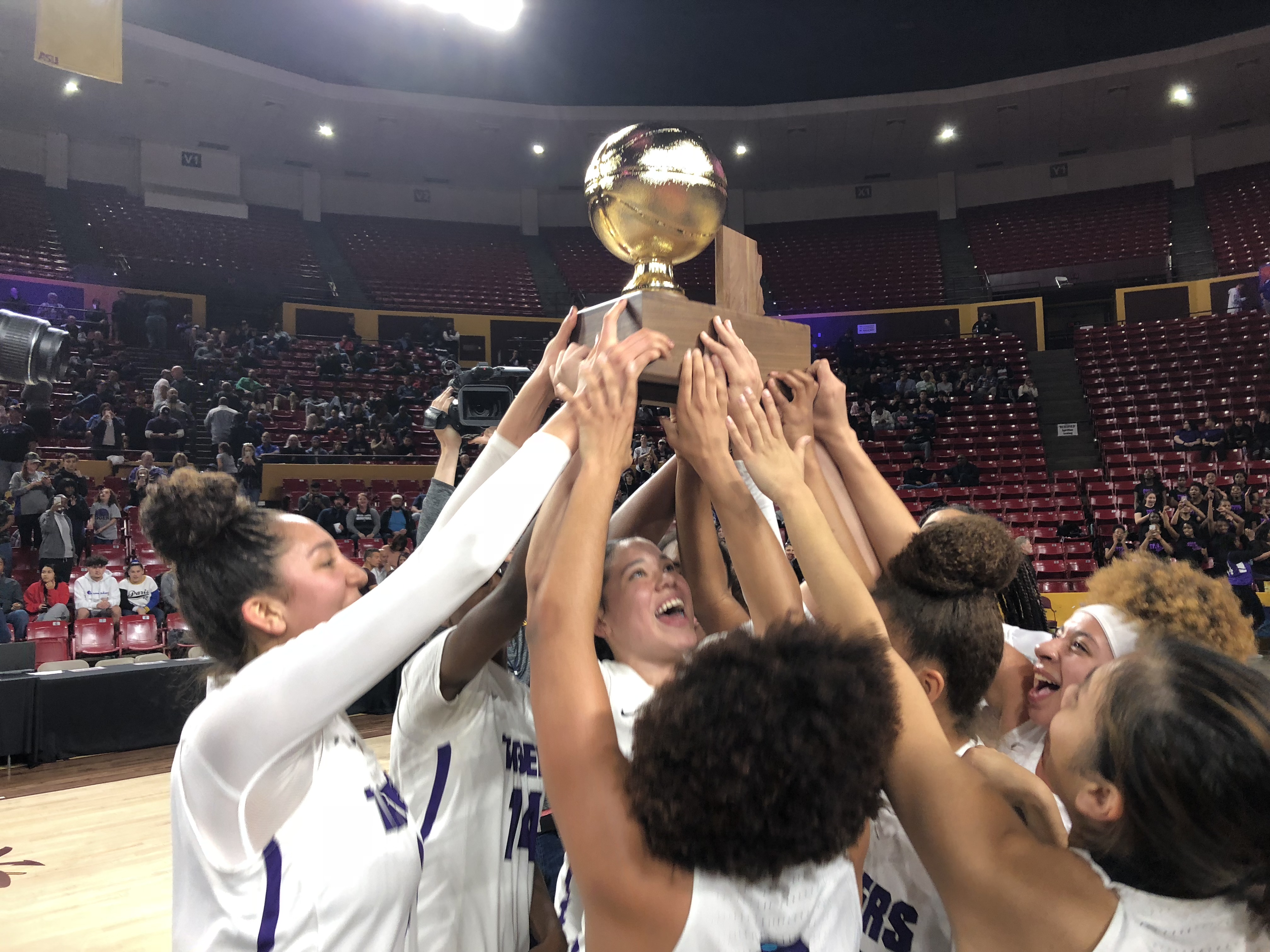 Basketball coach Cory Rojeck can't wait to start assisting his other team.
He and his wife welcomed a new bundle of joy in January. But he's spent a lot of time at Millennium while his wife and mother in law have been with the newborn, 6-year-old twin boys and 4-year-old son. Rojeck's team at Millennium was working on delivering a championship trophy.
The Lady Tigers finally did it after being oh so close in recent years.
No. 1 seeded Millennium walked off Wells Fargo Arena with the 5A Conference trophy Monday after defeating No. 2 Gilbert 66-40.
"My family is awesome. I'm so proud of these girls," Rojeck said. "I can't wait for the spring to enjoy being a dad. (Tuesday) I'm going to go home and hug the heck out of my kids and wife, and it's going to feel great."
Millennium was in the final eight the past six years.
It's been to the final four three times in the last five years and took three trips to the finals.
"You lose those first two (titles), and I'll be honest, you start thinking, we just have to get this monkey off our back," Rojeck said.
The Tigers did it with defense and hitting their shots, including during the third period when 27-4 Millennium took control.
Millennium held Gilbert (25-6), which was averaging a 5A high 70.4 points per game, to its lowest scoring output of the season. In fact, Gilbert's two lowest scoring games this season came against Millennium, which ended the first period with a 13 point lead.
But Gilbert's transition game got it back in the game, as Millennium started rushing its shots and captain Dominique Phillips picked up her second foul. Gilbert only trailed 25-20 at halftime. Millennium had a height advantage, but it was its outside shooting (54.8 shooting percentage for the game) that helped it pull away in the third period.
Freshman Trayanna Crisp (11 points), Millennium's third leading scorer, knocked down three 3-pointers in the third, when her team outscored Gilbert 19-6. By the end of the third period, Milllennium also had outrebounded Gilbert 29-13 in the game.
"We always say give the ball energy," Rojeck said. "The ball was flying around and the shots were going in."
Phillips said about her team's third period performance, "It's just family. That's all I think about when this happens. The four seniors (Phillips, Shyann Heredi, Alexyss Newman, Alaina Diggs) have been working for (title)."
So to have the underclassmen.
Junior post Ali Zelaya finished with a game-high 21 points and 10 rebounds. The game marked the end of the careers of the Gilbert Cavinder twins, Haley and Hanna, the 5A's leading scorers this season.
The Fresno state-bound seniors spent their time answering every question from reporters after Monday's game. The twins led their program to its first state title appearance since 1992.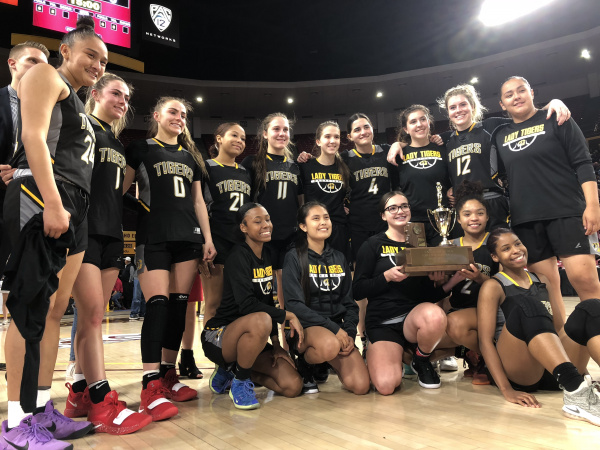 (Gilbert, the 5A runner-up, reached its first title game since 1992. Photo by Jose Garcia/azpreps365.com)
"It was an unreal experience," said Hanna about playing with her sister. "I wouldn't change it for the world. I know I'll look back at this and cherish these moments."
This year, Rojeck challenged his team to be different and not to worry about what others say.
Things certainly didn't stay the same for Rojeck, who has built Millennium into a power in his 10 season, and his program.
The outcome was finally different.
(Millennium coach Cory Rojeck and his family are all smiles after the coach and his team won the 5A title Monday at Wells Fargo Arena. Photo by Jose Garcia/azpreps365.com)