Boys volleyball catches on at Notre Dame Prep
March 11, 2019 by Erica Block, Arizona State University
---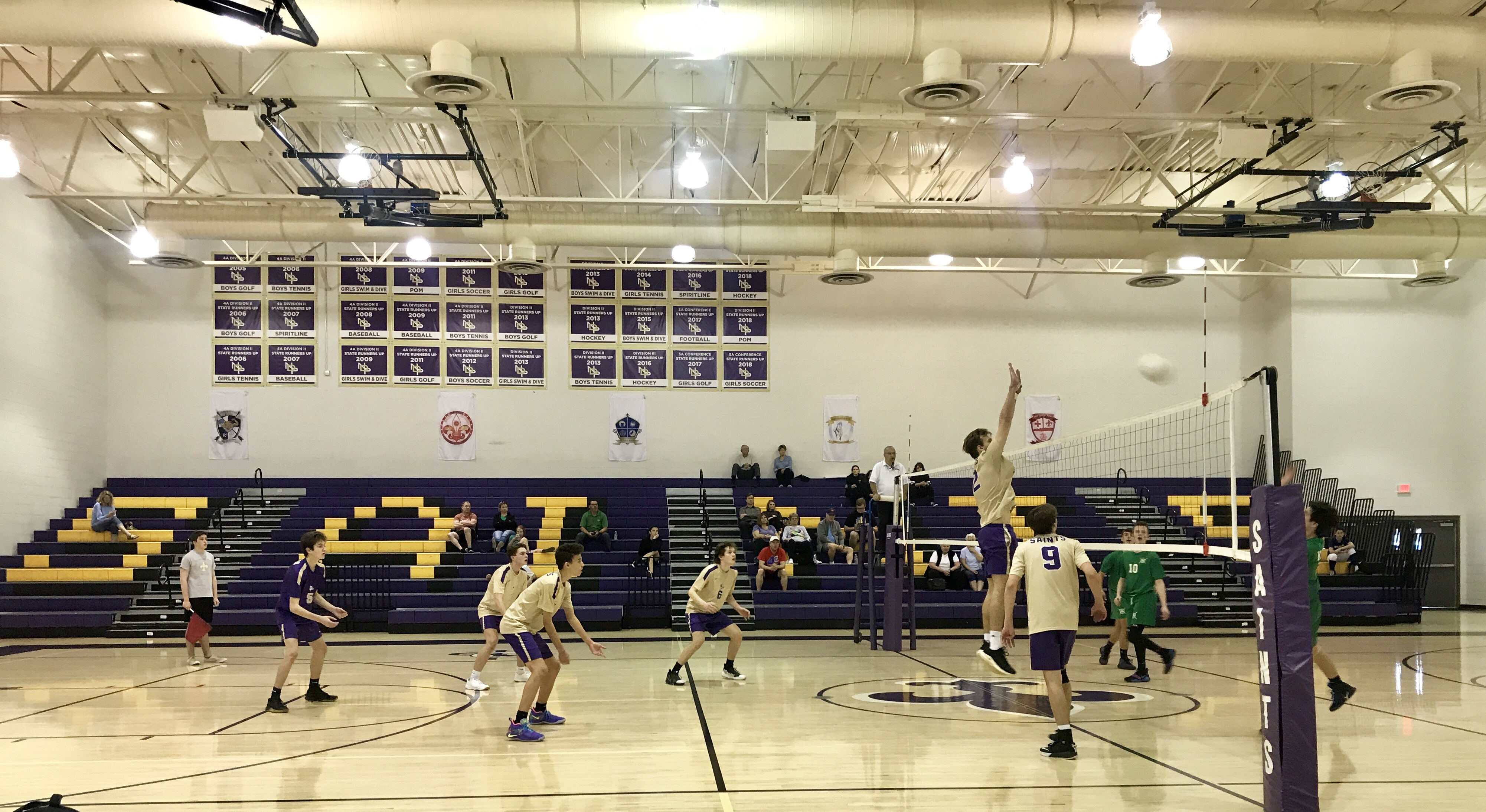 Many Americans think of volleyball as a women's sport. But across the country, boys volleyball is becoming more popular and the latest 2017-18 National Federation of High School Sports (NFHS) report reveals it's the second fastest-growing sport in the nation.
Although the Arizona Interscholastic Association (AIA) didn't introduce boys volleyball until 1995, the number of high schools offering the sport has ballooned in the last decade.
At Notre Dame Prep the boys volleyball program is still in its infancy. But it's not hard to imagine the Saints' volleyball program rising to the level of other 5A West Valley schools like Horizon Honors and Raymond S. Kellis High School in the coming years.
"During my first season [as coach] we relied on the basketball team to fill our program," Notre Dame head coach Andrew Clark said. "A lot of the guys that you see out there now, they've been playing volleyball for three seasons without ever learning the game prior."
This is Clark's third season with the Saints. He has observed the team's evolution over the past three years, overseeing the team's development and bearing witness to their improvement.
"The guys have put in a lot of hard work, a lot of dedication, and they've learned the game really well," Clark said. "In practice, we really hone in on important drills, like hitting and setting. We try to focus on achieving perfection as much as possible."
Mastering the sport's fundamentals has paid off for the Saints. At the team's home game versus St. Mary's on March 6, the Saints won in five sets, improving their record to 3-1 this season. For comparison, their record was 4-14 during the 2017-18 season.
Jake Hiland, the Saints' team manager, elaborated on the ways in which the team has matured and come into its own since last season.
"Last year we had a JV team, and to be honest, it wasn't a great experience," Hiland said. "We weren't very competitive and there wasn't much enthusiasm. "This year, everyone feels motivated. We have better team chemistry and that really helps."
Jacob Fevurly, a sophomore and the Saints' outside hitter, further described the team's development, detailing particular areas where the team still has room to improve their play.
"I think we need to work more on our defense and we need to play smarter," he said. "If we work on communicating better, we'll get better at taking advantage of opportunities to score."
Indeed, this has been a season of growth and progress for the Saints. Clark is optimistic that his team will continue to improve.
"Now through the rest of the season we're going to focus on improving our serve-receive game," Clark said. "If we can improve our serve-receive game, our offense is pretty strong and we'll be able to take some pretty big opponents."
While the Saints didn't make the playoffs last year, the team has amped up its play and is a more tightly knit squad this year. The team has evolved from novices into a highly skilled and competent team.
"When they're out there playing, you can see their [the players'] camaraderie," Clark said. "They're able to click things together and pull some scrappy plays. They are a very scrappy team."
Upon returning from spring break, the Saints will face Agua Fria next in an away match on March 19.