Cactus regroups at the plate, circle
March 28, 2019 by Jose Garcia, AZPreps365
---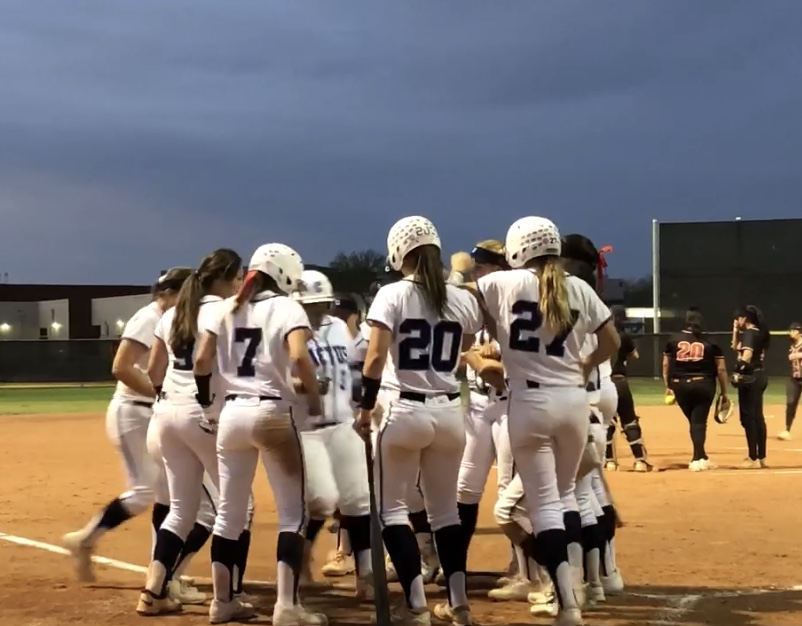 Cactus' bats erased a bad start but not Bartt Underwood's memory.
The softball coach was a little disappointed with his team's swings with runners on base in the first two innings. But after Thursday's key West Valley Region game, Underwood also credited Desert Edge starting pitcher Oryanna Lugo for quieting his loaded lineup early.
That's when Desert Edge's bats were the ones making noise at the plate, staking the team to a 6-1 lead before Cactus rallied for a 15-8 road victory. Errors in the infield and outfield did Desert Edge in, mostly in the third inning, when Cactus started its rally.
"You can't continue to give a good team extra outs," Desert Edge first-year coach Rob Iler said.
Said Underwood, "They've got some good players. Did they make a few boo-boos that helped us get started? Yes. But after that it was pretty much clean hitting."
Cactus scored four unearned runs in the momentum-shifting third inning.
Bub Ferringa's outing typified the mixed bag of frustrating and positive moments for each team. Cactus' ace shutout Desert Edge on Tuesday, but she gave up six runs and was moved to first base after just 1 1/3 innings of work Thursday.
At the plate is where Ferringa impressed. The sophomore reached base four times, had two extra base hits and three RBIs.
Ferringa put her team up for good after a solid at bat in the fourth inning, when the left-handed hitter ended a 12-pitch duel with Lugo by depositing a pitch over the left-center field fence.
"I just tried to help my team," said Ferringa about the 2-run shot that put Cactus up 8-7. "I was trying to get a good pitch and drive one."
Cactus' reliever for Ferringa, freshman Angelica Tello, struck out the two batters she faced in the second inning with runners in scoring position.
The freshman got out of another jam in the third inning when Desert Edge (16-4 overall, 0-2 region) loaded the bases but failed to score. Tello struck out six. Cactus' captains, Alynah Torres and Kaytlin Leyvas, had seven of their team's 17 hits.
Leyvas went 6 for 8 in her two games against Desert Edge this week.
Desert Edge's leading hitters, freshman Alyssa Garcia and Brandi Peterson, went a combined 0 for 6 on Tuesday against Cactus, but got on base a combined five times Thursday. Peterson also hit her team-leading 10th home run during her team's 11-hits outing.
But the big region game took a back seat in the sixth inning when Lugo came out after experiencing a scary moment. After a Cactus hit up the middle, the ball bounced off Lugo's head.
Iler said after the game that his ace was OK, as Lugo walked off the field with a bag of ice on her head.