Meet the coach behind the scenes of Benson's rise to softball power
May 2, 2019 by Jose Garcia, AZPreps365
---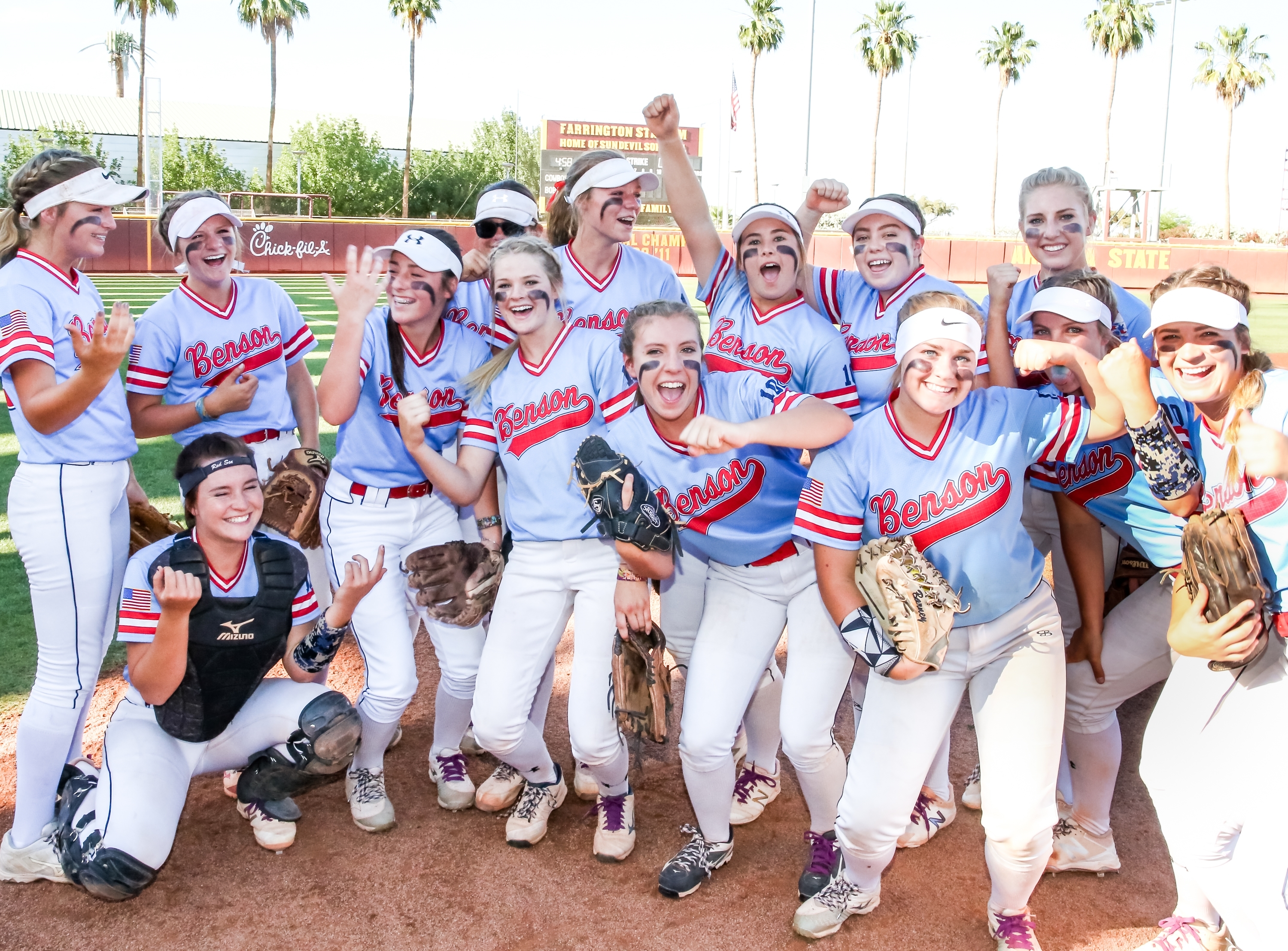 A one week deadline to keep Benson's softball program afloat turned into a 20-plus season commitment that continues with great success.
Benson earned the No. 1 seed in the 2A Conference state tournament and is preparing to defend a title it's won the past two seasons. With all of the program's accomplishments — 10 final fours and five state championships since 2005 — it's hard to imagine that it was almost cancelled.
There's a person working behind the scenes that helped make sure Benson softball didn't go anywhere but up. Ernie Batten is in his 20th-plus season as the program's pitching coach.
The program was a "mess" and without a head coach in 2001 when Batten was told he had week to field a team. Batten's background is in travel baseball, but he had a couple of big incentives for wanting to help turn Benson softball around.
His daughters were about to play softball at the school. One of the biggest early decisions he made was encouraging a young junior varsity baseball coach, Shad Housley, to become the softball head coach.
Housley and Batten then put on their hard hats and went to work, building a championship program. They got a big assist from then Hayden softball coach Chito Guzman and current coach Lydia Martinez, who shared their building-a-champion blueprints.
By 2006, Benson earned a championship of its own and picked up another title trophy two seasons later. Housley served 16 seasons as Benson's head coach before becoming the Superintendent for the Show Low Unified School District.
"Success isn't just about the time put in on the practice field, but what Ernie brings behind the scene is probably a more critical component to his success," Housley said. "Ernie has an extensive scouting network and religiously evaluates players at every level. His preparation prior to the game helps to put pitchers in a position to be successful. Regardless of level, Ernie can confidently put a pitching game plan together to attack any hitter."
Once Benson softball was on proper footing, it was hard for Batten, a New Mexico native, to step away.
"I tried to retire once," he said. "But you get an attachment.
"It's the kids and the community."
The Benson softball bus kept rolling into the postseason this season with a new head coach, Brittney, Batten's daughter.
Brittney was a 2-time all-state player between 2005-08 at Benson before playing at her dad's alma mater, Western New Mexico. Brittney returned to Benson four years ago and put in for the job this season.
(Benson head coach Brittney Batten and her dad, Ernie, Benson's pitching coach. Photo provided by the Battens.)
Strong coaching and pitching are two of the success constants at Benson. Housley pointed out the armament of arms Benson has lobbed at opponents since the start of this century.
Jenna Torres. Meghan Elsworth. Kayla Haro. Kendra Beher.
The current destroyer in the circle is looking to add a bow to a stellar career. Katie Sherman is two wins away from the 100-win mark.
But since Batten and Housley came on board, they've always had plenty of backup power to reinforce the pitching. With sophomore shortstop Emily Darwin (.538 ave., 73 RBIs, 16 home runs), catcher Abby Workman (.633 ave.) and senior centerfielder Jamie Barney (.488 ave.) on board, this season is no different for 27-3 Benson.
"I believe Ernie will be the first to tell you that success is not the singular effort of one individual that leads to success but the collective efforts of many singularly focused on one goal, setting their personal accolades aside so that the team might celebrate victory together," Housley said. "Benson softball has always been greater than the individual and because of that many individuals have been recognized for great accomplishments."
One of Batten's biggest roles has been to get his pitchers prepared, and he is one of the best in the state at doing so.
He introduced Benson to analytics. He creates spread sheets and has "10,000 data points" on opponents.
But the numbers only begin to tell the story about Batten. The pitching coach doesn't charge players in the offseason to train them.
All he asks for is commitment.
That's exactly what he's also given to Benson.
"A lot of things have broken well for us," Batten said. "We've been very blessed."