Boys basketball: Chinle documentary to be featured on Netflix
July 9, 2019 by Oree Foster, AZPreps365
---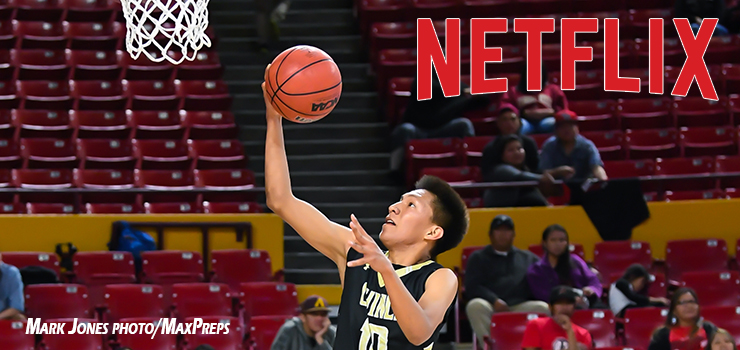 A documentary featuring Chinle Wildcats boy's basketball team is scheduled to be featured on Netflix.
Matt Howley, Executive Producer/Co-Director, said Netflix is launching the series on August 2. The documentary is called "Basketball or Nothing".
Howley said the documentary is six episodes. He said all six episodes will be up at once. He said Netflix will release a trailer around 10 days before the August 2 launch.
"Each episode ranges from 30 to 37 minutes, as we followed the Wildcats through the 2017-2018 regular season, through the 3A North playoffs and through the state championships," Howley said. "We returned for a week in May to film some very special scenes around planning for college and graduation for the seniors."
Howley said he first saw a story on VICE Sports about the popularity on Rezball in South Dakota. He said the story caught his attention because it was up and down, fast-break and high scoring. He said he thought that would be fun to watch one of those games.
"Then I read a story in the New York Times about the Chinle Wildcats boys basketball team," Howley said. I was so impressed with these kids. Some of whom are dealing with some difficult situations at home. Yet they show up every day and they compete. They play wirth so much pride for their own. I also liked that they are coached by a legend on the Rez in Raul Mendoza."
Howley said a few months after he read the article, he called Chinle Unified School District Athletic Director Shaun Martin to ask if he can venture to Chinle to introduce himself and to see if Martin might be interested in having a film crew follow the Wildcats for the season.
"I went to Chinle and met Shaun (Martin), coach (Raul) Mendoza and Chinle Superintendent of Schools Quincy Natay," Howley said. "I asked for their permission to tell what I thought could be an inspiring story of some pretty resillient teenagers, who also happen to be very good at basketball and were trying to get the town of Chinle their first-ever state title. So I was fortunate to get their blessing. Then we started the planning for production. So that's what the series is about - a group of resillient teenagers who are out to win their first state title and bring pride to a remote community on the Navajo Nation Reservation."
Howley said initially the company, The WorkShop in Philadelphia, wasn't able to sell the series, but decided to start filming.
"I was working with PGA Tour star Rickie Fowler on a separate project and with Rickie being part Navajo, I asked him if he would like to be involved as an Executive Producer," Howley said. "It appealed to Rickie because he spent time on the Navajo Nation growing up and visiting his grandmother in Tuba City."
Howley continued, "Rickie provided us with the money to start the project. He stayed very engaged and interested throughout the filming. He visited the team and the town on Chnle, with fellow Executive Producer Notah Begay III. Those scenes appear in one of the episodes in our series."
Howley said he would love to keep filming on the Navajo Nation. He said it was a life changing experience to spend a year and a half with some pretty amazing people, who often get overlooked.
"Our dream is for people to watch this series and maybe get a chance to film a second season in Chinle," Howley said. "It would be great to follow Cooper Burbank's senior season. Coach Mendoza is one of the best people our crew has ever met. He had so much patience in allowing us to blend in and be a part of the team. We hope that this project will spur more work on not just the Navajo Nation, but reservations all across the country. It's long overdue."
The 2019-2020 basketball season will be coach Mendoza's fourth year as Chinle Wildcats head boy's basketball coach.