Thunder dominates North in play-in game
February 14, 2020 by Kelsey Collesi, Arizona State University
---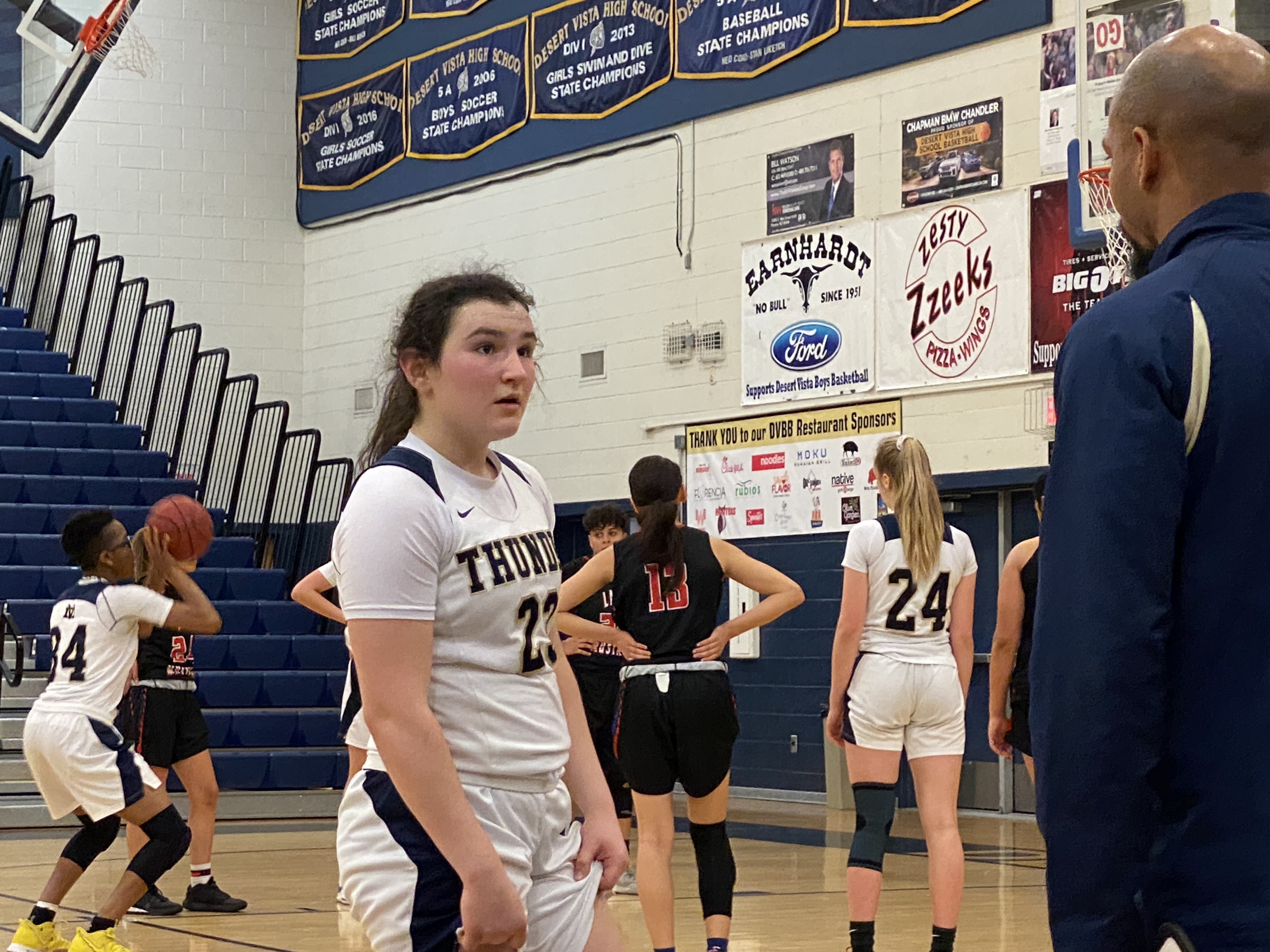 Kelsey Collesi is an ASU Cronkite School of Journalism student assigned to cover Desert Vista for AZPreps365
No. 15 Desert Vista scored the first basket and never looked back in its 71-47 win over No. 18 North in a 6A state tournament play-in game Thursday night.
Although the Mustangs (10-9, 8-2) were unable to take a lead, coach Dariyon Shabazz recognized how far his team has come in only a year.
"Last year we finished fifth in our section with only nine wins," Shabazz said. "We were second in our section, and we were one point away from winning the championship."
On Jan. 14 North started what would end up being an eight-game win streak. That streak ended Tuesday when North fell to the Tucson Badgers, 48-47, in their final regular season game.
In the first minute of the game, the sophomore guard Jaida Brooks scored four unanswered baskets for the Thunder. The team's use of the full-court press helped significantly in taking the fast lead.
The Thunder (12-7, 8-2) executed coach Raymond Patche II's ideal game plan.
"We want the offensive tip," Patche said. "I trust Aria (Taylor) is the most athletic person on the floor. She's gonna win the jump ball. We're gonna score first, and we're gonna press, and that's what I want them to believe in and have confidence in."
The Mustangs didn't shy away. The team's first points came off a 3-pointer by senior forward Adela Garcia. Not to be outdone, Desert Vista responded with its own 3-pointer by sophomore guard Hannah Robbins.
Robbins said she gets a revenge mentality when she sees another team score a 3-pointer.
"Even if we are the first ones to make the shot and they come back and make a shot, it's like we gotta keep it going," Robbins said.
This ends the season for the Mustangs, but Shabazz is proud of his team's season.
"As a coach and as a competitor you hate losing," Shabazz said. "But if I look at the big picture, I love everything that those girls did, that team did, for the whole season. I couldn't ask for anything more."
Mustang seniors Garcia and Alani Shans were the leading scorers with 21 and 12 points, respectively.
Desert Vista's season continues Tuesday with round one of the state championship bracket. The Thunder will find out its opponent when the 6A bracket is announced.