Desert Vista beach volleyball team boasts experience
February 24, 2020 by Kelsey Collesi, Arizona State University
---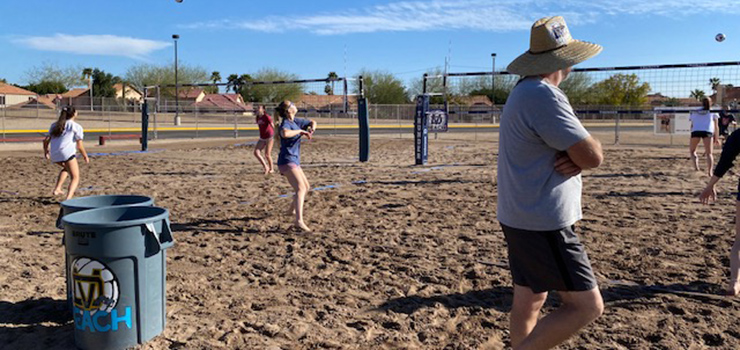 This upcoming season, the Desert Vista beach volleyball team will lean on its returnees, dedicated leadership, and team culture in order to attain its goals.
"This is by far the best talent we've ever had," coach Rick Schapler said. "We have size, speed, there are some really good parts in place that are going to help us do the best we can."
Desert Vista has five seniors returning this season. In November, three of them signed letters-of-intent to play at the collegiate level. In the fall Brooke Blutreich will enroll at Louisiana State, Taryn Ames will attend Arizona State, and Alyssa Johnson will compete at Carson Newman.
Before they go, these seniors want to leave a legacy.
"We want to win state for our team for the first time and win pairs state for the second time," Ames said while Blutreich and Johnson emphatically shouted 'yes!' behind her.
Since its start in 2012 as an Arizona Interscholastic Association sport, only two teams have been able to claim the title of team state champions -- Xavier Prep (seven times) and Perry (one time).
"(We want) to be able to compete against the big dog teams that have always done really well at the tournament," Blutreich said. "Since we were so young and like new these past three years, we haven't really been able to keep up with them."
In just its third year of existence Desert Vista beach volleyball, or "DV Beach" as the team calls it, had last year's pairs state champions -- Ames and Blutreich. This has made Blutreich optimistic about the team's potential this year.
"I feel like this year we have more seniors," Blutreich said. "We have more older people and it's probably one of the most competitive teams we've had,"
Often when a team sets its sights on winning a championship, that statement is accompanied by how much extra work the team is going to put in. However, the Thunder head coach said something pretty unexpected.
"I do pretty short practices," Schapler said. "I do have some flexibility with them."
This mentality was on display when Ames arrived at practice and Schapler had her fill out a chart of when she can and cannot be at practice each day of the week. The rest of the team had filled it out at a previous practice she had missed. There wasn't any pressure for Ames to overcommit, she was not given a hard time for missing the day the form was filled out by everyone else, Schapler simply wanted the information to make a schedule based on the whole team's availability.
Beach volleyball is already a thriving club sport in Arizona. The DV Beach team, as well as most of their rival high school teams, are comprised of club athletes that also play at their high school. In a week, girls can go from playing side by side one day, to across the net the next, from high school rivals to club teammates. The girls being active in their club teams is one factor that allows Schapler to be flexible.
Another staple to Schapler's coaching style is creating a positive environment. Though he has high expectations, and his sights are also set on the state tournament, he wants these courts to be a place everyone is having a 'blast' together. His senior leaders notice the tone he sets.
"It's a very good vibe. There's no negativity or anything," Blutreich said. "Whenever we come here all of us want to be here, we all want to play, so it's fun playing something you love to do. Whenever we are here, we just have fun and we just like to enjoy the moment."
"We're really intense but it's also a safe spot," Ames said.
"A lot of us do a really good job of competing with each other during practice," Johnson said. "That's a big part. We're always down to compete. We're all pushing each other and that I think creates a really good bond with everyone. We're all willing to do that for each other and make each other better, which I think creates a good vibe out here."
Schapler's dedication to his team is evident. His involvement with the beach volleyball team spans well beyond just customizing a practice schedule and setting a good tone. This year Desert Vista got new beach volleyball courts and the design was thought out thoroughly by Schapler. As the school's engineering teacher, Schapler used his skills to build the court. Everything inside of the courts was placed purposefully, down to flowerpots that are on a watering system. There is a solar powered station that controls the music played through surround sound speakers. That station also holds the control of the sprinkler system that waters down the courts at a push of a button.
"I used to water this with a fire hose," Schapler said.
Again, showing his level of dedication, but hitting a button is much easier.
DV Beach will open its season Wednesday at Boulder Creek at 4 p.m.