The Hannas - Mesquite's family of champions
March 30, 2020 by Les Willsey, AZPreps365
---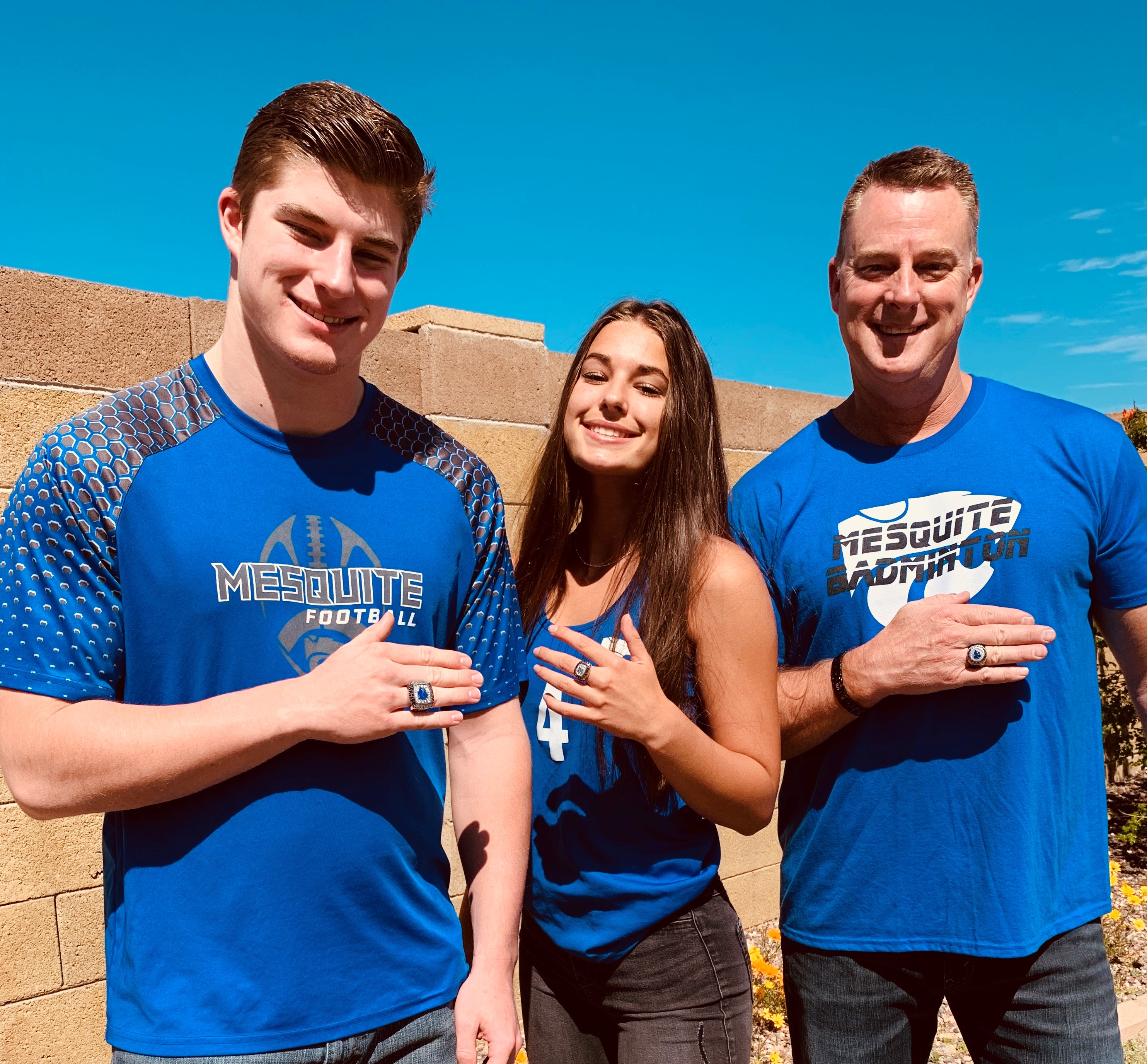 The championship dominos have fallen the past year for the Hanna family at Mesquite High School.
The first was a beach volleyball team title with then freshman Hailey Hanna aboard last May for coach Carlos Flys. Six months later, father Mark, piloted the badminton team to its first-ever team title. A month and change after that football chimed in with with Hailey's older brother, senior Hunter, a part of coach Scott Hare's victory over Desert Edge in the 4A final.
As all are painfully aware, prep spring sports 2020 are on hold. However, there is no taking away the thrill and journey to those titles won in the recent past for the Hannas.
"It's been quite a ride," Mark Hanna said. "I just got my badminton (championship) ring yesterday. We sat around comparing rings. It was kind of neat.
"I was the last one to get mine. My son got his like two months ago, and they won a month after we did."
What was the holdup?
"Well, we all know there are priorities," Mark Hanna said tongue in cheek.
Hailey Hanna's part in the Mesquite's beach volleyball crown was playing No. 5 pairs. She and teammate Lauren Anderson won their match in the final, helping the Wildcats edge Fountain HIlls, 3-2, for the big trophy.
"I had no idea that we would all be on championship teams," Hailey Hanna said. "When dad's team won I started thinking it would be so cool if all three of us could win something."
"I thought (beach) volleyball had a decent chance to win," Mark Hanna said. "It was exciting to see them do it. Of all the championships I'd have to say I was most confident in badminton. We had a veteran team coming back. I thought if our girls played to their capability we would win, and they did."
Mesquite did indeed roll through the badminton team tournament, blanking Washington, Sunrise Mountain and Horizon by 5-0 counts in its matches.
With beach volleyball and badminton crowns tucked away, the focus shifted to football and Hunter. Badminton won on Halloween night. Hunter and the football team had one game left to play -- the next day. The Wildcats final game was against region champ and ultimately Open Division runner-up Saguaro.
"The playoffs weren't even on my mind then," Hunter, a defensive end, said. "Once we knew what our seed was after that I started thinking about it."
Then came prodding from Hailey to Hunter, challenging him and football to provide another chapter of family fun. Not to be forgotten is Lorinda Hanna. The behind-the-scenes Hanna. A very busy wife and mother.
"Oh, she's been our biggest cheerleader," Hailey Hanna said.
The momentum of two championships was too much to ignore.
"It did give me more incentive to win," Hunter said. "We gained more confidence as a team as we went. Everybody came together."
Mesquite absorbed a lopsided defeat to Saguaro in its regular season finale Nov. 1. The Wildcats entered the 4A playoffs the No. 6 seed. They beat Pueblo, 21-6, in the first round and tight-roped their way to three narrow wins to pluck the big tin pot -- 27-26 over Marcos de Niza in the quarterfinals, 28-27 over Cactus in the semis and 28-23 over Desert Edge in the championship game.
"I think football was probably the long shot of the three," Mark Hanna said. "As people who follow the team know, offense was the catalyst. Hunter played well on defense. But just to see him get to play in a championship game and Mesquite win - it was magical."
As for the rings the trio has collected the past year - one stands out. And wouldn't you know which one it is.
"Mine is the biggest and heaviest no doubt," Hunter said.
Hailey is again playing beach volleyball; Hunter is playing on the boys volleyball team. They are stuck at home waiting as April swiftly approaches to see if Hunter's high school athletic career is over. And to see if Hailey loses a beach season. Hailey and her father are planning on volleyball and badminton to be up and running in August. No matter what happens, the entire Hanna family have experienced the pinnacle of high school sports.
"Three people in a family winning," Mark Hanna said, '"That's like a miracle."