Desert Vista track running on routine
April 21, 2020 by Kelsey Collesi, Arizona State University
---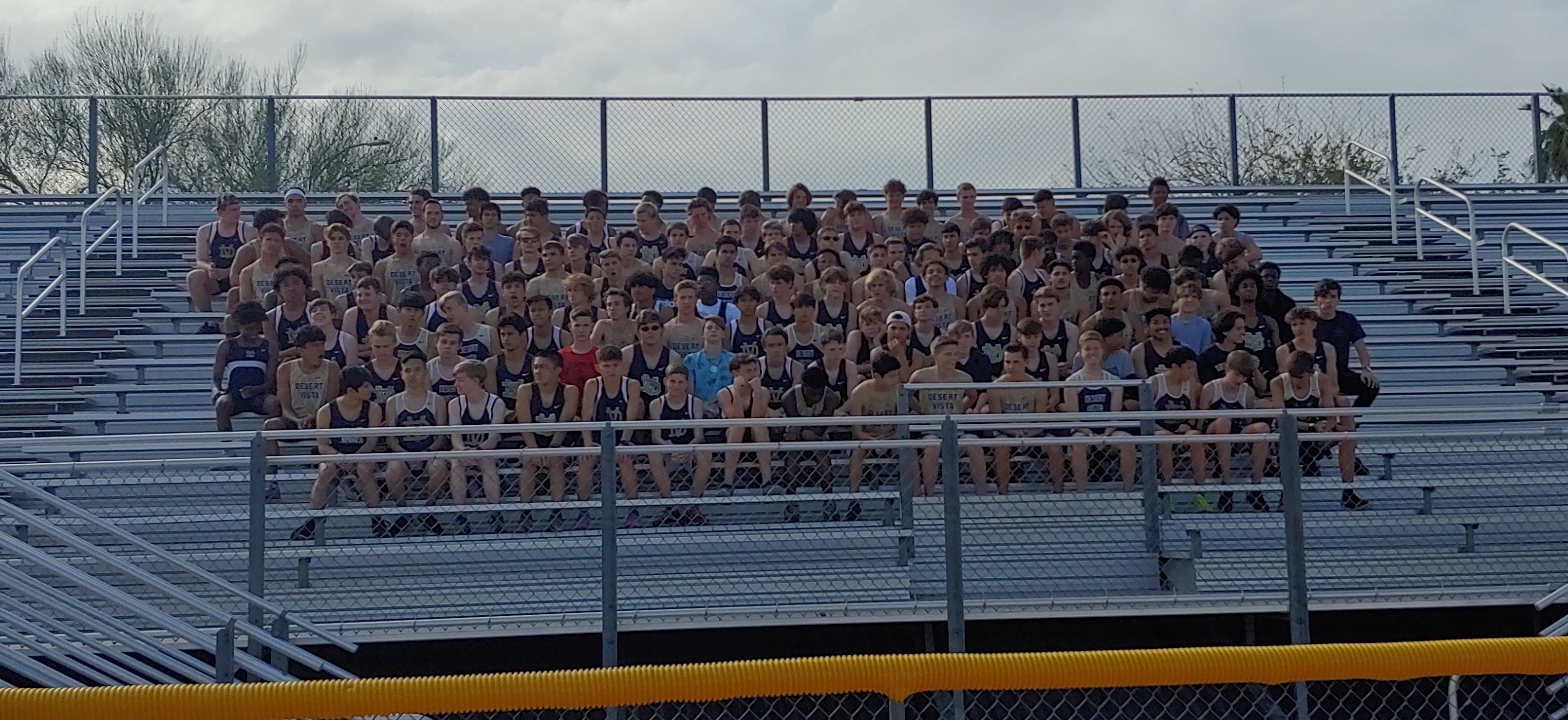 Kelsey Collesi is an ASU Cronkite School of Journalism student assigned to cover Desert Vista for AZPreps365.
The kids are all right.
At least Desert Vista Thunder track athletes Jakob Bagby, Parker Navarro and Zach Weinman are making it seem that way. Each student's actions are showing they have learned the life lessons of discipline, empathy, perspective, and to still have fun.
"I've been running a lot still," Bagby said. "And then just hanging out doing homework and chores. It's about all my life has been."
Navarro and Weinman echoed those sentiments. All are still running even without their coaches telling them to. They are also all trying to keep some form of organization to their days.
"I'm trying to keep a consistent schedule like with waking up and stuff," Navarro said. "I just don't want to feel like I'm not doing anything. I want to try to keep things routine and structured."
Finding the right routine is something all adults have to figure out. These high school students are just learning it a bit earlier than most.
Discipline.
Desert Vista High School set up remote learning. The students explained that every Sunday teachers post work for students to complete, as well as office hours. Students have until the following week to complete their work and can connect with the teacher if they need help. The school decided that students' final grades cannot go down as a result of distance learning, but they can go up.
Weinman, a junior, said what motivates him to get his work done is he doesn't want to be behind when he begins his senior year.
Bagby and Navarro, second-semester seniors with straight A's, have even found the motivation to complete their work -- respect for their teachers.
"I feel bad for the teachers," Navarro said. "They're making assignments, so I might as well do it. And it's not too much."
"I honestly feel bad for the teachers," Bagby said. "It kind of sucks what they have to do because they have no idea what they're doing either."
Bagby has first-hand experience in seeing how this has been tough on teachers. His mom is a kindergarten teacher, and he said he understands how hard she is working to do what is best for her students.
Empathy.
Missing out on certain traditions has been hard for the seniors.
"The last week of school, all the seniors dress up, and I've been looking forward to that since freshman year," Navarro said.
Both are sad to miss prom.
"Prom really sucks," Bagby said. "I know a lot of friends that I wanted to go with."
But all three understood that the importance was safety. Bagby even mentioned that if summer opens up, he may plan something in place of prom on his own.
Perspective.
While Bagby and Navarro experienced a Senior Night in cross country and football, respectively, both athletes talked about wishing they could have had their end-of-year track ceremony, too.
"I didn't really get to finish my year," said Weinman, who is a track-only athlete. "We didn't get to have that track ceremony, which sucks. It would have been nice, too."
In fact, Bagby had planned a hairstyle, especially for the season.
"Yeah, I got a mullet," Bagby said. "Last year, I got really pumped, and I just randomly showed up with really bright bleached white hair. And then this year I was like I have to one-up it because I'm a senior. So, it's a bowl mullet, and the front's a bowl actually."
That wasn't all he had planned.
"Yeah, and because Tiger King came out, I was gonna bleach the top," Bagby said.
Fun.
Their year may not have ended in the way they expected, but it's allowing them to show how much they have learned.