NB3 Foundation, former PGA Tour golfer Notah Begay III donates food, water to Kayenta community
May 21, 2020 by Oree Foster, AZPreps365
---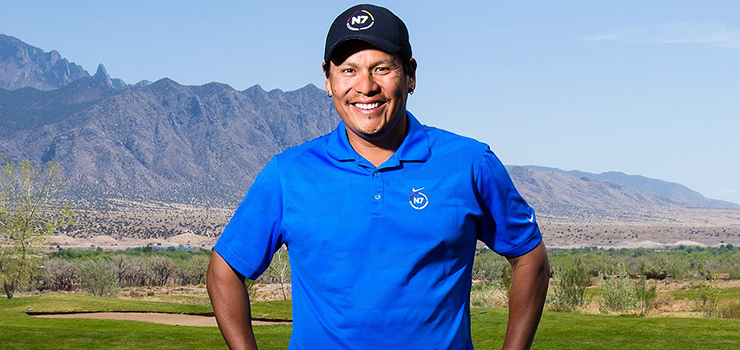 The Notah Begay III Foundation COVID-19 response fund delivered 300 large food boxes and 5,000 gallons of water to Kayenta Unified School District Cultural Center on Wednesday.
Distribution to 10 communities within the Kayenta chapter will receive food boxes and water. The communities include Dennehotso, Rough Rock, Chil-chinbeto, Forest Lake, Black Mesa, Cow Springs, Shonto, Oljato, Cane Valley and Kayenta.
Kayenta Unified School District Cultural Center Language and Culture Coordinator Dr. Victoria Yazzie, spokesperson, said it is a community effort to make the food boxes and water delivery a reality.
"We're very thankful to the Notah Begay III Foundation and former PGA Tour golfer Notah Begay III for the delivery of the food boxes and water," Dr. Yazzie said. "The families are going to be so thankful. The communities are located in rural areas. The communities are in need of help."
Dr. Yazzie talked with former PGA Tour golfer Notah Begay III to include Kayenta and surrounding communities in the response fund delivery last month.
"The Notah Begay III Foundation sent two sei-trucks full of water and food boxes to Kayenta Unified School District Cultural Center during its delivery on Wednesday," Dr. Yazzie explained. "The semi-truck hauling the water reached the school's Cultural Center at 7 a.m. The semi-truck full of food boxes reached the school district's Cultural Center at 1 p.m. This substanial. We appreciate it."
Dr. Yazzie said help to unload the food boxes and water from the wemi-trucks was plentiful.
"I am very happy and glad we got help to unload the food boxes and water," Dr. Yazzie said. "Thanks to everyone that helped out. I am very grateful."
Dr. Yazzie said anyone who wants to help donate, may contact her at the school (928) 255-2818 or email her at victoria.yazzie@kayenta.k12.az.us.
The school's Cultural Center employees who helped unloading the food boxes and water included Herbert Beyale, Toni Cly and Dr. Yazzie.
The school district's staff who helped were Lemual Adson, Dennison Young, Louis Tsosie, Marvin Yazzie, Romero Salt, Charles Smith, Harvey Kiasem, Woodley Addison, Channing Tsosie, Tamara Chee, Tristano Cly, Gloria Lake and Stanley Clitso.
Also helping were Kayenta Special Diabetes Program employees, Dorothea Sullivan, Vertilene Tsosie, Victoria James, Justin Tapaha, Marlene Valentine and Skye Holiday.
Parents from the community who helped included, Jackely Knight, Blake Wall, Marissa Wall, Jennifer Begay, Mary Lee Kinney and LeRoy Kinney.
Hleping from the Kayenta Chapter were Dalton Singer, Mariah Cly, Brian Begay, Albert Seaton and Delight Butler.
Some of the top, quality PGA Tour tournaments Begay III played in were Master's Tournament, PGA Championship, U.S. Open and the Open Championship. Begay III turned professional, earning his PGA Tour card in 1995. Due to health issues, he left the PGA Tour for awhile. He regained his playing card in 2009 at PGA Tour qualifying school.
Begay III captured four PGA Tour victories during his professional playing days, including Ren-Tahoe Open on August 29, 1999; Michelob Championship at Kingsmill on October 10, 1999, Fed Ex St. Jude Classic on June 25, 2000 and Canon Greater Hartford Open on July 2, 2000.
Begay III was on the Wendy's 3-Tour Challenge team championship.
Begay III was a member of the President's Cup October 2000 championship team. Team members were Tiger Woods, Phil Mickelson, Paul Azinger, Stewart Cink, David Duval, Jim Furyk, Tom Lehman, Davis Love III, Loren Roberts, Hal Sutton ande Kirk Triplett. Non-playing coach was Ken Venturi.
The President's Cup is a series of men's golf matches between a team representing the United States and an international team, representing the rest of the world, minus Europe. Europe competed against the United States in a similar, but considerably older event, the Ryder Cup.
Begay III earned his Bachelor's Degree in Economics in 1995 from Stanford Universirty. He was a member of Stanford University's 1994 NCAA Division I Men's Golf National Championship team.
In 2014, Begay III suffered a heart attack while practicing putting green at Dallas National Golf Club. He was taken to Dallas Methodist Hospital. A stent was placed in his right coronary artery.