Coach giving back to game that helped him cope with trauma
August 19, 2020 by Jose Garcia, AZPreps365
---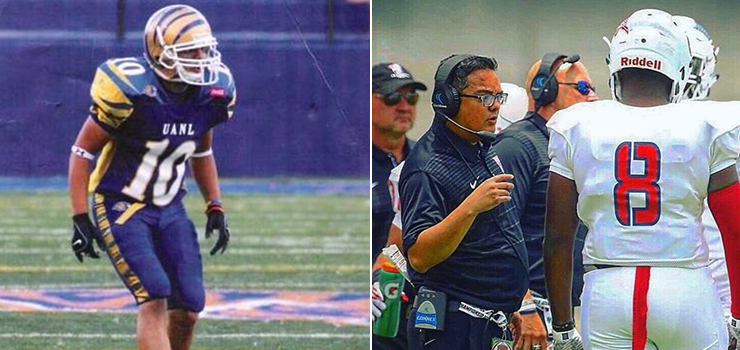 From his home in Scottsdale, Michael Patterson is elevating football's profile in Mexico.
He co-runs a non-profit football association he founded for women and youths in Mexico. In Arizona, when Patterson isn't working as an insurance agent, he's at Brophy Prep serving as the school's assistant defensive coordinator.
Because of the coronavirus he moved some of his football classes for his players at Brophy and Mexico to Zoom. But that didn't stop Patterson, who also coaches for USA Football, from continuing to leave his football footprint in both countries.
He is contributing to a game that allowed him to grow as a player, coach and person in two countries. But the game stepped in when Patterson needed it the most after a life-threatening accident crushed part of his skull when he was a child.
The determined Patterson used the confidence he gained through football to overcome years of recuperation and bullying.
"Football saved me," Patterson said. "Not in a medical sense, but in terms of trying to fit in."
Patterson, 37, was born in Torreón, Coahuila, a state in northern Mexico.
Patterson's dad, Donald, is from Iowa but fell in love with Mexico and Patterson's mom, Lilia, when Donald travelled to Mexico to invest in a mine. When Patterson was three, his family moved to Arlington, Texas, where Donald's dad owned a construction company.
Patterson's emotions are mixed when he thinks about Arlington, where Patterson got to coach USA Football games at AT&T Stadium. It's also where he almost died while attending a birthday party at an apartment complex.
He was playing outside with friends when a balloon he was holding popped. As Patterson reached down to pick up the balloon fragments next to a brick wall, a drunk driver crashed into the opposite side of the wall, pinning the then four year old beneath the rubble.
Patterson said he doesn't remember anything about the accident other than bending down.
"When I heard the accident my back was to Michael, and I was about (10 feet) away," Lilia said. "When I turned around I just saw a bunch of bricks on my son.
"It was a horrible feeling. I wanted to die. It was a terrible anguish."
Donald carried Patterson out and hurriedly drove his injured son to nearby Texas Health Arlington Memorial, where they performed three live saving craniotomies.
Patterson's skull, caved in from his left temple to the top of his head, a crushed right eye socket and broken nose were among the injuries.
Doctors told Patterson's parents their son wouldn't survive, but for the past 33 years they have celebrated a miracle.
https://twitter.com/CoachMPatterson/status/1292467894140379136
Besides the skull fracture, Patterson also bears the scars of battles he had with pneumonia and a gastrointestinal issue at different points in his life.
"I am blessed to have him," Lilia said. "Only God can create those miracles in life. Michael is blessed. He's had 15 surgeries. It's a miracle that he's walking and seeing and alive. He's my super man."
Getting to this point was indeed excruciating, at times, after the accident.
Plastic surgeries. A decade worth of operations to replace plates as Patterson's head grew.
Fusing a piece of his skull in the back to the front. Motor skill issues such as slurred speech and dragging his right foot at times.
And getting teased. From age five to 12, Patterson wore a helmet to protect his head whenever he stepped outside, including at school.
"I got in a lot of fights on the playground," Patterson said. "They used to call me helmet head. Back then you had to defend your honor. Earn their respect."
He started with a bicycle helmet until football came into the picture.
Living in Texas and then in Cleveland led Patterson to wear the helmets of his favorite teams, the Dallas Cowboys and Cleveland Browns.
The Dallas Cowboys helmet Michael Patterson wore to protect his head when he was young.
A big turning point for Patterson arrived when he moved to Cleveland, where him and his family lived a stone's throw away from the practice facility of the Cleveland Browns.
A handful of Cleveland's players lived in the same complex as Patterson and quickly noticed the kid who hardly removed his helmet. After learning what happened to Patterson, some of those players took Patterson under their wing, inviting him to workouts at a nearby gym and games.
The kid who suffered immensely now had his own squad of NFL bodyguards.
"I love the game," Patterson said. "I think I'm one of those kids that needed football. It brought me out of the shell after the accident. The Browns helped me come out and be more of a kid, and everything about it was awesome."
But in order to play his favorite sport, Patterson needed doctors to clear him first.
That came when he was in sixth grade, when Patterson was already living in Scottsdale.
Once he got the OK, Patterson played every sport he could. He wrestled, ran track and played football at Horizon High, where he was a region champ in the 400 meters.
"It felt amazing playing," he said. "It felt like I was a normal kid and could finally pursue my dreams."
Patterson had more to give after high school.
The problem, however, was finding a place to play. No offers to play football came from U.S. schools.
A relative of Patterson suggested Mexico. They play college football in Mexico, a soccer hotbed?
"They do," Patterson said, "and it was awesome. Going back to my roots and culture was amazing. It gave me a chance to reconnect. I was three when I left and living the culture was great. But it was different."
Although he returned to the Mexican city he called home first, Torreon, he still had to earn his keep and trust of teammates who viewed him as an outsider.
The defensive back did just that, playing at two of the 10 major universities in Mexico, Monterrey Institute of Technology and Higher Education and the Autonomous University of Nuevo Leon, that field football teams. About 40-50 smaller schools also field football teams, Patterson said.
"Football in Mexico is a different animal," Patterson said. "There's some technique, fundamentals and correct reads. But down there it's also more about we are going to kick your ass."
Patterson got to play in a national championship game in front of about 60,000 at one of Mexico's cathedrals, Estadio Olímpico Universitario.
His team lost the game 14-10, but listening to fans playing trumpets, drums and chant things that TV would censor was quite an experience, he said. After college, coaching seemed like the next logical step for Patterson, who returned to Scottsdale.
He did so with his former wife, who Patterson met in Mexico and shares an 11-year-old daughter with. He made stops at a couple of high schools, including Horizon, before landing at Brophy in 2016.
Patterson also wanted to give back to the sport that helped him overcome a lot. Knowing well the need in Mexico for experienced coaching and for funding to help kids purchase equipment, he started his association in his original home state of Coahuila (pronounced kwa-we-la).
About 3,000 players participate in his non-profit association, said Patterson, who recruited donors to help purchase equipment.
Michael Patterson started a non-profit football association for kids and women in Mexico. Photo courtesy of Patterson.He is on Zoom regularly participating in online clinics for his association and in other Spanish speaking countries such as Chile.
The young kid whose world was painfully altered for a long period is now internationally sought after. Patterson was even chosen to assist some of USA Football's national teams.
His painful yet rewarding journey came full circle during a USA Football event in Arlington. That's when Patterson was assigned a dorm room that faced the apartment complex where he almost lost his life.
"I remember saying to myself as I looked out, 'I'm here,'" Patterson said. "What tried to destroy me did not."
Michael Patterson took a photo near the apartment complex where an accident almost took his life when he was four. Photo courtesy of Patterson.