Spartans' striker seeks senior soccer splash
September 21, 2020 by George Werner, AZPreps365
---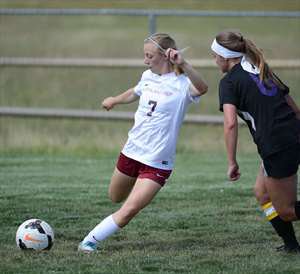 For all of the accomplishments of Mia Blair on the soccer field, obscurity continues to shroud the Northland Preparatory Academy senior.
Blair, who was named two months ago as the only fall high school soccer player in the state to be National High School All-American by the national recruiting website Top Drawer Soccer.com, is scheduled to make her final season debut Tuesday, Sept. 22, at 4 p.m., with the Spartans' opening game at Blue Ridge High School.
It would be the debut of last year's top overall point-getter in Arizona high school girls soccer as well as the assist leader across the entire nation in the sport.
The coronavirus, however, continues to make good its threat to keep college scouts and fans away.
While Northland Prep had not, as of Friday, Sept. 18, made any decisions to cancel its fall girls soccer opener, more than 114 cases of COVID-19 per 100,000 Flagstaff residents led to such a decision for all other Flagstaff high schools. That day, the Flagstaff Unified School District announced that such a substantial community spread of the virus would put all games involving its schools on hold until further notice.
"I am really hoping that my team is able to complete our season this year despite COVID-19," said Blair, who, despite an injury-shortened sophomore year, has never lost a game she has played in a Spartans uniform. "Honestly, it's been a weird time in quarantine. Having my dad as a coach, he came up with creative ways to keep me working."
Michael Blair, her father and head coach of Spartans girls soccer, deferred comment on cancellation to Northland Prep Academy officials, who have only stated they will re-evaluate a decision to play shortly.
He did note that coronavirus concerns cancelled plans for the Spartans, 61-1 over the last three seasons, to play 2019's seventh-ranked high school girls soccer team in the country, Faith Lutheran High School out of Las Vegas.
"They won the Nevada state championship last season for the largest schools in Nevada," he said, "but Covid made Nevada change to play in the Spring."
Tuesday, Oct. 6, the Spartans are slated to play their first of two games against Chino Valley High School, their ongoing prime challenger for the Central Region and 2A Conference title.
But Blair continues to have to come up with creative ways to keep scheduling the most challenging opponents possible. He makes it no secret his belief that neither his daughter nor the rest of her teammates have received the recognition they deserve.
"Unfortunately, being 2A and in the fall…sports writers won't consider fall players for their player of the year awards despite numerous efforts to try to include them every year," said Blair, in search of his fourth state girls title in four years. "This year is the strongest team we've ever had, and I truly believe we could win any division in the state."
The 2A conference has taken notice, awarding Mia Blair her second 2A girls soccer player of the year award in three years after she racked up 127 points and 37 assists as a junior striker.
"It's not all about who the greatest athlete is, but it's also about who is the most intelligent," said Blair, Northland Prep's student body president, who maintains a 4.0 grade-point average on a team that averages a 4.04. "I worked my brain a lot during quarantine as my team held numerous Zoom sessions where we broke down games and analyzed them.
"The cool part is that what is important off the field is also important on the field," she added. "My team prays before games, and that is something I helped cultivate. Soccer, to some degree, is our mission field, and we work to represent Christ well, which directly aligns with how we act towards each other, why we work to make our team feel like a family, and how my team interacts."
Blair is really hoping to continue playing soccer while working toward a degree in physical therapy next season at a National Collegiate Athletic Association power like Division III Wheaton College, in Illinois, where the fifth-winningest NCAA coach ever, Pete Felske, has extended an offer and believes she can help compete for his fourth national title, according to Michael Blair.
But, she added, "I'm not entirely sure what that looks like for me down the line, especially regarding the effects of COVID-19."
Such uncertainty surrounding who she would play, who would see her play, and where she will be playing in the future has led Blair to change her thoughts and priorities, if not her approach, to a sport that has always felt like family to her.
"While I love spending time with my teammates, I have learned how special it is to be able to play during this time at all," she said. "So adhering to safety protocols is imperative, which doesn't allow for the team bonding we would all like off the field."
Not only are Blair and her father very close off the field, she said, but her initial inspiration to play soccer was her older sister, Emma, a senior at Northland Prep during Blair's injury-shortened sophomore season.
"My first season ever, I was on her team," Mia said, "and I often played up in age when I was younger just so I could play with her."
It was, in fact, this inspiration, along with her father's encouragement, which spurred Mia's comeback, in less than six months, from surgery on an anterior cruciate ligament (ACL) she tore at the end of her freshman year.
"She's always been very coachable and teachable and loves to learn," Michael Blair said. "She's had the drive herself and just needed to be put in different situations to mature as a player and a person and be encouraged along the way."
She would return in time to play, and win, with her sister, the 2018 2A conference title against Chino Valley--the only team to have defeated the Spartans in the last three seasons, a 1-0 home shutout a month earlier.
"After that loss, we were all upset," she said. "That was a really difficult moment for me because I had to watch everything that happened from the sideline without the ability to help."
After that loss, Mia Blair never missed another game for the Spartans.
"Recovering in time for the state championship and facing Chino with my team after watching our loss was a pretty incredible experience," she said. "It was an amazing final game to play with my sister, and a great season finale."
She would go on to score the opening goal and assist on the other in the Spartans' subsequent state title shutout over the Cougars. The 2-0 win was Blair's last competitive game for Northland Prep--a fact she hopes will change as soon as Sept. 22.
"Our team this year is the strongest group we've had," she said. "I think that, if we are able to play all of our games, we're going to have a season full of creativity and talent, which will make it pretty fun to watch."