Spartans sweep Cougars, clinch Central Region title
October 23, 2020 by George Werner, AZPreps365
---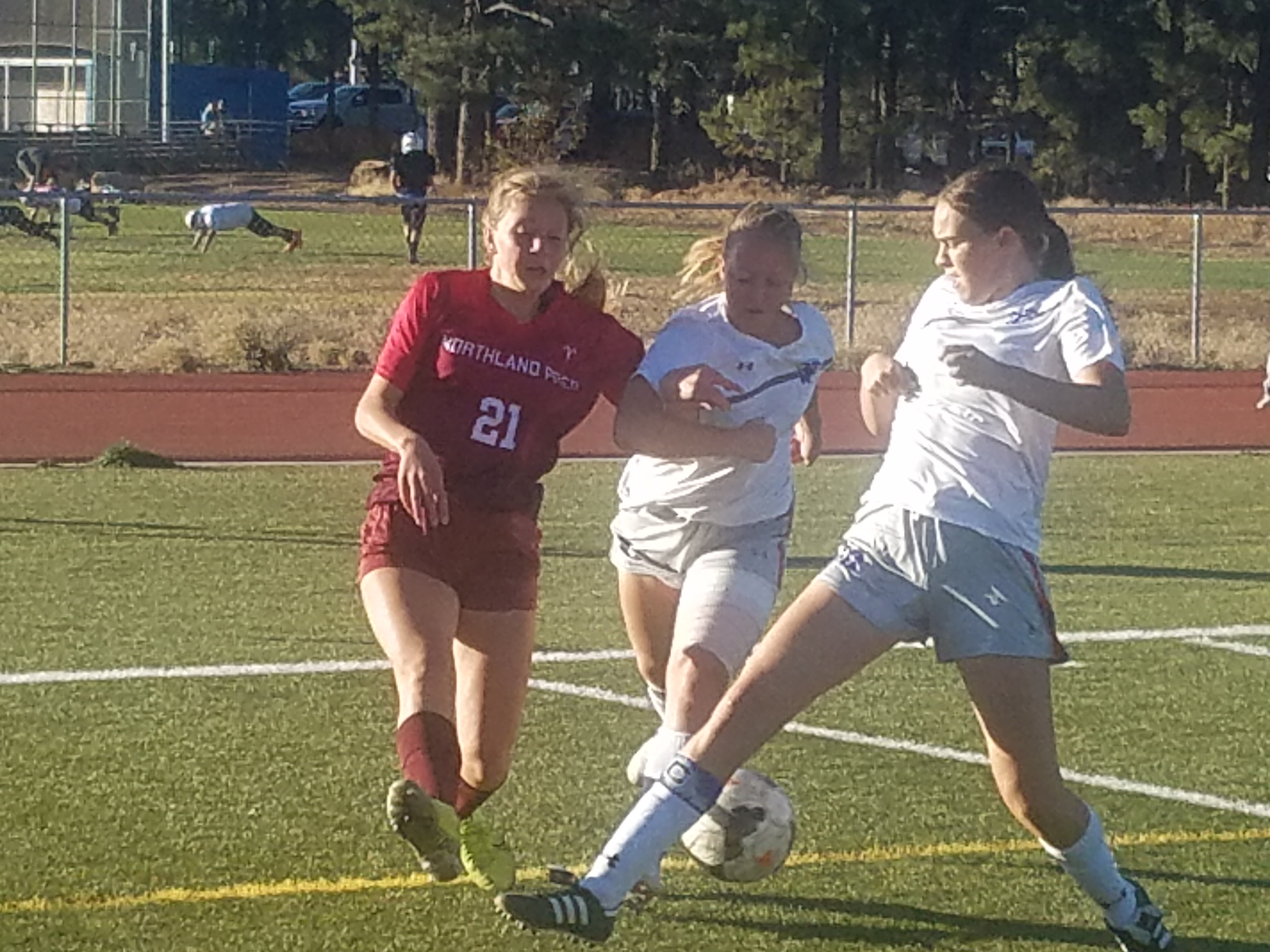 For Northland Preparatory Academy senior Mia Blair, celebration came before coronation Wednesday, Oct. 22.
After assisting on four goals in a 6-1 win over Chino Valley High School, Blair got covered in four different colors of silly string by her friends, who sang "Happy Birthday, Dear Mia" to celebrate her turning 18.
"We talked about who we're playing the season for," said Blair, in the Top 12 nationally in assists among fall girls soccer players. "I said I'm playing for Christ first; then my family. Which includes my teammates."
While that celebration was unplanned, what Mia and her father, head coach Michael Blair, do have planned in two weeks' time is her fourth 2A girls soccer state crown in four years Saturday, Nov. 7.
"It makes me really sad," Mia Blair said. "We can't just pretend like we're going to take it. We have to come out there and really make the most of the last games as they come up."
They have already been crowned Central Region champs with this latest win over the Cougars, who could only settle for the moral victory of being the first team to score on Northland Prep in more than a calendar year despite owning the edge in shots on goal over the Spartans.
"We kept trying to close the gap, but they've just got too many threats," said Chino Valley head coach Allen Foster, 0-5 against the Spartans since his daughter, Lauren, handed them their last defeat on a goal Sept. 27, 2018. "They're better finishers, and they transition faster than we do."
Blair found junior left wing Sydney Sventek to break on top 11 minutes into the contest, then fed fellow senior Kiarra Hovis four minutes later to give Northland Prep a 2-0 lead going into halftime.
"Finishing is definitely rewarding," said Sventek, who also opened the scoring in the second half off of a corner kick from junior Rylee Reed. "We switch up our formation a lot, and that just allows holes or either one of the sides of the field to be open. I had a nice night."
Fellow senior Ellie Karren, who had scored her second goal 1:30 earlier off Blair's final assist, found a gap in the Chino defense where sophomore Hannah Petrucci was waiting in the closing seconds of the contest to cap the scoring with a punch-in the top of the goal from 10 yards out.
"Sometimes, it's frustrating, because it feels like I can't help as much," Blair said after being held scoreless. "But then [the assists] open things up, and my teammates really take advantage."
After more than one second-half attempt pinged off the top crossbar, junior Tayler Elsea powered the lone Cougar goal into the left corner of the net with 21:18 to play past senior goalkeeper Payten Schmidt, lost for the rest of the game on the play after her knee twisted around Elsea's.
"We've got to come out and play a little more smash-mouth soccer," Allen Foster said. "We'll see them in the state finals. Take advantage of the few opportunities we do have.
"That's been our nemesis this whole time: They convert their opportunities, connect a little quicker on their passes."
By that point, however, the Spartans had a four-goal cushion, and backup goalie Maddie Carlsen handled the only shot her defense allowed through for the rest of the game.
"She did amazing; I'm glad that she can back me up," Schmidt said after the game while her injury was being treated by trainers. "The past few years, our team has gotten so hyped playing this team, that was the most relaxed I've ever seen them. It got a little messy at times, but our defense did great."
Schmidt is questionable for the final week of the season, including her Senior Night against St. Johns on Thursday, Oct. 29. At stake then, if the teams win their four games leading up to it, would be the top overall seed in the two-day 2A state tournament at Coronado High School in Scottsdale.