Mesquite QB Ty Thompson prepares for next step at Oregon
October 23, 2020 by Jude Binkley, Arizona State University
---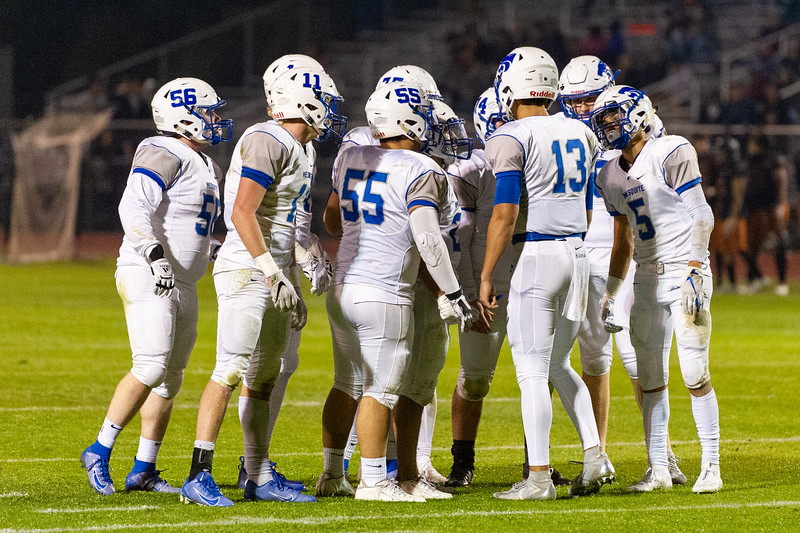 Jude Binkley is an ASU Cronkite School of Journalism student assigned to cover Mesquite for AZPreps365.com.
Mesquite quarterback Ty Thompson is headed to Eugene next year to play for the University of Oregon.
The 6-foot-4, 215-pound five-star recruit helped lead the Wildcats to a Division 4A state championship last year. He is ranked as the No. 2 dual-threat quarterback in the class of 2021 by Rivals.com.
"My family has always been into pushing yourself and working hard with everything," Thompson said. "I feel like I've been very blessed to be where I am. But I've also worked very hard and that's credit to how I was raised by my parents."
After visiting several schools, Thompson made his commitment to Oregon in March because of the culture and feel of the university. He also felt welcomed by coaches Joe Moorhead and Mario Cristobal.
"The choice with Oregon was all the feel of the family culture that I felt when I got there," Thompson said. "The coaches and the way they run the team is unlike anything I've seen in the country. They're a very high-level football team. They're also great guys that teach football the right way, it's a combination of everything."
Thompson plans to pursue a degree in business. He has excelled in academics at Mesquite, and holds a 4.4 GPA.
As a child, Thompson played many sports. He gravitated toward football the most and started as a wide receiver in flag football, where he was coached by Bobby Newcombe. He decided to switch to quarterback in middle school and his athleticism helped propel his skills.
He was coached at the position by Dan Manucci, Mike Giovando and former NFL All-Pro quarterback Donovan McNabb when he started playing in high school.
Thompson's father, Dirk Thompson, attributes much of the quarterback's development both on the field and in his character to his coaches. In addition to teaching Thompson the fundamentals, they also helped him to become a leader.
"So many people have guided him up to this point," Dirk Thompson said. "It was all these parts that came together. It's moved him in the direction that he's gone now."
Mesquite coach Scott Hare also has helped Thompson's development. Hare has been most impressed with Thompson's drive to continue improving his skillset.
"I think the No. 1 thing is that Ty really wants to continue to grow in all the little things," Hare said. "When you're the best on your team it's hard to continue to take the little minute things and continue to get better at those. That's not easy, it's a mental challenge. He's trained himself to be in that position."
The ability to continually improve and make adjustments, on top of his focused work ethic, is what distinguishes Thompson from other players.
"He hasn't rested at all," Hare said. "He's really continued to grow as a football player and a student of the game."
Hare describes Thompson as chill, personable and prepared, traits that align with Mesquite football as a whole.
"His personality fits who we are on the football field," Hare said. "He's just kind of chill and goes about his business. He's going to be successful in what he does because he's going to be prepared."
The competitive drive to be successful always has been part of Thompson's mindset. He grew up being competitive in even the smallest things, like video games, with older brother Clay, who plays baseball at the University of Texas Permian Basin.
When he first started at Mesquite, Thompson bounced between the junior-varsity and varsity teams during his freshman year. The scholarship offers started coming in from universities across the country following his sophomore season.
"For a long time, he was getting attention from schools, but it really wasn't a lot," Dirk Thompson said. "Then all of a sudden, I don't know what happened but it just blew up and he got one offer after the next."
With all the offers, Thompson's family created a list of schools they wanted to visit to make the best decision.
"I wanted him to get to as many of the schools that he was interested in so he could get a hands-on look and feel for what was going on at each school," Dirk Thompson said. "They all have a different energy, culture and feeling about them. Oregon had a special feeling."
A feeling that Thompson believes will help his son better himself as a person and achieve his best, a maxim that has been instilled in Thompson since he was young.
"Ultimately, you're going to be a human being a lot longer than you're going to be a football player," Dirk Thompson said. "So treat people the way you want to be treated, and whatever it is that you're doing just try to do your best. That's what we've always talked to him about."
Thompson likes competing more than anything, and his focused mindset has helped the Wildcats get off to a 3-1 start as they look to defend their state championship.
"I love it here, I love the people here," Thompson said. "Coach Hare came here my junior year and we were very successful. I love the school, the programs here and where we're going. And the changes we've made to the school as we started winning last year and this year. I'm really happy for this school and how much it's changed in the last four years."
Thompson was invited to the 2021 All-American Bowl but it was canceled due to COVID-19.
While his final season is underway, Thompson looks forward to the next step in his career as he prepares to join the Ducks next year.
"I'm looking forward to winning a lot of football games," Thompson said. "I'm there to get a degree and enjoy the college experience, but I'm looking for wins and to bring some success to the program."
Ty Thompson (Photo courtesy of Dirk Thompson)