Santos leads Lee Williams back to statement road win
October 24, 2020 by George Werner, AZPreps365
---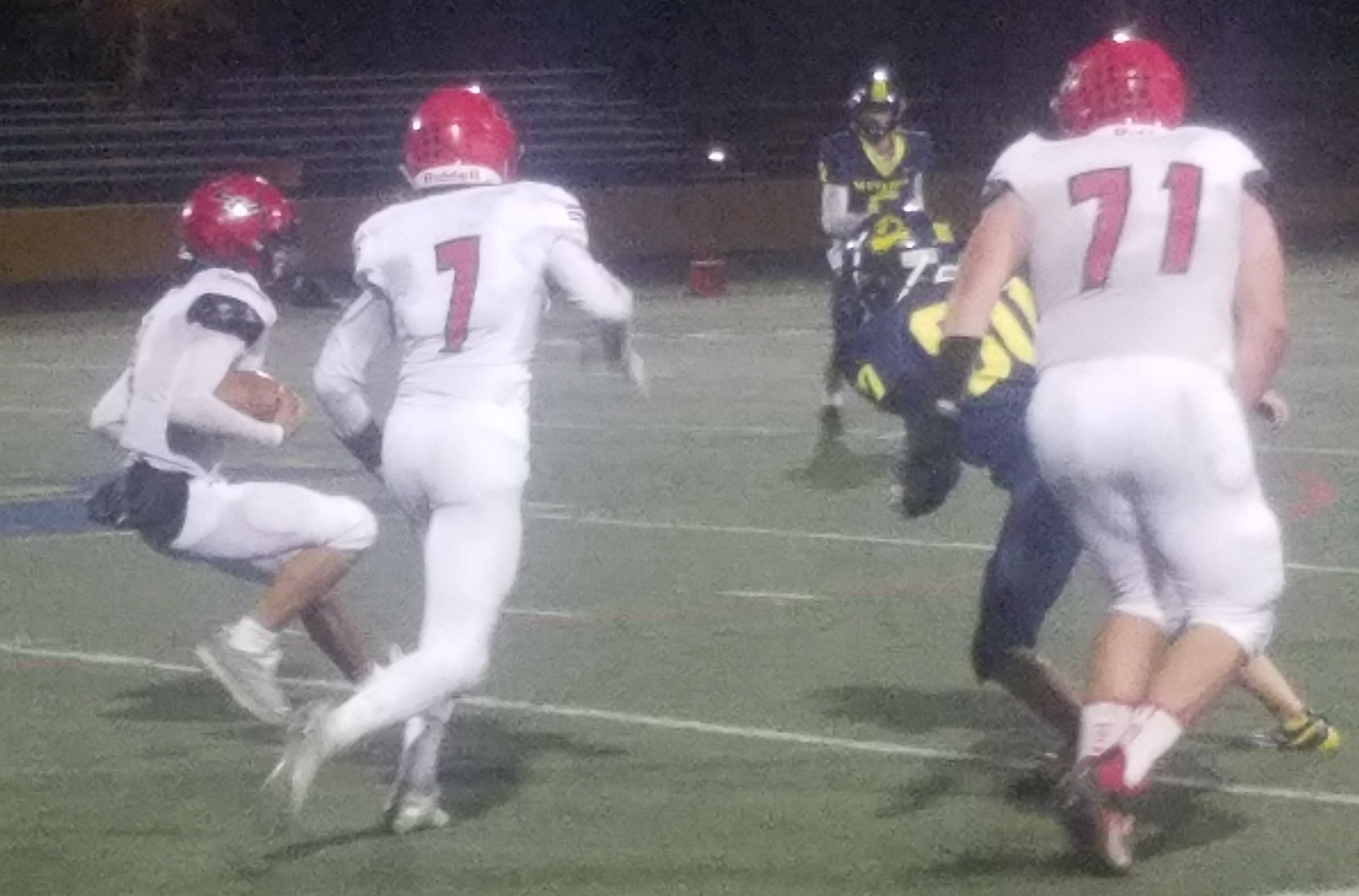 Devean Santos is a quarterback on the move.
In the second quarter at Shadow Mountain High School, the junior took charge, running for two touchdowns after passing for another to pace Lee Williams High School to a 33-7 road win Friday, Oct. 23, over the Matadors.
"Anytime we can hold a team to seven points, it's a great thing," said second-year Lee Williams head coach Pat O'Boyle, who halted his team's two-game losing streak. "Especially on the road."
With a win in their final home game Friday, Oct. 30, over Mingus Union High School, the Volunteers (2-2 overall, 1-2 region) would not only hurdle the Marauders in the Grand Canyon Region standings but stay within striking distance of former region leader—and subsequent opponent—Flagstaff High School, knocked out of a tie for first Oct. 23 by Prescott, a Volunteer victim in their season opener.
"I've always said this is one of the toughest regions in 4A," O'Boyle said. "Every week, you've got to bring it. So right now, we're not looking down the road; we're looking at our next opponent, which is Mingus."
Following a scoreless, penalty-marred first quarter in which both offenses struggled to execute, Santos asserted himself—and Lee Williams.
"Devean did a nice job of taking care of the football and managing the game for us," O'Boyle said. "Definitely a good team effort on the offensive side of the ball."
Given good field position after senior Dylan Petersen fair-caught a punt at the Matador 37-yard-line, Santos took advantage 1:15 into the second quarter. After a 16-yard quarterback keeper gave Lee Williams a first down at the edge of the Shadow Mountain red zone, Santos connected with his speedy senior wide receiver Kameron Toms in the left corner of the end zone on a 28-yard deep route.
Lee Williams could not execute the extra point, however, so Santos' equally mobile counterpart, Christian Thomson was still a threat to overtake the Volunteers with a touchdown. The Shadow Mountain junior quarterback had led his offense to the Lee Williams 6-yard-line in the first quarter before an overthrow with three yards to go on fourth down turned the ball over on downs.
But the Volunteers defense held on successive Shadow Mountain drives, forcing the Matadors, for the second time, to punt from their own end zone. Toms returned the boot from their 39-yard-line 22 yards to the Shadow Mountain 17 before the Volunteers ground game took over. Senior James Garcia's 15-yard run set up Santos with first down and goal from the Matador 2, and he would follow his offensive line into the end zone from there.
"You've got to give credit to the O-line as well," O'Boyle said. "I thought we did a nice job up front to give him those holes to run through. We ran the ball efficiently."
Still, another failed point-after conversion left the door open for the Skyline Region-leading Matadors (1-0, 1-3), especially after a triple-threat combination of Thomson's scrambles and a quick out to senior Matthew Blood brought Shadow Mountain back to the Lee Williams 41.
"We still have a lot of things we can clean up and get better at, especially in the penalty [area]," O'Boyle said. "We're going to get back in the film room and take care of those things."
There, though, the Volunteers defense stiffened again, and Santos left no more room for doubt after taking over the ball on downs. He marshaled a five-play, 59-yard drive back to pay dirt, highlighted by a 27-yard reception by Toms that ended his night after his left shin was bent too far backward by the Matador tacklers.
"He's a little banged up right now," O'Boyle said. "We're going to have to see how severe his injury to his lower extremity is and re-evaluate on Monday.
"Losing him and (senior) Rye Samson, it kind of handcuffs us a little bit in the passing game. We've got to develop those guys beneath them."
But Tom's yards after catch set up the Volunteers with first down and goal at the Matador 8. This time, with 1:48 to go, junior Justin Wright's extra-point kick sailed true after Santos' second and third quarterback keepers of the drive gave Lee Williams the 19-0 halftime advantage.
"He's definitely getting a lot smarter," O'Boyle said. "There's some things he's got to work on, as far as being efficient with the football."
Without Toms in the second half, the third quarter initially appeared much like the first for Lee Williams. The Volunteers defense continued to do its job, as senior Donald Delmonaco and junior Peyton Cundari converged to sack Thomson and turn the ball back over on downs on their own 46.
But Garcia's tough running took up Toms' slack, as he would score early in the fourth quarter on a four-yard pitch around left end.
"James is just a tough kid," O'Boyle said. "He's a gamer: He loves to compete, he loves physicality, he's not going to shy away from the big moments."
The shutout would not hold, though, as Thomson at last would connect with receivers Carlos Sierra and Blake Moss on consecutive throws from the Lee Williams 40. But the drive ate up nearly four minutes of clock, leaving the Matadors with only 7:26 to cut further into their 26-7 deficit.
It would be Santos, though, who would again respond to the threat with poise and a five-play drive that took just over two minutes. Although freshman Kruz Yocum took a four-yard pitchout into the end zone to cap the scoring, 33-7, with 4:46 to play, it was Santos who made every correct decision on the drive, keeping the ball on the ground with alternating keepers and pitches to Yocum and Garcia.
"Bottom line is, we played well as a team," O'Boyle said. "Very, very proud of the kids. They busted their butts and worked hard for each other."