Raytheon, AIA partner to bolster robotics in Maricopa County high schools
November 19, 2020 by Seth Polansky, AZPreps365
---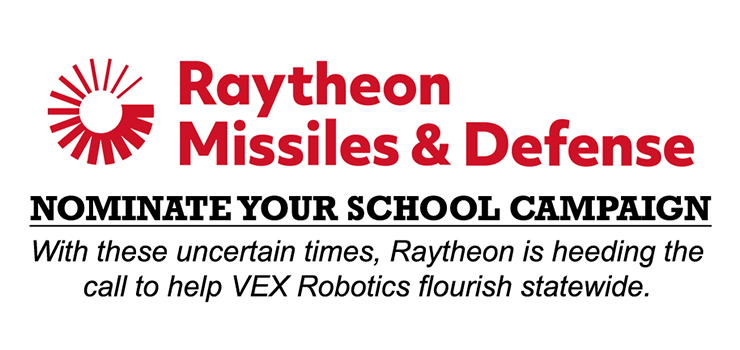 PHOENIX, Ariz. — Raytheon Missiles & Defense, a business of Raytheon Technologies, (NSYE: RTX) and the Arizona Interscholastic Association are continuing to provide opportunities for high schools in Maricopa County to participate in robotics with a Nominate Your School campaign that will provide extra resources to one school's VEX Robotics team. VEX Robotics is a leading provider of educational and competitive robotics products to schools, universities and robotics teams around the world.
Raytheon will donate $2,000 to the winning school to support an existing program at a member high school in Maricopa County. During these uncertain times, Raytheon is heeding the call to help VEX Robotics flourish statewide. Schools must submit their entries HERE by Feb. 5, 2021.
"The current school year has provided a challenge for all of our member schools to receive proper funding and to retain star students in this field," said AIA Executive Director David Hines. "Raytheon's commitment to keeping VEX Robotics a central part of the learning process is invaluable. We're happy another AIA member will receive help on their way to competing for a state championship."
Raytheon has a steadfast commitment to fostering the next-generation of scientists, technologists, engineers and mathematicians through STEM education. The company will be a presenting sponsor of the 2021 AIA Robotics state championships. The winning school will receive their $2,000 check at the championships giving them time to prepare for competition during the 2021-2022 School Year.
For more information, contact Brian Lukas at blukas@azpreps365.com or 602-385-3827.
About Arizona Interscholastic Association
The AIA is a voluntary association of public and private Arizona high schools. Since 1913, the organization has created and sustained interscholastic activities that encourage maximum student participation by providing AIA member schools with an even playing field to ensure fair and equitable competition. The AIA believes that providing interscholastic activities for Arizona high school students creates personal development opportunities with a balanced focus on academics and extracurricular activities. Through its Arizona member schools, the AIA reaches more than 100,000 participants in high school activity programs. The organization hosts 5,000 championship contests and officiates more than 45,000 regular season games. For more information, visit www.aiaonline.org and www.azpreps365.com.
About Raytheon Missiles & Defense
Raytheon Missiles & Defense brings global customers the most advanced end-to-end solutions delivering the advantage of one innovative partner to detect, track, and intercept threats. With a broad portfolio of air and missile defense systems, precision weapons, radars, command and control systems and advanced defense technologies Raytheon Missiles & Defense solutions protect citizens, warfighters and infrastructure in more than fifty countries around the world.