Blair, Spartans secure legacy with shutout of St. Johns
November 9, 2020 by George Werner, AZPreps365
---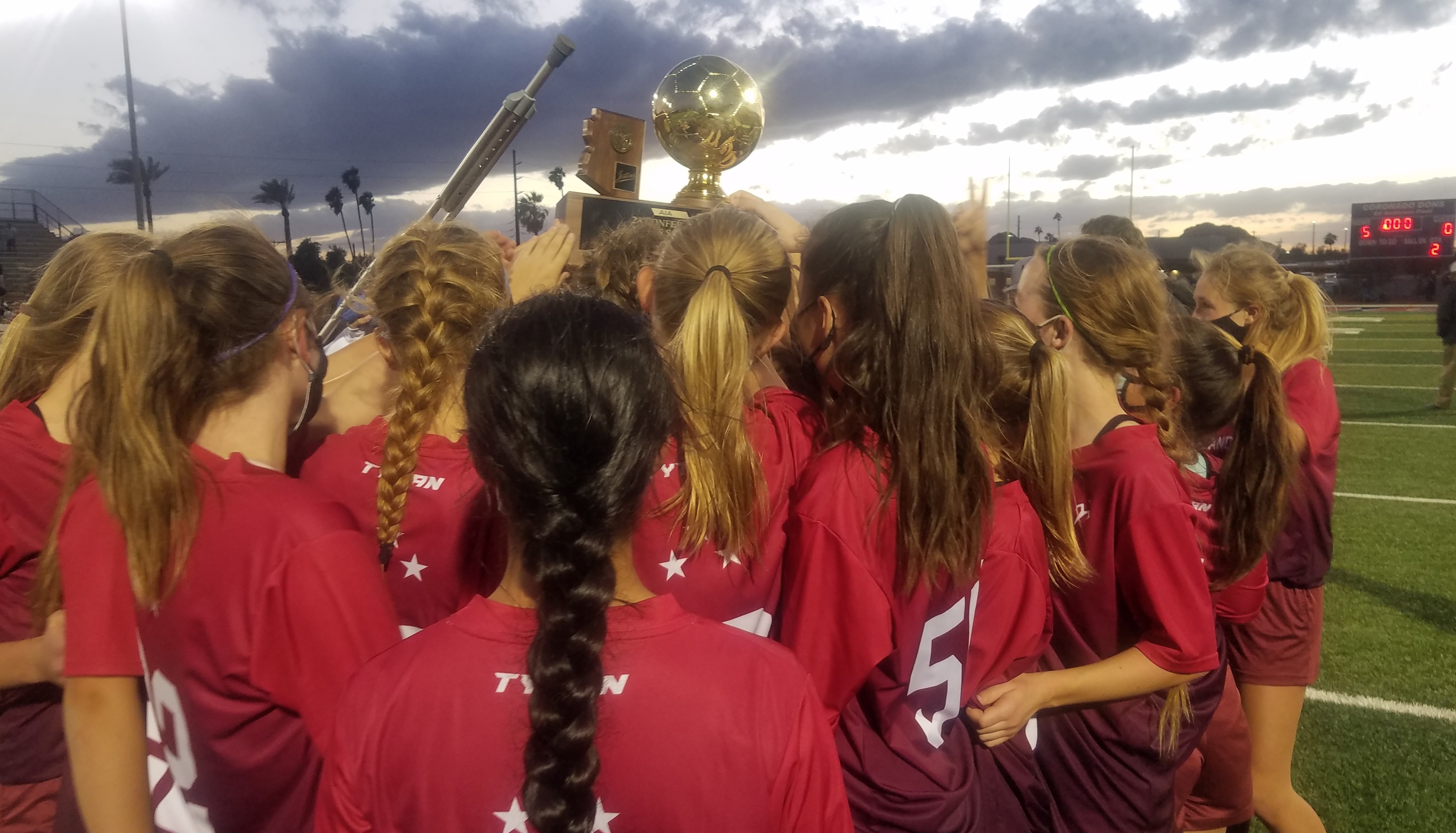 As the cameras flashed and interview requests continued nearly an hour after Northland Preparatory Academy's fall girls soccer title win Saturday, Nov. 7, Mia Blair appeared no less than the belle of the ball at Scottsdale's Coronado High School.
That is certainly what her teams have been at the 2A conference state championships since 2017, capturing all of them since her freshman year in the program.
"It's pretty amazing that we were able to go four for four," the Spartans senior striker said after scoring three goals and assisting on another in the 5-0 shutout of St. Johns High School. "I've never lost a high school game, and our team, collectively, has only lost one."
Blair, in her high school soccer finale, became America's only girls soccer player to average more than two assists against a 14-game schedule, attaining the national lead in the category in just 35 days.
"She sees the field really well, but she really plays for her teammates," said Blair's father Michael, co-coach of the Spartans along with Keith Hovis. "I think that's what comes out. Ever since she was seven, she was seeing things on the field that no other player was seeing out there."
Her 30th assist of the season, to Hovis' daughter, Kiarra--a senior who had two goals and an assist herself Friday, Nov. 6, to climb to ninth in the nation, only six behind Blair, in the Spartans' 7-0 semifinal win over Show Low High School--got the Spartans on the scoreboard just five minutes into the title contest.
"These seniors, what a special group," Michael Blair added. "It's going to be hard to replicate what these seniors have done, but you know what? That's what makes it fun."
His daughter's first strike came less than five minutes later. Like the first goal, and later the last goal of the half, also Blair's at the 1:38 mark, the boot that put the Spartans up 2-0 was from point-blank range, less than 10 yards out in front of the net.
"The balls in the box were just amazing, and the finishes were awesome," Michael Blair said. "That's high-level soccer right there, I don't care what level you're playing."
Blair would bang in the fourth goal as well, this one from 25 yards out on the right wing that caromed into the left side of the net off the top crossbar of the goal. This came five minutes after a 30-yard boot from senior Ellie Karren at 21:22 that curled into the back left corner of the net.
"Some teams, maybe, would give up down 5-0," said St. Johns head coach Paul Otto, whose Redskins needed four successful penalty kicks in overtime to edge Chino Valley High School in the state semifinal the day before. "I think 40 to 50 percent of our goals this season came from freshmen.
"We're the smallest school in the conference. There was some fatigue. The girls were sore."
Northland Prep senior Mia Blair shoots on St. Johns junior goalkeeper Tynesia Little. (George Werner/AzPreps365)But if the daughters of Northland Prep's co-coaches supplied, in the first half, all the offense they would need, the Spartan defense lived up to its name as well as its reputation in the second half.
As Blair and Hovis began emptying their bench, rotating in backups and third-stringers with more than 20 minutes to play, the defense, which only allowed four goals all season, still preserved the shutout despite facing winds to the east gusting at up to 30 miles per hour.
"I think it's always harder to play in the wind," Otto said. "We always struggle playing like that.
"But our girls are super tough. I told them after the game I was proud of them, as long as they gave their all. And they did."
Senior goalkeeper Payten Schmidt only had six shots on goal to contend with--the same number she faced from Show Low in 60 minutes in the semifinal Nov. 6--before giving way to sophomore Millie Gindorf with five minutes to play.
The Spartans not only finished undefeated, but 10 of their wins came via shutout, and they finished 75-1 over Blair's four years in the program despite losing a week of the schedule to a COVID-19 scare that shut down all sports in the Flagstaff Unified School District the second week of October.
"The success of that has definitely hit close to home," said Blair, whose younger sister Campbell, a freshman, had a steal in 30 minutes of playing time off the bench. "We are really trying to build a legacy of champions, on and off the field."
This legacy, Keith Hovis explained, doesn't necessarily involve winning championships. It involves dedication, focus, following all the rules "to a T," sharpness, and loving their teammates, specifically taking care of the younger members of the team like they are family.
"I'm definitely stoked about winning state four years in a row," Blair said. "But it hasn't really hit that I'm not coming back to this incredible team next year."
The 2020 2A girls soccer state champion Northland Prep Spartans. (George Werner/AzPreps365)