RIley, GCHS cross country state finalist
November 18, 2020 by Peyton Dahlstrom, Gilbert Christian High School
---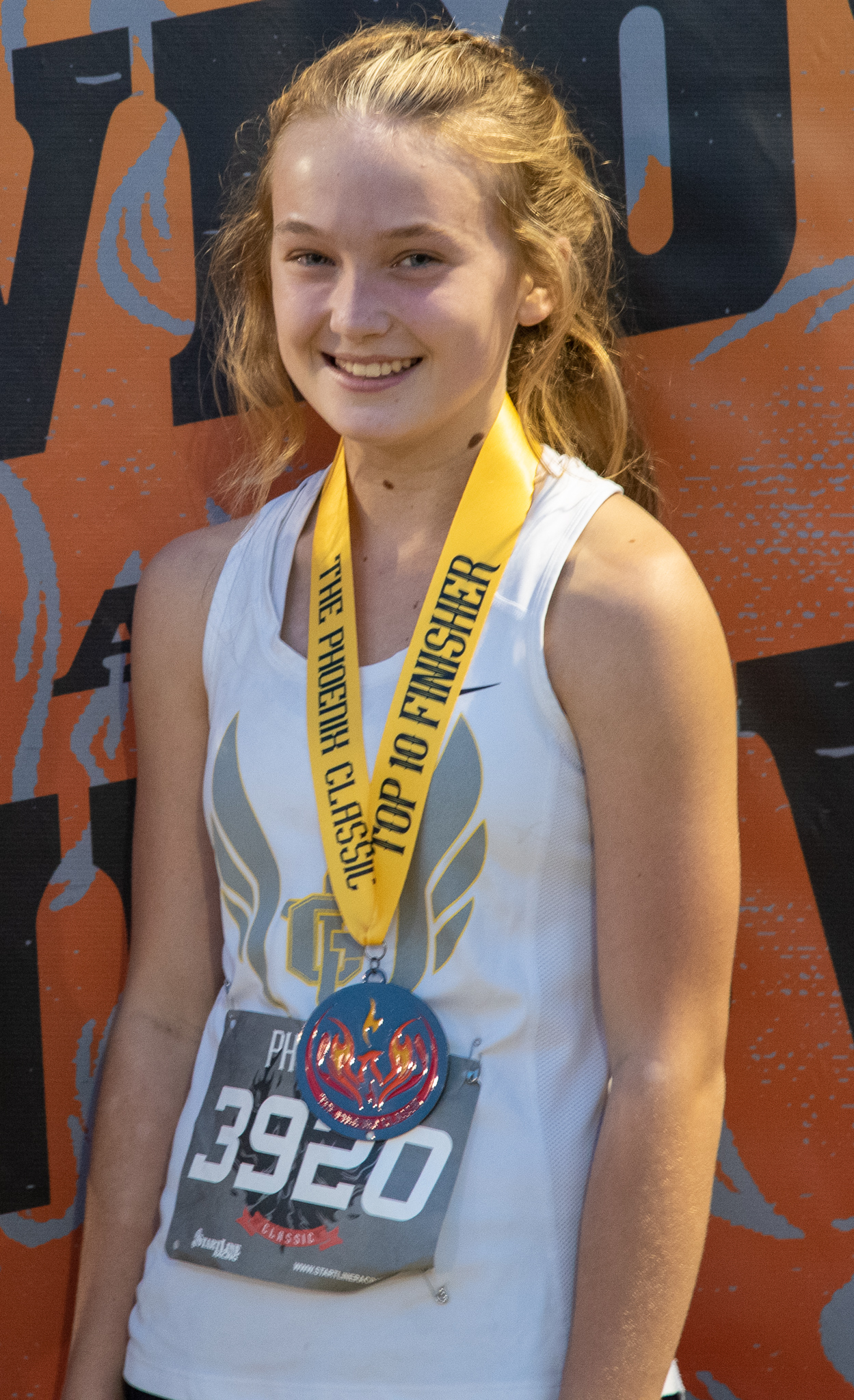 Peyton Dahlstrom is a journalism student at Gilbert Christian High School assigned to cover high school sports for AZPreps365.com
"I run the race that God has put before me, it's all in His control," says Ryley Nelson, a 9th grade Gilbert Christian High School (GCHS) Cross Country state finalist.
Ryley Nelson began running when she was around eight years old. She said, "My parents didn't know I was a runner but they put me in a mile race series, and I ended up getting first every race so I kept doing that for the next four years." It was in sixth grade when she joined cross country and decided to continue pursuing her running career.
This year Ryley has many major highlights from the season, and it hasn't even come to an end yet. One of her first highlights was, "When I got first at the Desert Twilight meet and my fastest time of the season." Along with this Ryley also qualified for state at sectionals. "Even though I didn't get first, I passed two people at the end and ended up getting second! Probably one of the best races I've ever done," says Ryley.
As far as the team goes, she illustrates how they are, "So encouraging and they have definitely helped me through this long season and they make practices so much fun." Not only does Ryley enjoy the sport, but she also enjoys the team and relationships she has built.
Running can be a very stressful sport, but she has some rituals and routines that she practices every time before running. She says, "Usually the day before I run, I hydrate as much as I can and do a lot of stretching! I also do a lot of praying to take my stress away and help me run!" Not only does she do these things but she also explains that she always eats pasta for dinner and goes to bed an hour early on a night before a meet.
Not only, has running impacted her physically but it has also impacted her spiritually and mentally. She says running has taught her, "that life is hard and won't always go as you want it, there will always be good and bad days."
This past Friday, Ryley ran at the Arizona AIA State Cross Country Division III Championships and placed 3rd, a top freshman in the division, with a new personal record of 19:19. She has had a great freshman year in this cross country season with many great accomplishments.
"I always used to be focused on winning and running for me; but I realized, it's run the race God has set before me, it's all in His control." said Ryley.
Ryley, 3rd place in the XC State Championship. Photo Credit: Colton Gianiorio