New Raymond S. Kellis coach not afraid of challenges
February 9, 2021 by Max Campodall'Orto, Arizona State University
---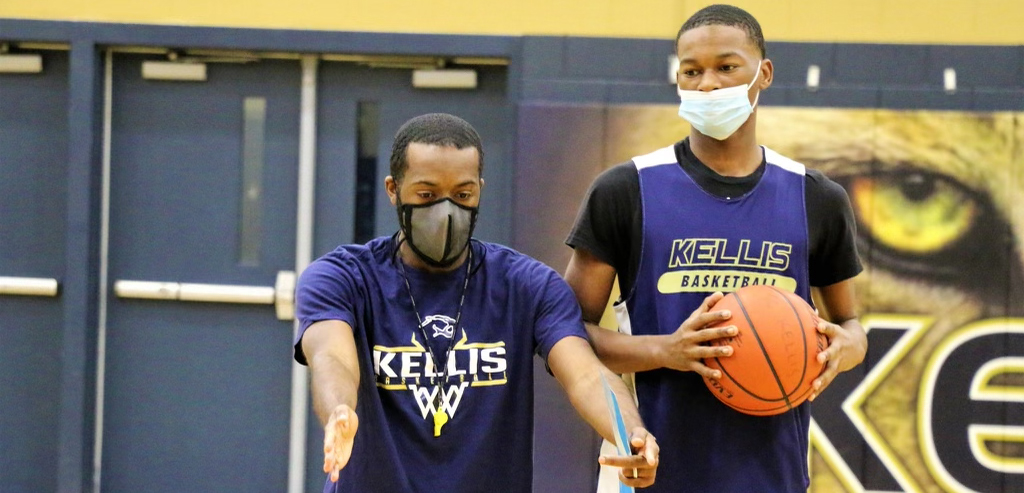 Max Campodall'Orto is an ASU Cronkite School of Journalism student assigned to cover Raymond S Kellis High School for AzPreps365.com
De'Rahn Stinson isn't afraid of a challenge. He knows that working through hard times makes you grow. "We aren't going to hide from any smoke. We're coming headfirst no matter what."
Stinson is faced with the challenge of building a program from the ground up during unprecedented times brought on by the COVID-19 pandemic.
"The first year has been a learning experience. I've learned how to delegate my time and focus on more than just the X's and O's to build my program from top to bottom," Stinson said, "Especially with COVID, I have to focus on the program as a whole to keep each level safe and playing."
The changes that Stinson has made are already being felt throughout the program, which won 11 games in the last 3 years. "Coach Stinson has brought much energy and leadership since he has taken over the program. He shows that he believes in each of his players and the team as a whole," sophomore guard Chris Ruiz said, "Coach keeps us in check on and off the court and is a valuable leader that understands the team and works to make us better every day."
One of Stinson's skills is his ability to affect his players outside of basketball. He has a special talent for connecting with his players and helping them grow into young men off the court.
"Coach Stinson has done everything for our players." junior guard Amare Arbizu says, "Along with not only teaching me the game of basketball he's taught me how to be a man and take care of my responsibilities off the court as well. He's quick to help when something is misunderstood and will go over every small step so it can be understood.
Coach is such a positive influence and role model to not only me but the rest of my team. He's a fun guy and wants to win and that energy had changed this team dramatically! The vibe is completely different with him here, he makes players feel wanted and makes us feel like what we say matters and that's huge. Give us another year I promise Stinson is going to change the way Kellis is viewed."
Before Stinson was named Kellis' coach, he was first a player. Stinson went to high school at South Mountain and played basketball under coach Brian Fair where he helped lead the program to a playoff berth in 2011, his senior year.
Stinson was on track to play college basketball when tore a ligament in his ankle, ending his playing career. Unable to leave behind the game that he loves, he went into coaching.
"I need to be around the game of basketball and coaching came naturally to me," Stinson said, "I've always seen the game from an X's and O's standpoint, so I wanted to learn the game from the coaching side, learn how to make players better, and impact the lives of the young men I coach."
Stinson has had an extensive coaching career leading up to his hiring at Kellis. He began coaching youth basketball in Phoenix and then Atlanta before returning to Arizona to coach at AIMHIGH Elite Athletes Travel Basketball Program under the direction of former NBA player Reggie Fox and coach Dave Camadini.
Stinson began coaching high school basketball as the freshman head coach and varsity assistant at Mesquite High School. He then went on to start the basketball program at Cicero Prep, running both the high school and middle school programs. Stinson was then hired as the head JV coach at Red Mountain high school where he coached multiple Division 1 athletes.
His last stop before coming to Kellis was at his alma mater, South Mountain as the head JV coach and varsity assistant. Stinson led his JV program to a 13-5 record in his first season and 17-1 in his second, the two best single seasons in school history. As the varsity assistant, he helped lead South to a Final Four appearance in his final season.