Girls Wrestling Tournament Preview
March 4, 2021 by Andy Morales, AZPreps365
---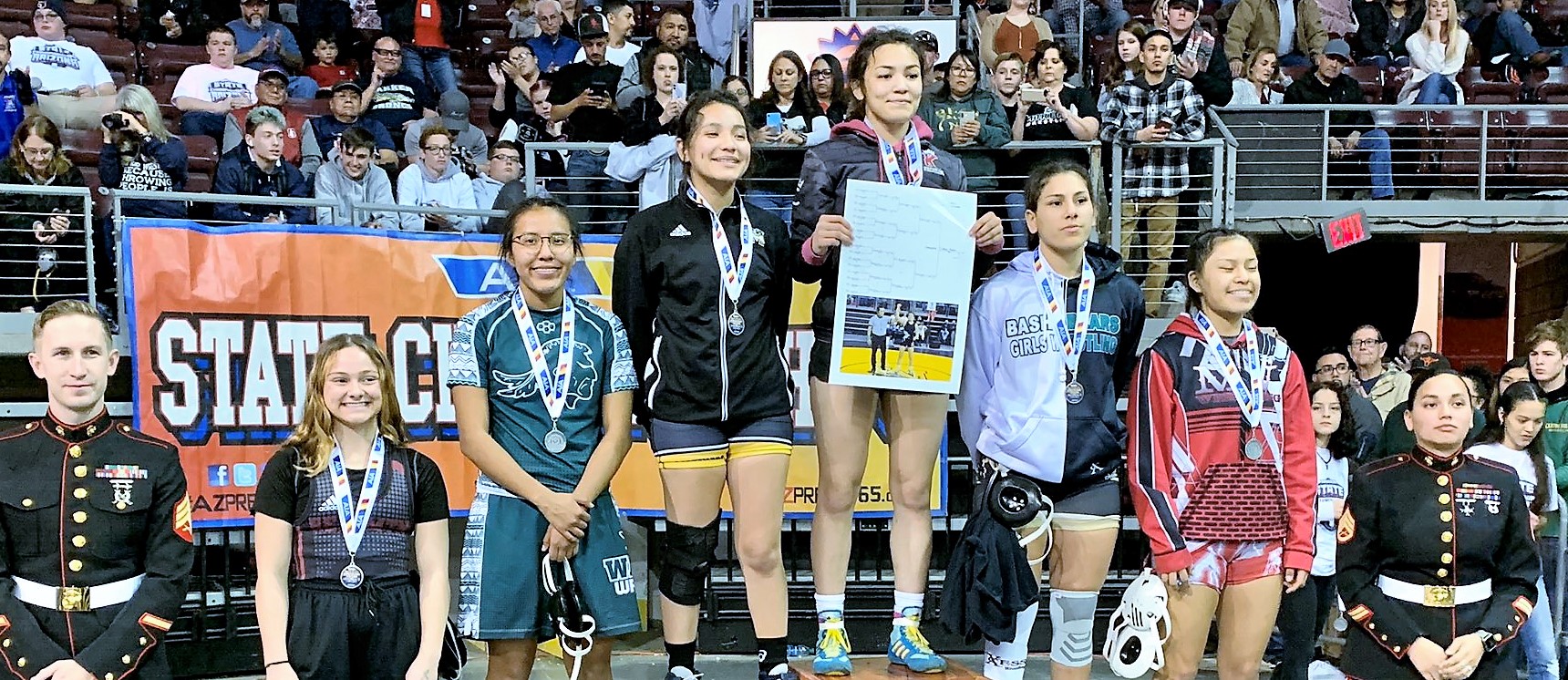 The Arizona Interscholastic Association (AIA) Executive Board voted to make Girls Wrestling a team sport in April of 2020, moving the state competition from an "emerging sport" to a recognition of the hard work and dedication put in by the athletes, not just as individuals, but as teammates.
The growing numbers were cited as the main reason for taking the next logical step. In 2019, 224 wrestlers competed at the various sectionals to decide which wrestlers would compete for an individual state title in the ten weight classes. That number jumped to 435 in 2020 but COVID concerns might have slowed that upwards trend down this winter with 248 wrestlers competing at state. The weight classes also expanded from 10 to 14.
Kofa standout Carolina Moreno will be competing for her third individual title and the senior enters state competition with a perfect 8-0 record in the 126-pound division.
In all, there will be three returning state champions and three returning second place finishers from last year.
TWO-TIME STATE CHAMPIONS
Sierrah Thrun, Corona del Sol
Carolina Moreno, Kofa
Mia Didur, Centennial
RETURNING STATE CHAMPIONS.
106: Emily Porras (Ironwood) Jr. (7-1)
126: Carolina Moreno (Kofa) Sr. (8-0)
132: Bree Garcia (Barry Goldwater) Jr. (9-0)
RETURNING RUNNER-UPS.
126: Isabelle Munoz (Casteel) So. (9-2)
132: Mylei Seigla (Canyon Del Oro) Jr. (6-1)
145: Sara Schmoker (Liberty) Sr. (10-0)
2019 INDIVIDUAL STATE CHAMPIONS
101: Lexi Borunda of Shadow Ridge
110: Sierrah Thrun of Corona del Sol
118: Stefana Jelacic of Chandler
125: Julia Chambers of Skyline
130: Carolina Moreno of Kofa
135: Julia Lundberg of North Canyon
145: Jessie McCurry of Deer Valley
160: Jennifer Curry of Hamilton
185: Mia Didur of Centennial
225: Danni Schulz of Mingus Union
2020 INDIVIDUAL STATE CHAMPIONS
101: Emily Porras of Ironwood
110: Sierrah Thrun of Corona del Sol
118: Adacelli Noriega of Bisbee
125: Carolina Moreno of Kofa
130: Bree Garcia of Barry Goldwater
135: Genesis Higuera of Odessey Institute
145: Taliyah Armstrong of Westwood
160: Angie Ochoa of Maryvale
185: Mia Didur of Centennial
225: Naomi Norton of Arizona Lutheran