Kellis star freshman Jai Anthoni Bearden receives first college offer
March 9, 2021 by Max Campodall'Orto, Arizona State University
---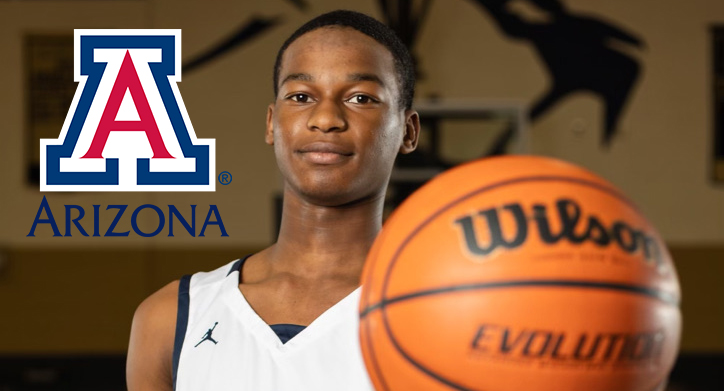 Max Campodall'Orto is an ASU Cronkite School of Journalism student assigned to cover Raymond S Kellis High School for AzPreps365.com
Jai Anthoni Bearden's hard work and dedication are paying off. His impressive freshman season at Kellis was enough to catch the eyes of the University of Arizona basketball program which offered him a scholarship. But he couldn't have done it without the people in his life who are helping him on his path to greatness.
"Jai received his first offer last Sunday evening and I talked to him in the phone right after. He was so excited," Kellis head coach De'Rahn Stinson said. "He was so shocked! He didn't know what to say! I'm super happy for him and his family. For me as a coach this is what it's all about, getting these kids to college. He's one of the best people I've been around and I'm excited that I get to coach him for three more years."
Kellis basketball had a tough season going 2-15 but showed flashes of potential with their young core, especially towards the end of the season. "I feel like this year was a good learning experience for me," Bearden said. "Next year we're going to surprise people. It's gonna be tight."
Despite the hardship, Bearden had a breakout freshman season. He averaged a double-double with 12.6 points and 10.9 rebounds. This makes him the No. 1 ranked rebounder and the No. 10 ranked scorer in 5A division. Bearden is also the top freshman scorer in the division.
Bearden had stat-stuffing performances such as Kellis' win over Independence when Bearden had 31 points, 17 rebounds, and three assists. He also had a huge performance in the win against Agua Fria where he had 17 points, 17 rebounds, two assists, and two blocks.
Bearden credits all of his success to his mother. "My mom is my inspiration," Bearden said. "She's a single mom and growing up I didn't see her half the day because she was working so hard. She keeps me on a straight road. She always gives me the best advice. She doesn't even play basketball, but she gives me game advice and I always listen to her."
He wants to reach the pinnacle of basketball success for his mother. "I play for her," Bearden said. "I want to buy my mom a house one day, make sure she's living right."
Bearden knows the commitment that is necessary to get to the level he wants to be at. He's dedicated all of his time to his craft and that's caused him to miss out on the life of an average high schooler. "I get invited to parties, but I don't go. Basketball stopped all that. You've got to have a small circle and be focused."
Bearden also credits his success to the coaches he's had along the way who have taught him the game. His trainer, coach Tony Miller, continues to mold him into the player he can become. He credits Stinson with helping lead him on his path to success.
Bearden has also found a home with one of the top AAU programs in the country, the Compton Magic. Playing with such a talented group has grown Bearden's game exponentially. "When I first went out to play for Compton it was shocking," he said. "All the players are my height and can do what I do and that pushed me to work harder because if they can do what I do, what's so special about me?"
But Bearden's goals also lay outside the game of basketball. "I hope one day with my success I can make a positive impact in my community however I can," he said. "I want to be able to help the people around me."