168 section champions crowned
March 13, 2021 by Andy Morales, AZPreps365
---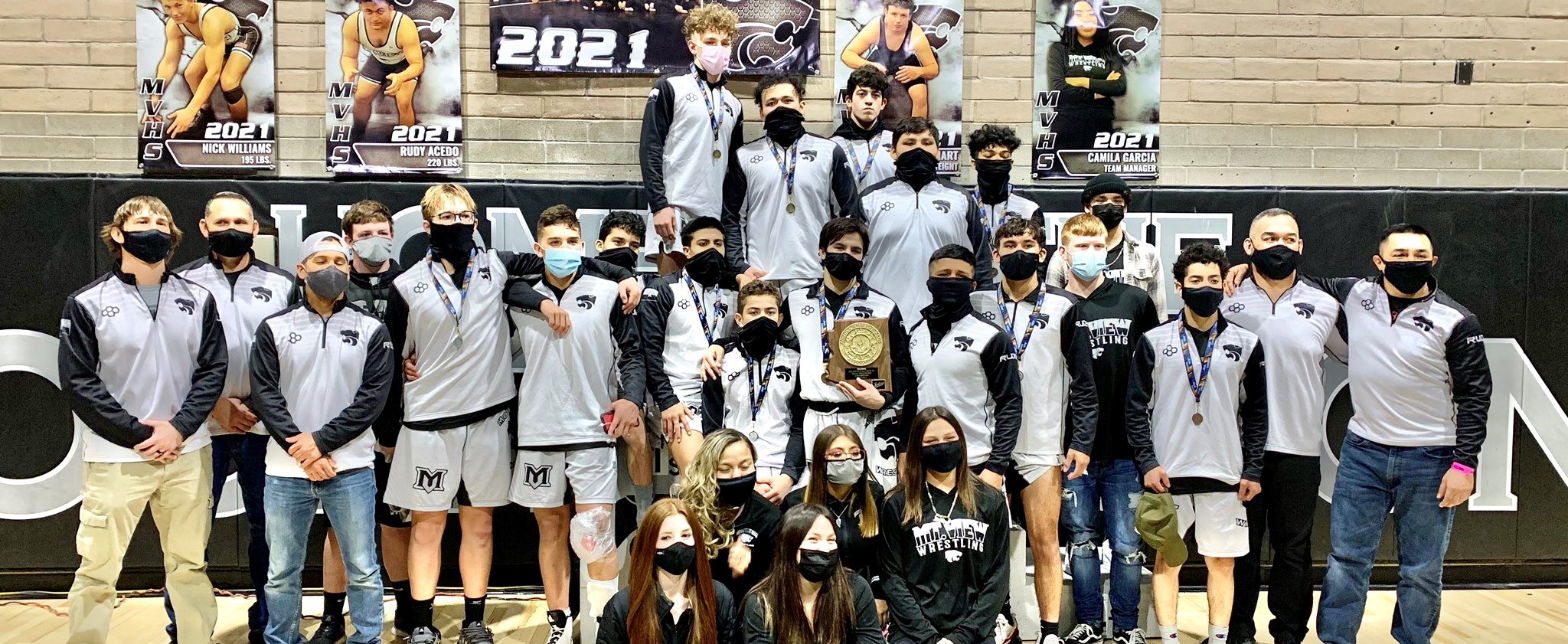 BOYS WRESTLING SECTIONALS
It was a long day but the results of all 12 Wrestling Sectionals held on Saturday are now in the computer. The 672 names of all the state qualifiers from Division I, II and II will be seeded according to various criteria and then placed back into the appropriate bracket based on weight class and competition.
Division IV did not have a sectional scheduled, instead, the state championships for that level will cover two days of competition from March 16-17 at Poston Butte High School in San Tan Valley. D-III will be held on March 18, D-II on March 19 and D-I on March 20. 16 wrestlers will compete in each bracket.
Listed below are the 12 section team champions and the champions for each weight class within each section. Remember, the top four finishers from each weight class advances to state not just the champions.
BY THE NUMBERS
89: The number of wrestlers with undefeated records going to state.
33: The number of state championships from Sunnyside.
13: The number going to state from Sunnyside, Casteel, Mountain View Marana and Safford.
10: Individual section champions from Casteel.
3: The number of state championships from Chandler standout Zach Espalin.
DIVISION I – SECTION I
TEAM CHAMPION
Sunnyside: 270.5
CLASS CHAMPIONS
106: Cesar Vasquez (Sunnyside) 7-1
113: James Armstrong (Sunnyside) 8-0
120: James Brown (Sunnyside) 8-0
126: Victor Lopez (Sunnyside) 10-0
132: Cristian Rivera (Sunnyside) 8-0
138: Daniel Butler (Red Mountain) 6-1
145: Jaime Rivera (Sunnyside) 10-0
152: Kaleb Pool (Tucson) 9-2
160: Sebastian Robles (Sunnyside) 8-0
170: Caleb Milnes (Perry) 11-3
182: Rene Fragoso (Sunnyside) 8-0
195: Jacob Hanson (Perry) 10-4
220: Obed Craft (Sunnyside) 8-0
285: Santiago III Miranda (Tucson) 5-0
DIVISION I – SECTION II
TEAM CHAMPION
Desert Vista: 189.0
CLASS CHAMPIONS
106: Damien Moreno (Kofa) 15-0
113: Logan Smith (Desert Vista) 12-1
120: Isaiah Valle (Westwood) 10-5
126: Gabe Valdez-Duarte (Skyline) 15-2
132: Damen Miller (Desert Vista) 14-0
138: Mourece Ramirez (Desert Vista) 15-0
145: Domenic Hurtado (Desert Vista) 14-0
152: Jerry Rudiak (Desert Vista) 14-0
160: Jonah Muhammad (Hamilton) 13-0
170: Gunnar Luke (Mountain View Mesa) 16-0
182: Alex Sanchez (Skyline) 17-0
195: Elijah Sobas (Hamilton) 15-0
220: James Huber (Mountain View Mesa) 15-1
285: Jonathan Lozano (Hamilton) 11-1
DIVISION I – SECTION III
TEAM CHAMPION
Desert Ridge: 213.0
CLASS CHAMPIONS
106: Alexander Sweeney (Desert Ridge) 12-1
113: Ethan Madson (Horizon) 13-4
120: Joseph Jarman (Mesa) 14-0
126: Ty Trickle (Brophy Prep) 13-2
132: Dante Oliverio (Horizon) 16-0
138: Akai Villela (Desert Ridge) 15-1
145: Johnny Sierra (Cibola) 12-0
152: Kalvin Boggs (Queen Creek) 10-0
160: Jeordon Mellor (Cibola) 12-0
170: Joseph Kisting (Desert Ridge) 10-1
182: David Sweetman (Brophy Prep) 14-0
195: Kaiden Cisneros (Mesa) 13-2
220: William Durbin (Dobson) 8-0
285: Calvin Forsgren (Mesa) 8-1
DIVISION I – SECTION IV
TEAM CHAMPION
Liberty: 232.5
CLASS CHAMPIONS
106: Enzi Hillis (Shadow Ridge) 11-1
113: Tim Murabito (Liberty) 16-0
120: Michael Trujillo (Liberty) 14-0
126: Zach Espalin (Chandler) 9-0
132: Jonathon Rogers (Liberty) 13-1
138: Carson Coy (Liberty) 15-0
145: Edward Reyes (Valley Vista) 12-0
152: Bear Horgan (Shadow Ridge) 14-1
160: Dalton Loyden (Chandler) 9-0
170: Tyler Clark (Sandra Day O`Connor) 10-2
182: Sergio Ramos (Mountain Ridge) 13-1
195: Gavin Dodge (Liberty) 13-2
220: Nathaniel Deasey (Chandler) 10-0
285: Jacob Moore (Boulder Creek) 9-0
DIVISION II – SECTION I
TEAM CHAMPION
Gila Ridge: 154.5
CLASS CHAMPIONS
106: Noah Krzysztofiak (Canyon View) 15-0
113: Luis Pastoriza (Agua Fria) 3-0
120: Clemente Delgado (Gila Ridge) 8-0
126: Ernest Brown (Raymond Kellis) 10-4
132: Nathan Kempton (Gila Ridge) 10-0
138: Colby Ryan (Raymond Kellis) 15-0
145: Jaden Berner (Willow Canyon) 11-1
152: Armando Valencia (Gila Ridge) 3-1
160: Mason Gambill (Verrado) 13-3
170: Lawrence Gutierrez (Youngker) 9-0
182: Sean Hardy (Willow Canyon) 16-1
195: Bryson Plueger (Willow Canyon) 15-1
220: Jahliel Flores (Agua Fria) 8-0
285: Miguel Gonzalez (Agua Fria) 7-0
DIVISION II – SECTION II
TEAM CHAMPION
Ironwood: 146.0
CLASS CHAMPIONS
106: Joe Neubert (Paradise Valley) 14-2
113: Gavin Gonzales (Ironwood) 9-0
120: Gabe Sandoval (Paradise Valley) 10-5
126: Ruben `Xavier` Lerma (Ironwood) 5-1
132: Jordan Beauvais (Ironwood) 6-1
138: Brandon Herzog (Cactus Shadows) 15-0
145: Trent Wikel (Desert Mountain) 14-0
152: Richard Hockersmith (Paradise Valley) 8-8
160: Ethan Campos (Ironwood) 9-2
170: Markell Rivera (Ironwood) 13-0
182: Jake Ortiz (Desert Mountain) 13-0
195: Andrew Slavin (North Canyon) 3-0
220: Maurico Valles (Dysart) 9-1
285: Cailor Benson (Paradise Valley) 16-1
DIVISION II – SECTION III
TEAM CHAMPION
Casteel: 264.0
CLASS CHAMPIONS
106: Mitchell Jones (Campo Verde) 15-1
113: Jackson Rustad (Casteel) 7-0
120: James Maheras (Casteel) 16-1
126: Will Effinger (Casteel) 16-0
132: Sergio Ramos (Casteel) 16-0
138: Xylyx Abele (Casteel) 12-5
145: Ramon Ramos (Casteel) 17-0
152: Nicholas Carroll (Higley) 14-2
160: Jacob Done (Casteel) 11-1
170: Brennan Callison (Casteel) 15-1
182: Jacey Harris (Campo Verde) 11-3
195: Andrew (AJ) Valle (Casteel) 13-0
220: Majel Morones (Campo Verde) 17-0
285: Carson Gazeley (Casteel) 11-6
DIVISION II – SECTION IV
TEAM CHAMPION
Mountain View Marana: 219
CLASS CHAMPIONS
106: Enzo Spina (Ironwood Ridge) 6-1
113: Robert Hernandez (Flowing Wells) 11-0
120: Daniel Miranda (Mountain View Marana) 12-1
126: David Chase (Cienega) 6-2
132: Gilbert Rodriguez (Mountain View Marana) 13-0
138: Brandon Paredes (Mountain View Marana) 14-0
145: Cole Hickey (Cienega) 8-0
152: Austin Scott (Mountain View Marana) 14-0
160: Chris Lopez (Mountain View Marana) 5-0
170: CJ Hangartner (Cienega) 7-1
182: Ritchie McCormack (Cienega) 7-0
195: Gabe Levy (Cienega) 8-0
220: Rudy Acedo (Mountain View Marana) 12-0
285: Wyatt Nelson (Ironwood Ridge) 9-0
DIVISION III – SECTION I
TEAM CHAMPION
Bradshaw Mountain: 169.0
CLASS CHAMPIONS
106: Hunter Lane (Chino Valley) 15-1
113: Sabian Russell (Yuma) 7-1
120: Colby Evens (Chino Valley) 17-0
126: Shawn Bamba (Peoria) 10-0
132: Andrew Sweilem (Barry Goldwater) 13-0
138: Vance Cuthbertson (Cactus) 11-0
145: Asher King (Bradshaw Mtn) 13-3
152: Zachary Cardneas (Barry Goldwater) 10-3
160: Payton Wayman (Lee Williams) 12-0
170: Kaleb Hill (Bradshaw Mtn) 10-4
182: Nick Foshee (Bradshaw Mtn) 15-0
195: Dakota McMains (Chino Valley) 15-0
220: Michael Kelley (Bradshaw Mtn) 13-1
285: Eduardo Reyes (Barry Goldwater) 10-1
DIVISION III – SECTION II
TEAM CHAMPION
Snowflake: 191.0
CLASS CHAMPIONS
106: Bergen Doolen (Ala Gilbert North) 16-0
113: Cole Housley (Show Low) 12-0
120: Troy Kinlicheenie (Snowflake) 12-2
126: Terrell Kinlicheenie (Snowflake) 9-0
132: Ky Owens (Snowflake) 12-3
138: Andy Wilhelm (Show Low) 14-3
145: Michael Davenport (Combs) 14-1
152: Seth Fernandez (Combs) 15-0
160: Mason Monnier (Combs) 7-2
170: Miles Hammond (Poston Butte) 10-8
182: Payson Cardon (Snowflake) 12-3
195: Christopher Fowler (Poston Butte) 10-8
220: Will Tuttle (Ala Queen Creek) 11-3
285: Jeremy Buenrostro (Ala Ironwood) 16-1
DIVISION III – SECTION III
TEAM CHAMPION
Coconino: 164.0
CLASS CHAMPIONS
106: Vonn Fenn (Thunderbird) 8-1
113: Tony Hernandez (Coconino) 9-3
120: Nickolas Phillips (Coconino) 13-0
126: Kai Miller (Mingus Union) 11-0
132: Zane Mallery (Shadow Mtn) 10-2
138: Cooper French (Coconino) 16-0
145: JaLyn Dortch (Thunderbird) 10-0
152: Reece Calvin (Shadow Mtn) 11-1
160: Sergio Vasquez (Mingus Union) 11-0
170: Conrad Brady (Mingus Union) 13-0
182: Luke Isaak (Shadow Mtn) 12-0
195: Jaiden Orono-Khaivilay (Greenway) 5-0
220: Kellen Gibson (Az College Prep) 16-0
285: Michael Story (Mesquite) 16-1
DIVISION III – SECTION IV
TEAM CHAMPION
Safford: 204.0
CLASS CHAMPIONS
106: Jayden Rael (Sahuarita) 11-0
113: Justin Fox (Sahuarita) 14-0
120: Damian Rios (Safford) 11-1
126: Christian Lopez (Sahuarita) 10-0
132: Zion Granados (Safford) 10-2
138: Ray Granados (Safford) 10-2
145: Kaleb Cordova (Safford) 9-1
152: Karson Zimmerman (Safford) 5-2
160: Braden Peglow (Empire) 12-0
170: Julian Prieto (Sahuarita) 7-1
182: Fernando Gonzales (Safford) 12-1
195: Gary Smith (Safford) 10-3
220: Jacob Lambert (Empire) 11-0
285: Daniel Dominguez (Amphitheater) 15-0