Casteel wins first state championship
March 19, 2021 by Andy Morales, AZPreps365
---

PHOTOS OF STATE WRESTLING CAN BE FOUND AT PAYNTER'S PICS
It was a slow climb but Casteel made it to the top of the mountain. The Colts outlasted Marana Mountain View 219 to 203 to win the Division II team championship held at Poston Butte High School on Friday and it took every single one of their wrestlers to make that climb.
The program started out as a small school with a fifth place finish at the D-IV level in 2018 and then a move to D-II the following year produced a ninth-place showing and the team improved to seventh last year. Ramon Ramos was a freshman on that 2018 squad and he became the first individual state champion in Colt history with a medal in the 120-pound weight class after finishing the year off with a 51-0 record.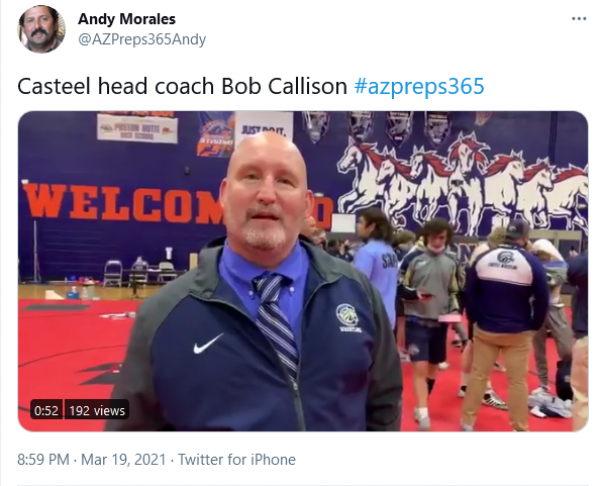 https://twitter.com/AZPreps365Andy/status/1373122066099040258
There were no individual champions in 2019 and 2020 but the team produced three on Friday night with Ramos (21-0) winning again at the 145 level, his brother Sergio Ramos (20-0) taking 132 and AJ Valle (17-0) producing a close victory at 195.
Ramon is better known as "Mykey" and the senior committed to Arizona State in December and he signed on with the Sun Devils one month ago. The Colts are guided by Hall of Fame head coach Bob Callison who had two previous state championships, coaching Mesa Mountain View to back-to-back titles in 2014 and 2015 with both victories coming over the powerful Sunnyside program.
Mykey is one of only three seniors in his program according to Callison so expect a return to the center mat next winter for the Colts.
https://twitter.com/AZPreps365Andy/status/1373101519923376128
The Mountain Lions had six wresters compete under the light which helped provide for a somewhat dramatic finish to the tournament after both D-IV and D-III were pretty much decided in the early rounds. In the end, Daniel Miranda (16-1) won at 120, Brandon Paredes (18-0) at 138, Austin Scott (18-0) at 152, Chris Lopez (9-0) at 160 and Rudy Acedo (16-0) at 220.
This was the second championship for Lopez and he is one of five seniors from Mountain View who took a spot on the awards stand at the end of the night along with Paredes and Acedo. Everything remaining equal, Scott is an early favorite for next year with the other five medalists in his weight class all graduating.
Campo Verde took third with 158 points, Ironwood Ridge came next with 117.5 and Ironwood finished in fifth with 108.5 points. Ironwood had a strong showing thanks to wins from senior Gavin Gonzales (13-0) at 113, freshman Xavier Lerma (9-1) at 126 and sophomore Markell Rivera (17-0) at 170.
Ironwood Ridge sophomore Enzo Spina (10-1) won at 106, Desert Mountain senior Jake Ortiz (17-0) won at 182 and Paradise Valley senior Cailor Benson (20-1) won at 285. In all, seven seniors brought home championships in D-II.
This is the third second place finish for Mountain View in a row after the program won it all in 2017 under the leadership of PJ Ponce.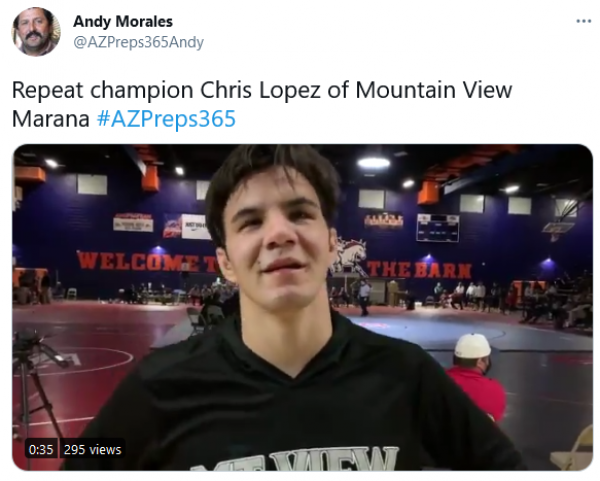 https://twitter.com/AZPreps365Andy/status/1373107285292027908