Sunnyside wins 34th state championship
March 21, 2021 by Andy Morales, AZPreps365
---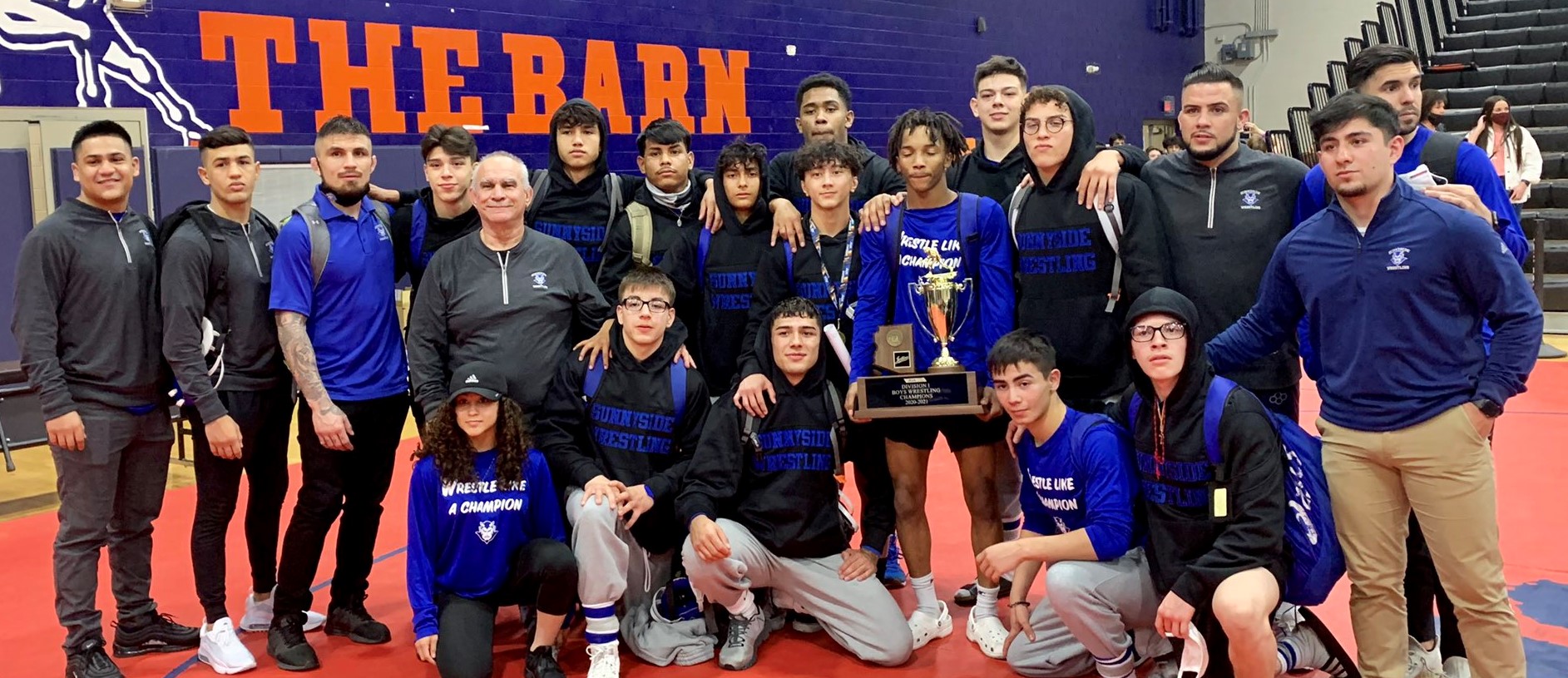 A buzz started to spread slowly through the gymnasium at Poston Butte after spectators at the Division I state wrestling tournament started reading and sharing important news from the NCAA wrestling tournament. Roman Bravo Young won the 133-pound national championship with Penn State and that buzz turned into a thunderous roar from the Sunnyside faithful when the announcer relayed the good news over the speakers.
Maybe it was a coincidence in where the state meet was at time, or maybe it was some sort of spark, but the Blue Devils were barely clinging to a 135 to 123.5 lead over Liberty at one moment and then 151 to 132.5 the next. When it was all over about four hours later, Sunnyside came away with the 34th state championship in program history after scoring 198 points to 166.5 from Liberty.
Young graduated from Sunnyside with 182 wins and no losses and he took his four straight state championships with him to Happy Valley where he now has a 58-9 record and a national championship. It's something a lot of young wrestlers dream about but one has to believe some of those dreams are closer to reality when you live on the southside of the tracks where wrestling is like a religion.
Anthony Leon coached the Blue Devils to a state title in 2013 at the Division I level but four straight years of finishing in second place followed. That kind of result would be a dream for lots of programs but the Blue Devils wrestle for the top and Leon brought them back there in 2018. That championship led to another one in 2019 and still another in 2020 at the D-II level and then the team was bumped back up to D-I for this season.
Liberty brought home a D-II championship in 2016 and then a runner-up finish in 2018 was followed by back-to-back state championships in 2019 and 2020 at the D-I level. The reconfiguration for this winter put the two power programs on a collision course and no one really knew what to expect coming out of the various sectionals.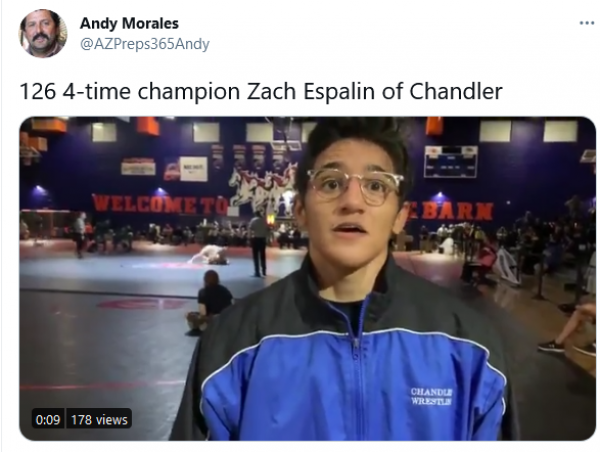 https://twitter.com/AZPreps365Andy/status/1373466542038339588
Liberty suited up 13 wrestlers from sectionals as did Sunnyside but the Blue Devils brought four state champions to the mats and Liberty brought one in junior standout Tyler Sauter (12-3). Sauter defeated Sunnyside standout Mike Avelar (9-2) in the state final at 152 pounds and that head-to-head win came on the heels of Michael Trujillo (18-0) beating James Brown (11-1) in the final seconds of the 120 division. Sunnyside sophomore James Armstrong (12-0) had just taken out Liberty freshman Tim Murabito (19-1) at 113 and the win by Trujillo was like a match thrown on some gas and the Liberty parents and spectators showed that Lions can also roar and that roar was loud.
Blue Devils had such a big lead over Liberty entering the championship round so big blows like those hurt and caused the program to stagger but Sebastian Robles (12-0) defeated Marcus Murabito (18-2) at 160 and the reality of the team championship for Sunnyside started to set in. Rene Fragoso (12-0) won at 182 and the trophy for Sunnyside was cemented.
Sunnyside had three individual champions and Liberty had two which meant the two programs may have dominated on the scoreboard but not from the top of the awards stand. Desert Vista came in third place 113.5 points and the Thunder produced two individual champions in sophomore Damen Miller (18-0) at 132 and senior Mourece Ramirez (19-0) at 138. Other state champions included Kofa standout Damien Moreno (19-0) at 106, Cibola standout Johnny Sierra (16-0) at 145, Mesa Mountain View Gunnar Luke (20-0) at 170, Hamilton senior Elijah Sobas (19-0) at 195, Dobson junior William Durbin (12-0) at 220 and Cibola's Liam Hoffmeyer (15-0) won the heavy weight division. Sierra and Hoffmeyer helped lead Cibola to a fifth place spot with 92.5 points.
Sierra, Sauter, Hoffmeyer, Armstrong and Robles were repeat champions but the top performer had to be Chandler's Zach Espalin (13-0). Espalin won the 126 weight class to complete his sweep of four straight state championships. Espalin will be wrestling for the Naval Academy next year.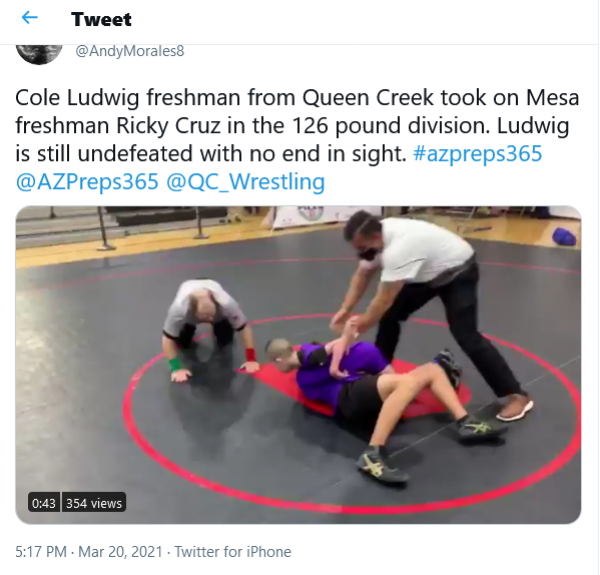 https://twitter.com/AndyMorales8/status/1373428533830193153
Queen Creek freshman Cole Ludwig wrestled against Mesa sophomore Ricky Cruz in an exhibition match held before the medal round. They tell us Cole was born with "only" half a heart but his heart beats to a drum very few of us could keep pace with. He pinned Cruz to win the match but Cruz also came out a winner as did referee Charlie Jones. Jones gave Cole his wristbands and his flip disk.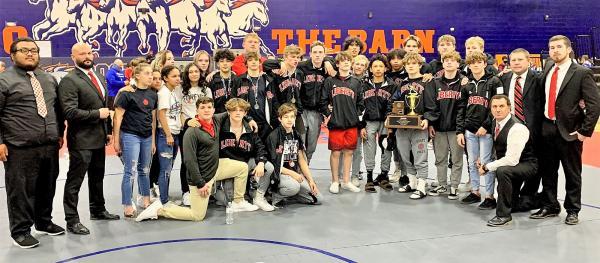 Liberty (Andy Morales/AZPreps365)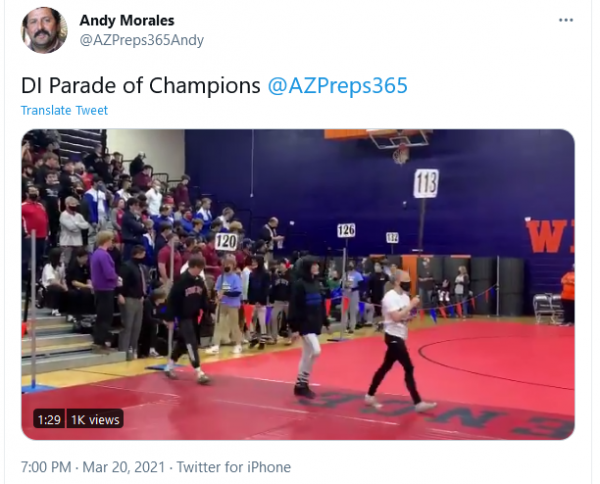 https://twitter.com/AZPreps365Andy/status/1373454392498610185