Records are meant to be broken
April 8, 2021 by Prince James Story, Arizona State University
---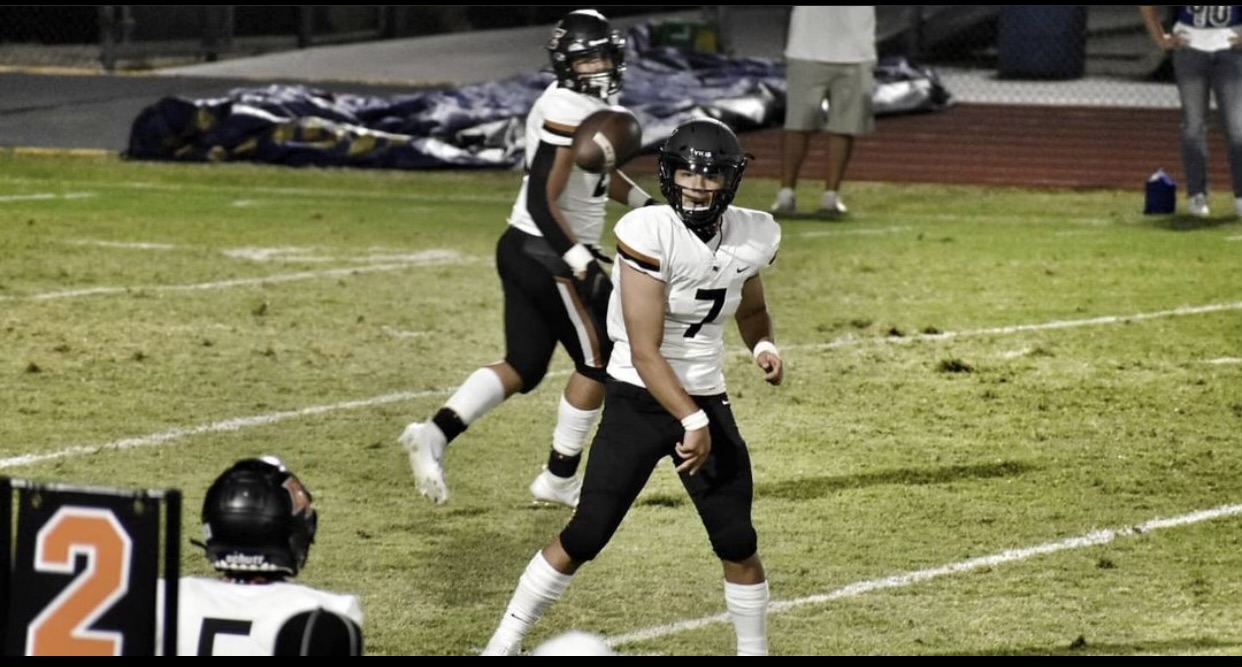 Prince James Story is an ASU Cronkite School of Journalism student assigned to cover Desert Edge High School for AZPreps365.com
Adryan Lara has been the starting quarterback for Desert Edge high school since he was a freshman. Next year, Lara will be a senior, and he will have the opportunity to break Arizona's all-time passing yards record.
University of Oklahoma quarterback Spencer Rattler currently holds Arizona's passing yards record after accumulating 11,083 yards in his four years at Pinnacle High School.
Lara, who is 6-foot-2, 207 pounds, needs 3,190 yards to become the new record-holder.
Lara has committed to play at Washington State University after he graduates. He said they have an offense he envisioned himself playing in, and he is excited to go there.
Desert Edge's superstar QB is revered by many people on and off the field.
"He is extremely humble, and he's a very hardworking kid, very respectful," Desert Edge English teacher Leilah Fletcher said. "I have two little boys at home, and I hope that they possess some qualities that he does at this level."
Keith Jennings is Lara's stepfather, but he has helped raise Lara since he was 5 years old. He has been with Lara through every milestone in his football career.
"If you don't know Adryan, you would have no clues that he plays quarterback at a high level," Jennings said. "He's just a regular kid. He loves his family. He's at home most of the time and around us or a couple of friends that he has."
Lara started his football career when he was 7 years old. The first position he played in was on the offensive line.
"He was a heavyset kid, but they were a weighted team," Jennings said. "So he was just one of the bigger, older kids."
The following year Lara told his dad that he wanted to play quarterback.
"From the get-go, he could just throw a football," Jennings said. "He was kind of always able to do certain things that some kids couldn't do at an early age."
When he was 8, Lara began training with quarterback coach Mike Giovando, who has trained over 700 quarterbacks, and more than 300 of those quarterbacks went on to play college football. Rattler was one of the quarterbacks Giovando coached.
Giovando said Lara is one of the best quarterbacks he has ever coached. He has unbelievable arm talent, and not everyone can do the things he can do on the field.
"One day, if I ever decide to make my own hall of fame, Adryan will find his way in there as one of Gio's guys," Giovando said.
When Lara was in seventh grade, he transitioned from playing in a weighted football league to an unweighted football league.
He was recruited to play for the West Valley Pirates, a team coached by Steven Ortiz Sr.
According to Ortiz, in his first season with the Pirates, Lara played 12 games and threw 52 touchdown passes.
In the two years he played with the Pirates, Lara led them to two championship games. They won the first championship, and the following year, they lost in the championship game.
Besides Lara's arm strength, what stuck out most from Ortiz was his work ethic.
"He's never been a kid who isn't the hardest working kid on the field," Ortiz said. "(He) had a fantastic work ethic since he was a kid, on the practice field, with his QB coach, and in the offseason working out with his teammates at "BufBoi Athletics."
That work ethic translated well to the early success Lara saw on the field as a freshman at Desert Edge.
As a freshman, Lara competed for the starting quarterback spot against senior Tyler Henry.
"It was difficult because I didn't get all the snaps I wanted to because he was a senior and I was a freshman," Lara said. "He got all the reps, and I just made sure I made every rep count."
During the summer leading up to his freshman season, Lara began to separate himself from the quarterbacks when the team started their 7-on-7 drills.
"I didn't know if I was good enough to play varsity, but I guess I was wrong," Lara said. "I did some good things during the competition and made some big throws."
Henry played a supporting role for Lara during the season. He gave him tips on leading a team during practice and throughout the week up until the game.
"He has this innate ability to kind of flip a switch, you know, once it's competitive mode and once, you know, it's time to play football," Jennings said.
As a freshman, Lara led the Scorpions to the semifinals of the 4A state playoffs. Desert Edge lost to Saguaro, 61-6.
During that game, Lara made a couple of plays that impressed Giovando and exhibited how special he was as a freshman.
Giovando remembers one play where Lara dropped back to pass, avoided pressure from the outside, stepped up in the pocket, and threw a pass that went 65 to 68 yards down the field to his receiver, who then shrugged off the defender and ran it in for a touchdown.
Giovando said he started telling people in the stands that scholarships are going to start rolling in after teams see that throw.
Giovando compared that play to similar throws made by Rattler when he was in high school.
"I saw Spencer Rattler do some pretty incredible stuff as a freshman," Giovando said. "Adryan's was right up there. If it's not number one, it would have been the number two throw that I've seen."
During his sophomore season Lara took his game to the next level. He threw for over 4,000 yards and had 41 passing touchdowns.
"I felt like we're going to have a big year, and I've never been a stats guy," Lara said. "I wasn't focused on what we were going to do. I was just focused on how far we were going to get."
The Scorpions made another run in the state playoffs. This time they lost to Mesquite in the state championship game, 28-23.
Lara said it was a costly interception in the fourth quarter that ultimately decided the outcome.
"It was just a lesson I learned for the rest of my career," Lara said. "Seeing the guys go off without a ring, it was hard to see."
As a junior, Lara faced a new bundle of challenges as the Scorpions hired two new coaches after head coach Jose Lucero left to coach at his alma mater, St. Mary's High School.
Mark Carter and his brother, Marcus, are co-head coaches at Desert Edge.
One of the first things Mark Carter admired about Lara was his leadership style.
"He leads by example," Carter said. "The things he does, people are watching and having such a great talent, you know, he's going to have people follow him."
Lara has taken on more responsibilities as an upperclassman, has challenged himself to become a better leader.
"The way I practice, the way I come into class had to be different. Everything had to be different because I was that guy now," Lara said. "It was my team."
Because of the pandemic, most of their team practices and meetings over the summer were virtual. They only had two weeks of practice in-person before the season started.
Despite all of their obstacles, the Scorpions went undefeated during the regular season. They were one of eight teams invited to compete for the AIA Open Divison State Championship.
They lost to an undefeated Chandler team in the first round. Chandler went on to win the championship.
Lara wants to accomplish two things during his senior year of high school, win a state championship and graduate with a good GPA.
Next year when his high school career comes to an end, you can be confident that the legacy Lara leaves behind at Desert Edge high school off the field will be far more memorable than what we see in the record books or trophy cases.