Xavier Prep leading the way in fight for equality with all-female esports team
April 17, 2021 by Aidan Gamiz, Arizona State University
---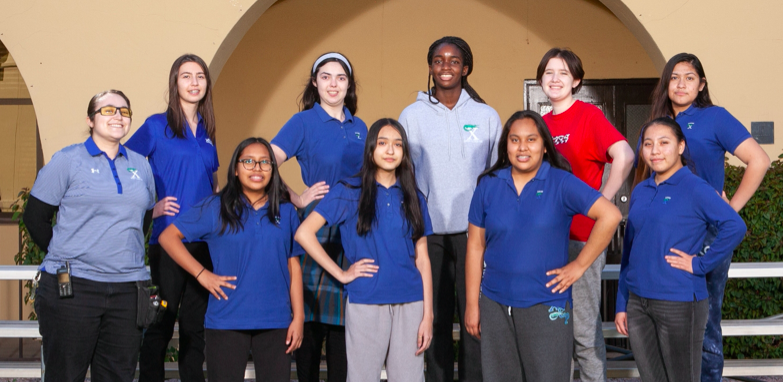 Aidan Gamiz is an ASU Cronkite School of Journalism student assigned to cover Brophy College Preparatory for AZPreps365.com.
Sports have often been seen as the great equalizer in society. No matter your race or religion, sporting events provide a platform for people to earn the respect of competitors and fans alike. With the rise of esports in today's culture, that sentiment has extended to many people that might not be gifted in traditional sports.
Women made up 30% of esports competitors in 2020 despite accounting for 41% of gamers in the United States. However, women are often a neglected demographic in the esports arena. According to a 2019 study done by data firm Interpret, 30% of global esports fans are women.
Female representation in esports is an issue that people like Xavier esports coach Erika Peinado are attempting to fix.
"My goal is just to get them all on an even playing field," Peinado said. "It shouldn't matter, but it does, I guess at this point and to some of them."
As the director of technology at Xavier, Peinado is no stranger to being in a male-dominated space. Peinado studied at a video game design school for college where she was often the only woman in class.
Since then, she has tried to promote equality in STEM fields through her work at Xavier.
"I think the most we can do, the better," Peinado said. "Woodworking, welding, soldering, programming arduino boards, that kind of stuff… Those are the kind of things I've always felt aren't really women-based things so that's why I like being a part of that."
When esports were introduced to high schools by the Arizona Interscholastic Association in 2019, Peinado jumped at the opportunity to head up the program. Peinado said the email asking for volunteers was in her inbox for less than a minute before she was running down the hall asking to be a coach.
Xavier faces challenges that most other esports teams don't because they're an all-female team. Peinado says that when teams notice their opponent is Xavier, they often let their guard down because their opponents are girls.
"Before when we weren't using Discord and we were using just like the Steam chats, it left us open to hearing what the other players were saying," said Peinado. "In those moments they always called us out."
Peinado says that the best course of action in these situations is to work even harder to show those teams that being an all-female team doesn't matter.
Xavier players like senior Ciara McGarry echo that sentiment.
"People can think how they wanna think and it's up to us whether we want to prove them wrong or not," said McGarry. "They can think whatever they want to think but at the end of the day, we're still here and we're still gonna play and we're not gonna stop just because they think we shouldn't be here."
The teams say that this kind of treatment from other teams has subsided, and has been replaced with more positive experiences. McGarry noted that playing competitively against teams where there is mutual respect produces a great environment where players on enemy teams become friends and they even switch tips and tricks.
This kind of environment is why many players on Xavier's esports teams joined and continue to stay. It provides players like sophomore Joscelynn Perez-Ramirez a space for women to play video games without the toxicity that often accompanies them.
"For me it was also the environment, the people - like a common interest," said Perez-Ramirez. "You really form a bond with the people … The community, it's why I came and it's why I stayed. It's just a great place to interact with people."