Adam Miller wins state championship; leads Scottsdale Prep to team title
May 11, 2021 by Andy Morales, AZPreps365
---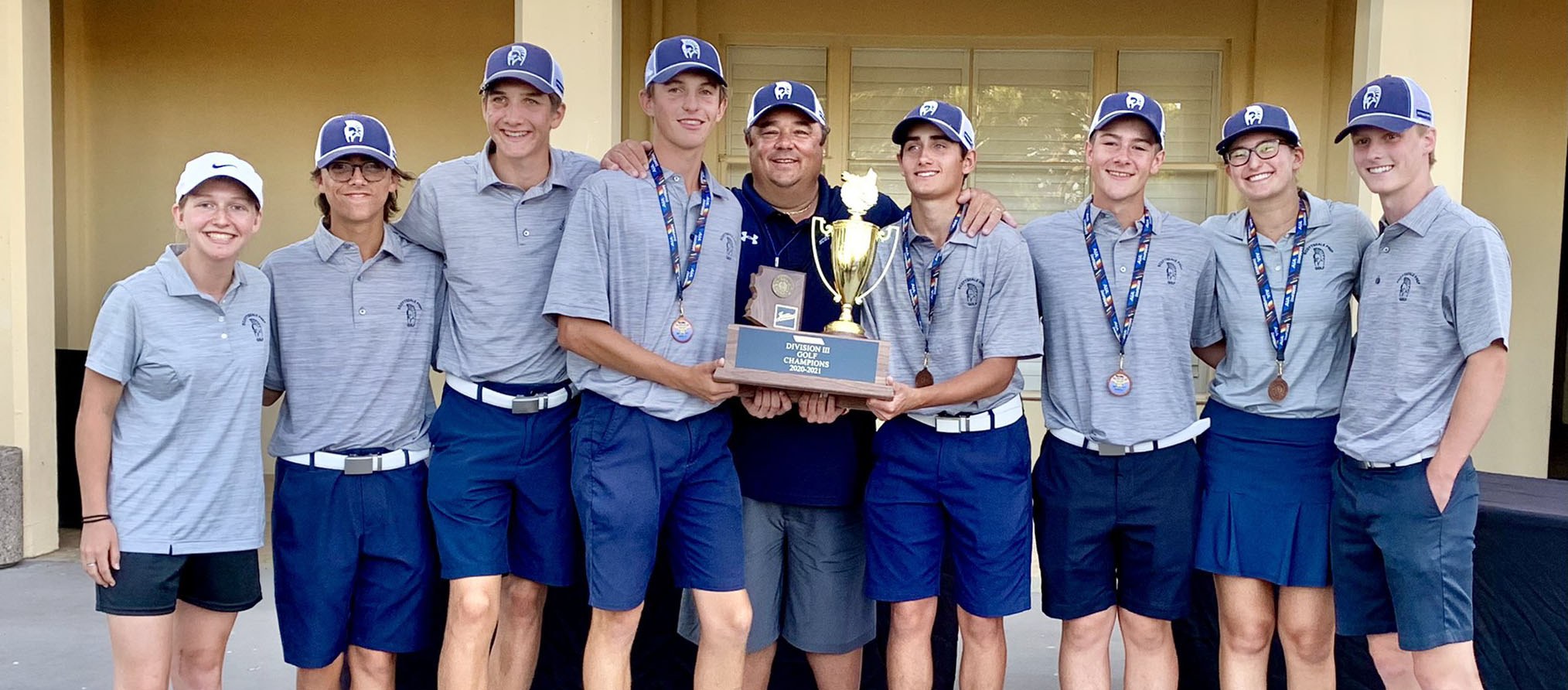 (Top Ten finishers from left to right - Andy Morales/AZPreps365)
Scottsdale Prep shot a 7-under-par 273 on Tuesday to pull away from Valley Christian at the Division III state championships held at the OMNI Tucson National. The Spartans held a slim 4-stroke lead over the Trojans after the first round on the Sonoran Course on Monday but that lead grew as the day went on and the program finished with a 40-stroke victory (572 to 612) to claim the first golf championship for the program.
It was the biggest margin of victory at the D-III level since 2009 when Snowflake beat Payson 595 to 652. In addition, Scottsdale Prep sophomore Adam Miller finished 3-under on Tuesday to claim the individual state championship with a 1-under 139. His teammate, junior Talia Gutman, finished three strokes back for second place after she shot a 3-under on Tuesday. Arizona College Prep senior Rajveer Sethi also took second place after he finished with the best round of the tournament with a 4-under 66.
Gutman's runner-up finish was the highest for a female athlete playing in D-III since former Estrella Foothills standout Sarah Freeman won a state title in 2007. Former Yuma Catholic standout Alexandria Schmunk took third place in 2018 and 2019.
Valley Christian won six of the last seven D-III championships, including 2018 and 2019, with former standout James Mackie winning it all as a freshman and as a senior in 2019. Now competing for California Baptist, Mackie took second place at the WAC championships earlier this month.
Mackie was the first freshman to win a championship in 2016 and Rancho Solano Prep freshman Brantlee Howard finished nine strokes back to take ninth place this year. As a team, Scottsdale Prep had four finishers in the top six and only Davis Johnson is a senior. Johnson took second to Mackie in 2019.
AZ College Prep took 12th place last year and Rajveer Sethi took 22nd.
Valley Christian (Andy Morales/AZPreps365)
LINK: FREE TOURNAMENT PHOTOS HERE
TEAM SCORES
Scottsdale Prep 572 +12
Valley Christian 612
Arizona College Prep 612
Fountain Hills 622
BASIS Phoenix 644
Am Leadership GN 645
Phoenix Country Day 646
Scottsdale Christian 661
Payson 674
Yuma Catholic 680
Pusch Ridge 682
Snowflake 696
Northland Prep 714
Tempe Prep 721
Safford 755
TOP TEN
1 Adam Miller, Scottsdale Prep 72-67 139
2 Talia Gutman, Scottsdale Prep 75-67 142
2 Rajveer Sethi, AZ College Prep 76-66 142
4 Nicklaus Ummel, Scottsdale Christian 76-68 144
4 Davis Johnson, Scottsdale Prep 74-70 144
6 Alex Lynch, Scottsdale Prep 78-69 147
6 Joseph Cardon, Valley Christian 73-74 147
6 Nate Walker, Valley Christian 72-75 147
9 Brantlee Howard, Rancho Solano Prep 77-71 148
10 Kevin Chor, AZ College Prep 81-68 149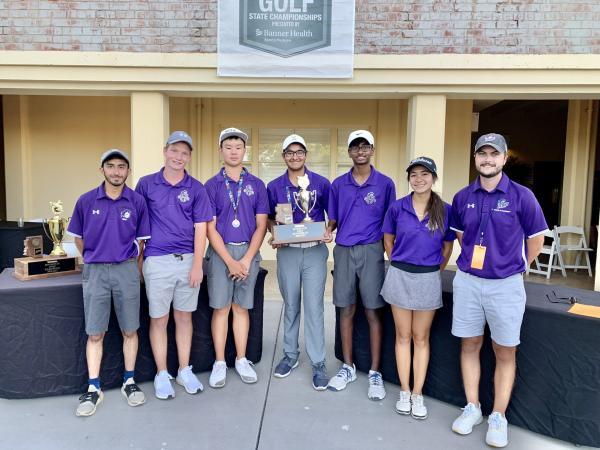 AZ College Prep (Andy Morales/AZPreps365)