#2 Mesquite's 3rd-inning outburst too much for #3 Poston Butte
May 13, 2021 by Les Willsey, AZPreps365
---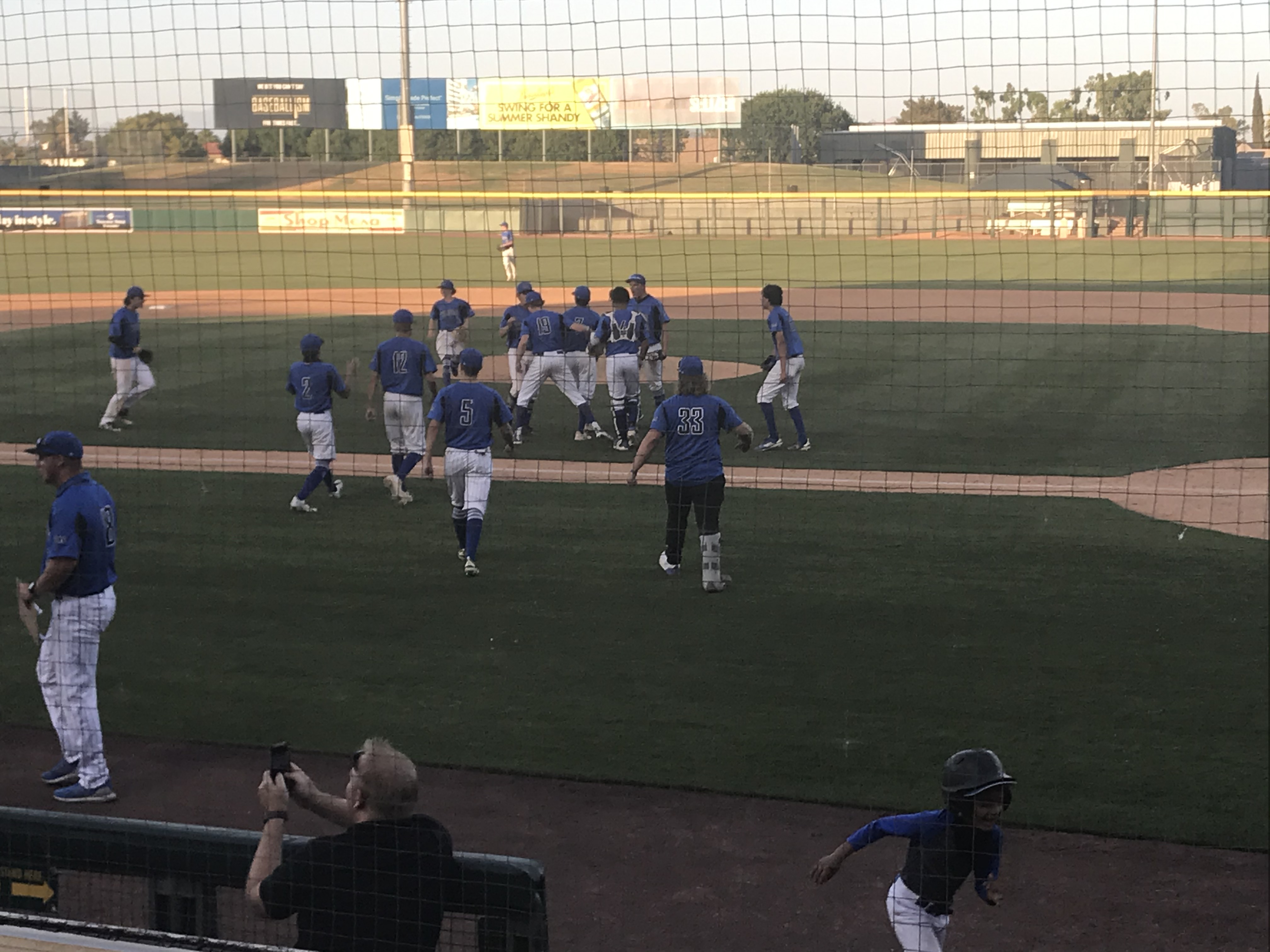 Mesquite and the big inning. That's one storyline of the Wildcats' baseball playoff road to the 2021 4A championship game.
As it did in the first round and quarterfinals, Mesquite rolled out a huge crooked number Thursday to key its 8-5 semifinal victory over Poston Butte at HoHoKam Stadium. The first round the Wildcats struck for seven runs in the third vs. Buckeye (11-1 win) and the quarters it took an eight-spot in the sixth to slip past Seton Catholic (12-8).
#2 Mesquite (22-1) extended its winning streak to 17 games and advances to Monday's 7 p.m. title game against #4 Salpointe, a 5-1 winner over #1 Canyon del Oro in the late semifinal. Mesquite lost to Salpointe in the last 4A title game in 2019. Poston Butte (20-3) battled gamely after the early deficit, but couldn't climb the hill. The Broncos finished their best season ever with Chris Holcombe at the helm and deepest trip to postseason in school history.
Mesquite, who topped Poston Butte two weeks ago in a 5-4 decision, plated six runs in the third to break a scoreless tie. Three of Mesquite's seven hits were part of the rally as were two walks and hit batter. Throw in a costly error and five of the six runs were unearned.
"We did some things ourselves that inning, but we also got a little lucky," Mesquite coach Jeff Holland said. "They had a chance at a double play and instead an error. We were fortunate."
Mesquite took a 1-0 lead with the RBI going to Tariq Freeny with a bases-loaded walk with no outs. After a pop out a grounder to short that had double play in everyone's mind skipped through the legs of the shortstop. That allowed two runs to score. An out later and the damage only 3-0, Daniel Clark laced a two-run double and Wyatt Wright followed with an RBI single to finish the rally. Clark, the only Mesquite player with two hits, added his third RBI with sacrifice fly in the fifth to make it 7-0.
Through five, 5-foot-8, 155-pound pitcher Zach Zwaschka had silenced Poston Butte on two hits. Zwaschka got hit hard in the sixth giving up four runs on four hits. He started the seventh with an 8-4 lead thanks to an RBI single in the bottom of the inning by Thomas Vogiatzis.
Despite a rough end to the inning, Holland said he had no intention of taking out his senior southpaw heading to seven.
"It was going to be his game to win or lose," Holland said. "He's pitched too well lately, and deserved the chance to finish."
Holland was forced to bring the hook in the seventh for Zwaschka as he reached the pitch limit with one out. Luis Morales got the final two outs surrendering an RBI to Ethan Hatch in between.
Poston Butte pitcher Colten Vercoe took the loss, but deserved better. Vercoe pitched five innings and allowed six hits, walked two and fanned three. Seven runs were charged to him, but only two earned.
Poston Butte had three players collect two hits each - Jose Lopez (2-4), Hatch (2-4) and Hunter Nunez (2-3). Christian Lomeli had two RBI.