Benson stuns top-ranked Scottsdale Christian 6-3 for 2A baseball title
May 15, 2021 by Seth Polansky, AZPreps365
---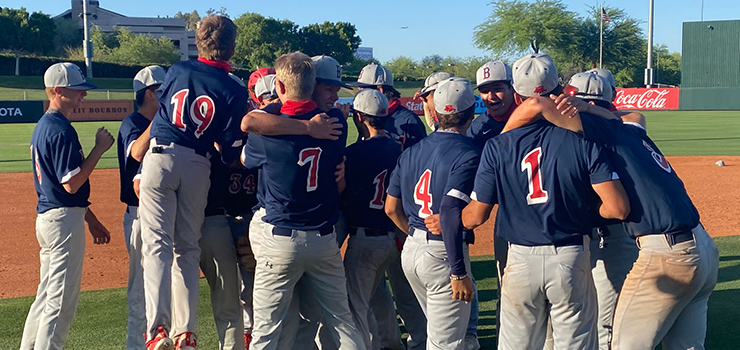 Scottsdale Christian is accustomed to scoring runs, but the Eagles didn't expect Benson to do the same. Bobcats went up early and shut down the Eagles to shock the defending champions 6-3 in the 2A state baseball championship game Saturday at Tempe Diablo Stadium.
And it was a game that almost never was. Friday night Benson was defeated 3-1 by Miami in a semifinal, but as the Bobcats were gathering up their equipment to make the long drive home, head coach Fred Trujillo got the call that the Vandals used an ineligible pitcher and forfeited the contest. Benson had advanced to the state championship game the next afternoon.
The players went from dejected to elated in a matter of minutes. But Trujillo knew he had to put everything in perspective.
"Just after the game, we thought that's the way baseball is," Trujillo said. "We were down a little bit because we didn't play very well. We got the call we were back in it, so our emotions came way back up. Then I had to settle the team down because now we have this game today. It was up and down like a roller coaster. It's been a crazy two days."
After what was probably a restless night, Benson came out to Diablo Stadium when it was about 100 degrees and started the game by going down in order. Scottsdale Christian tallied one run in the bottom of the first when senior catcher Tucker Willingham lined a single into left field sending fellow senior Drew Zittel home, who had doubled just before.
Did the Bobcats have enough in the tank, emotionally and physically, to respond against a team that was ranked No. 1 in the state and scoring 13.8 runs per game? The answer was yes.
Scottsdale Christian almost escaped damage in the top of the second after shortstop Cody Bentz booted consecutive grounders to start the inning, putting Tristan Martinez and Angel Rigney on. Zach Park then got consecutive strikeouts, but Benson's Grason Judd laced a soft liner into center that fell in for a hit and scooted under the glove of center fielder Jackson Geck. That allowed Martinez and Rigney to score, putting Benson up 2-1.
The Eagles came right back in the bottom half getting those two runs back. Bentz atoned for his mistakes by poking a double down the right field line with one out. Following a Cody Tabet flyout, Park singled to left driving Bentz home. Caleb Robertson was hit by a pitch then Zittel sent one back up the middle scoring Park.
SCA had regained the lead but the Eagles had left five runners on base through the first two innings, bailing out Benson starter Admar Vargas for the time being.
"I just had to settle my mind and think of all the things that I prepare for. I just think back to practice," said Vargas. "I had to get out in front of the hitters more. But I had full confidence in my teammates they would get whatever was hit. They are the best."
The top of the third was the difference in this one. Antonio Rigney led off with a walk, Wyatt Wilharm then walked with one out setting the stage for Martinez's single up the middle to bring home Rigney and tie the game at 3-3. Then the Bobcats piled it on. Angel Rigney was hit by a pitch and Brok Determan singled to drive home Wilharm, which chased Park from the pitcher's mound. He switched with Bentz at shortstop who came in to pitch. Bentz struck out Zach Laura but surrendered a single to center by Judd to bring home two more runs and giving the team a 6-3 lead.
"Our guys never quit. They just keep on battling. They don't care how much they're down by," noted Trujillo.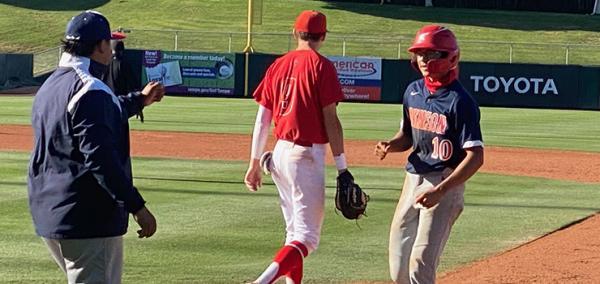 Benson's Tristan Martinez was 2-for-4 in the game but reached base all four times with two runs scored and one RBI. (Seth Polansky photo/AZPreps365)
It was now up to Vargas to keep this lead for the Bobcats. He retired six of the next seven batters in the third and fourth innings, with the only runner reaching on an error. But in the bottom of the fifth Willingham and Kaden Quitno led off with back-to-back singles and Trujillo pulled Vargas in favor of reliver Mundo Esparza. The junior proceeded to induce a 6-4-3 double play and a subsequent groundout back to the pitcher, and that was the last challenge by the Eagles.
Esparza went three innings of hitless relief and earned his second save on the season. Vargas got the win with four innings pitched while allowing 10 hits. But he did not allow a walk and the Bobcats pitching staff stranded eight Eagles on base.
"I feel a lot of pride. Mostly in my coach because he knew we would get here. He said it himself from the beginning of the season. From our first game to right now. Destiny," Vargas said.
The middle of the lineup for Benson came up big. Wilharm, Martinez and Angel Rigney combined for just three hits but reached base eight times thanks to pair of errors and hit by pitches, and scored four runs. Judd added two hits and three RBI.
"We got to the fourth inning and we felt we had a handle on the game," Trujillo said. "As long as we didn't make any mistakes we'd be ok. We thought the three-run lead would be enough. We wanted to get some more, but that's the way things happen."
Martinez added, "We felt great. Just the positive energy between me and my team is what brought us to the top. We never got down on ourselves even when we were down. Everybody was positive and that's what kept us going."
Park and Zittel each had two hits for SCA, and Willingham batted 3-for-3 with an RBI. Bentz went 1-for-3 with a run scored and was able to keep the Bobcats scoreless over the final 3.1 innings with six strikeouts. But the Eagles were denied their fourth state title and second in a row.
For Benson it is the second gold glove to be showcased back at the school, and the first since 1987.