River Valley hangs on to edge Benson for first-ever state title
May 16, 2021 by George Werner, AZPreps365
---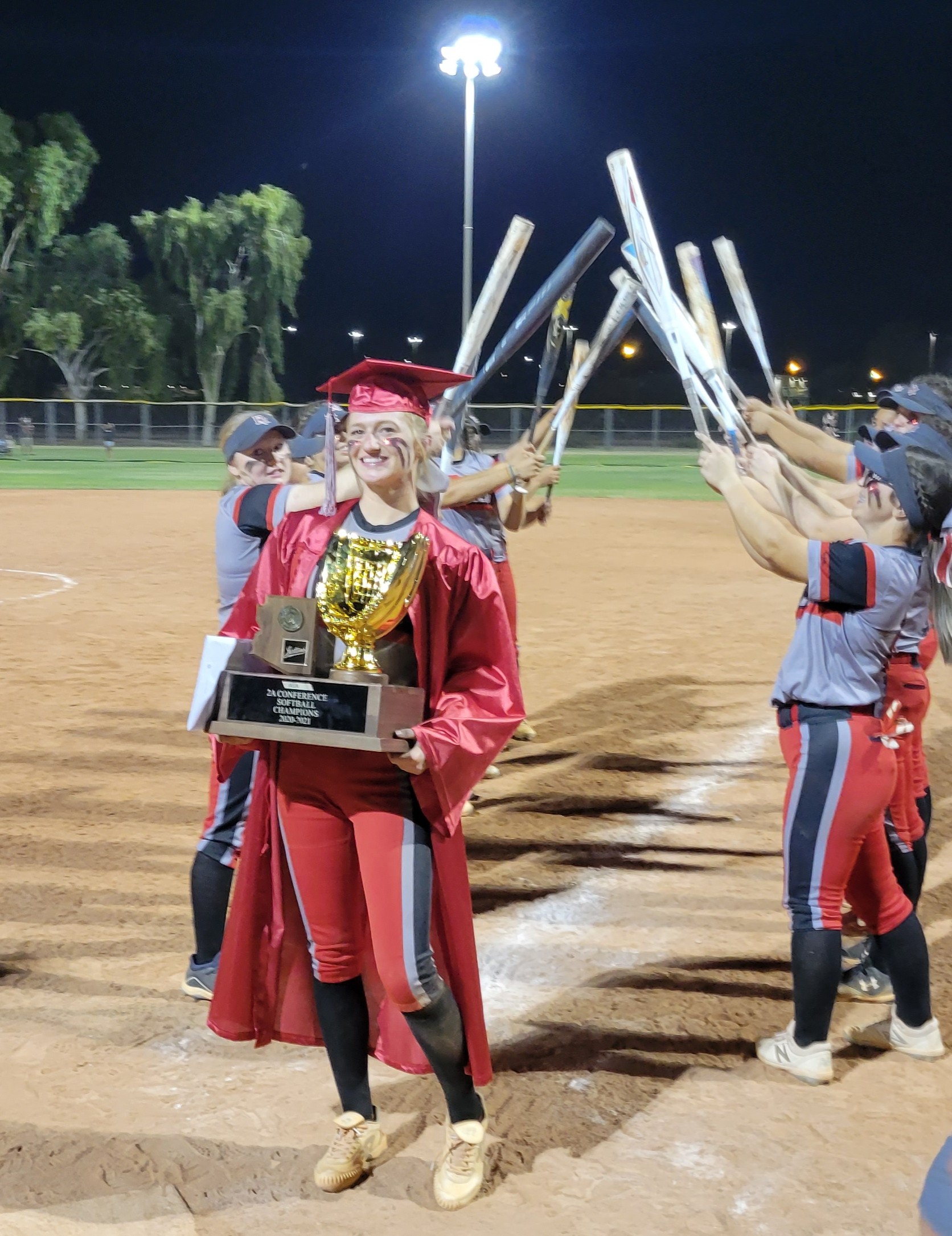 In River Valley High School history, Saturday, May 15, will be relived forever.
It will be remembered as the night starting pitcher Chloe Spitzer and her four Class of 2021 softball teammates sacrificed their graduation ceremony to win the school's first-ever state title in any sport, 3-2 over Benson High School.
"It was definitely worth it," said Spitzer, a 20-game winner after striking out seven Bobcats and allowing just four hits to Benson, which was denied a title for the first time in six championship game appearances. "Coolest thing ever."
Head Coach Kathleen Watson and the rest of her team still gave her five seniors a ceremonial send-off, of sorts--complete with cap and gown burnished with the red and silver school colors.
"They set that standard, so the underclassmen have got to keep maintaining that for us and just keep striving to be here every year," Watson said. "It doesn't feel real right now."
Once they marched down a tunnel of bats raised high by their teammates to receive their diploma from Dorn Wilcox, RVHS principal and athletic director, at home plate, they posed for pictures holding both those and the 2A Conference softball championship trophy.
On this night at Rose Mofford Sports Complex, Watson, Wilcox and every River Valley fan in attendance, at least, would say that nobody earned it more than the conference's only undefeated team at 21-0.
"This senior group hasn't lost a Freedom game in the four years they've been together," Watson said. "We've won the region title probably the last eight or nine years, so that's definitely a continued standard we want to keep."
Following a five-inning stalemate in which both Spitzer and outgoing Benson ace Emily Darwin occasionally bent with baserunners, but never broke, they provided the offensive spark that would lead to a serious thriller the sixth and seventh frames.
Spitzer started it with a deep double, driving in senior infielder Veronica Gonzales, who led off the inning safe at first base on a throwing error--one of three miscues committed by the Benson infield that would turn out to be critical.
"[Darwin] wasn't walking anyone, and it was a 3-0 count," Spitzer said. "That was my chance to get a line drive, just bust it open a little bit."
After sophomore catcher Karina Pulu scored easily from third base on a sacrifice fly by junior Rusti Glenn, Spitzer scored what turned out to be the deciding run when freshman Trinity Williams beat out the throw to first base on her ground ball.
"I love her," Watson said of her starting pitcher, who committed to play college softball next season at Detroit Mercy. "She's going to be hard to replace."
But Benson and game-deciding plays weren't done yet. Once Darwin, who will play at Yavapai College next season, ended the top half of the inning with one of her 10 strikeouts on the night, it was time for her counter-punch in the bottom half.
Gonzales couldn't reach the pop fly over her shoulder in very shallow center field by senior leadoff hitter Taylor Fenn. Sophomore infielder Tatum Benson then very nearly made her pay for it with a blast to deep center field.
Kaleya Schmidt, another one of the Dust Devil seniors who sacrificed, gave up her body as well on the play. She had a bead on the drive but kept having to drift back hard near the net set up as an outfield fence on the modified baseball field.
With no warning track, Schmidt had no time to brace herself. Her left arm reached up to glove the line drive, her momentum then carrying her into, and over, the net a split-second later.
She tumbled over the back of the net but did not drop the ball, relaying it back into the infield and saving at least one run.
"That was amazing, literally the play of the game," Spitzer said. "It kept everything super tight and together. It was really big for everyone."
Especially considering that Darwin, the career leader in home runs among Southern Arizona high school softball players the last decade, crushed her 55th well over 300 feet out of left-center field the next at-bat.
But Schmidt's tumble had saved the game for Spitzer, who got out of the inning, and the rest of the game, with no further damage done.
"Yes, they scored a couple runs, but we were prepared to feel that pressure," said Watson, whose players regularly simulate seven-inning games in practice, even though they hadn't really been playing them until their Friday, May 14, semifinal win over Northland Prep. "It's something we do, and we knew we were going to come out and get some more outs."
That simulation had Spitzer and her teammates counting down the outs until Pulu pulled in senior Lily Speer's foul pop, and the celebration could start.
"I feel like everyone stayed super-focused about it," Spitzer said. "We were just, like, 'We need three outs.'
"Everyone kept it all together the whole time. No panic. No one ever really freaked out about anything."
The Dust Devils saved that for the final out: