Flagstaff, Mogollon, Snowflake, Tuba City strive to surpass semifinal stop
August 31, 2021 by George Werner, AZPreps365
---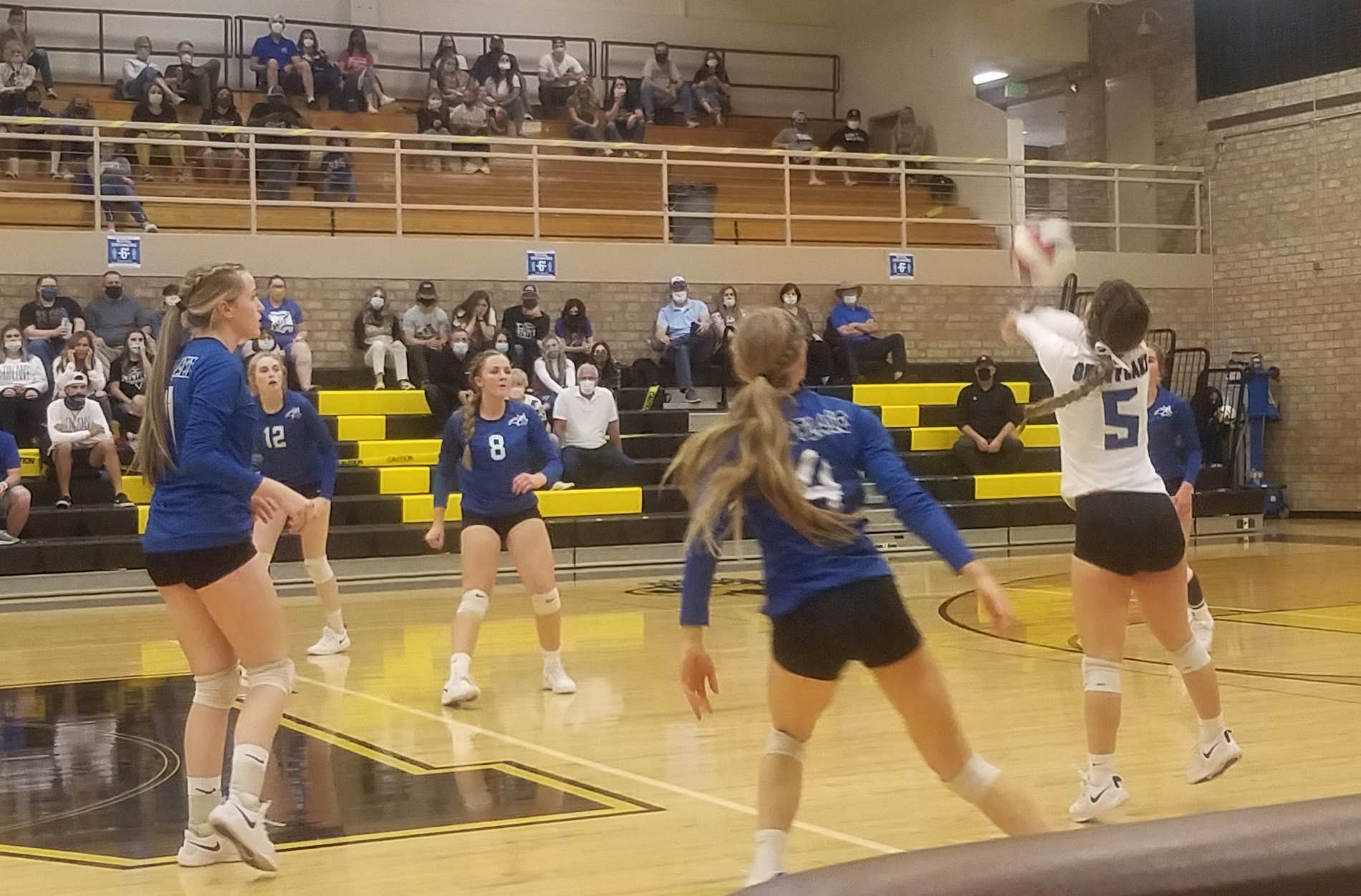 While Lee Williams High School chose home baptism by fire Monday, Aug. 30, against a semifinalist from its 4A Conference state playoffs last season, Chandler's Seton Catholic Prep, high school volleyball across the rest of Northern Arizona enjoys one more school day's worth of breathing room before beginning in earnest at 6 p.m. Aug. 31.
Even then, Kingman's 4A Grand Canyon Region entry is spared little in a savage early schedule that sends the Volunteers to larger regional 5A rival Lake Havasu High School before returning home Thursday, Sept. 2, to cram in their Grand Canyon Region opener against Mohave, finding a new identity without one of the state's top five diggers and 4A's ace leaders last season in graduated libero Jazlynn Jimenez and setter Maya Radic, respectively.
This is followed the very next day by a road trip to Goodyear by 3 p.m. to play three consecutive matches at the Wolves Classic, including host Estrella Foothills High School and a rematch with Havasu before finally wrapping up tournament play Saturday, Sept. 4.
No shame feeling exhausted just reading that. With 2A volleyball programs Greyhills Academy and Many Farms High School already casualties, for the entire fall, of the continued Coronavirus pandemic, Lee Williams head coach Riley Blake likely will not be the only one forced into some level of scheduling insanity.
New Snowflake head coach Jamie Robinson, along with Tuba City High School--out to build on its 17-0 pre-pandemic regular season performance in 2019--and the rest of Northern Arizona's 3A programs are also scrambling to fit, around COVID cancellations, their full complement of regional and Freedom opponents as well as two to three multi-day in-season tournaments, including the Navajo Nation's new Window Rock Volleyball Tournament next Friday and Saturday, Sept. 10 and 11, in Fort Defiance.
Below, a preview of which survivors, like perennial power Mogollon, will hold their places in the 1A playoff brackets as well, and which teams will be swallowed up by the end of October:
Flagstaff heads four 4A programs in front of Volunteers
Up against a 2020 schedule shortened by the novel Coronavirus, not to mention four Grand Canyon rivals with winning overall records--the only region in the conference to boast such depth--Lee Williams' postseason play-in hopes were the first among Northern Arizona's 4A volleyball programs to miss the cut.
What method there is to the madness of Blake's early schedule, therefore, may lie in that quest of the Volunteers to qualify for the 4A tournament.
After that, anything can happen, as their four superiors proved in November. Bradshaw Mountain High School, behind the 111 kills of returning team leader Abigail Platt, squeaked in at 5-4 and swept Combs in its road play-in, only to get subsequently swept at third-ranked Deer Valley. Platt is surrounded by a nice core of six other seniors this fall. This includes the team's respective leaders in aces and digs, all-Grand Canyon first-team setter Nicole Shaver and Katie Janzen--the Bears' main serve receiver last season by a wide margin.
The Bears held serve with local rival Prescott High School, winning the tiebreaker at home only to lose at the Badgerdome a month later. The 10-6 Badgers are the most vulnerable to Lee Williams' postseason aspirations, losing eight seniors, including the region's defensive and offensive Players of the Year, off an inconsistent 2020 team that also split its season series with the Volunteers and 11th-ranked Coconino, with both losses coming in tiebreakers.
In fact, four of Prescott's five losses last season came in the fifth set, including their very next match after defeating the Bears--an upset play-in loss at home to No. 19 Marcos de Niza. New head coach Liz Whitwell will look even more to senior captain Lexi Wasil for leadership, 13th in 4A in kills last season with 135. But the only other senior strength comes from setter Ella Bleu Edwards and middle blockers Millie Diener and Kari Kasun.
Tiebreakers were the albatross of 11th-ranked Coconino as well, despite finishing as region runner-up ahead of the Badgers. The Panthers stumbled at home in their opener with Bradshaw as well as to Prescott before reeling off six wins in their final eight matches.
Unfortunately, both of those losses were to Flagstaff, which captured its fourth straight regional title despite being swept at home by the Panthers. In a quirk of capricious postseason seeding, Coconino had to play the first round of the 4A tournament back there after beating Desert Edge in its play-in match, with virtually diametrically opposite results to finish 8-4.
Of the Panthers' tri-captains who were cannibalized by their crosstown rival in their final four fall matches, only senior libero Elyce Palmer, one of 4A's top 20 diggers, returns for Grand Canyon Coach of the Year Serena Wallace. Senior defensive specialist Avery Rhoton and junior setter Hope Williamson will provide decent experience along the back line, but to account for the loss up front of Brooke Parker, region Player of the Year, much more will be needed from seniors Cierra Derr, opposite hitter Hannah Cody and 5-foot, 10-inch outside hitter Cate Clifton.
Flagstaff, which went on to edge Deer Valley in a road tiebreaker before getting swept out of the 4A semifinals at Salpointe Catholic High School, finished the regular season ranked sixth largely on the strength of a 6-0 start and a 4-1 final week, including clutch late-season wins over Cactus and at Seton.
If any regional opponent is going to end Eagles head coach Beth Haglin's mini-dynasty, it will have to find a way to overcome first-team all-conference outside hitter Gracelyn Nez. The senior was Top 15 in 4A with 129 kills in 2020, also finishing second on the team in aces, assists and blocks, while only making 50 errors all season.
But that hardly makes Flagstaff a one-woman show. If anything, the rest of the Eagles' nine seniors present their best chance, for the first time since 2017, to advance past the 4A semifinals to the state title match.
Flagstaff also gets back six-foot, one-inch Lauren Hagerman, who led the conference as a junior with 61 blocks in 2020. Another senior middle blocker, 6-2 Berlynn Fowler, is no slouch in that department either. She and setter Bridget Bond combined for 79 blocks, 71 kills and 36 aces last fall as juniors. Bond's 357 assists were fifth in 4A as well, and another upperclasswoman, libero Brooklyn Quick, had 101 digs in 150 successful service returns. Senior Meagan Mcferson added 33 kills and 22 blocks, while the final of four Flagstaff six-footers, junior setter Haylee Gilleland, was second on the team in assists her first varsity season last fall with 86.
Snowflake, Tuba City seek to sever Northwest Christian stranglehold on 3A titles
Since 2018, the casual volleyball observer would label the 3A Conference as Northwest Christian High School's to lose.
That is a perception two new Northern Arizona head coaches are out to change.
Snowflake High School, which travels Tuesday, Sept. 14, to Northwest Christian, has gone 36-4 in 3A region and Freedom matches in that span, with two of those losses to the Crusaders, victors of the last three 3A titles.
Snowflake's other two losses have come to Valley Christian, which, despite dispatching 10-5 Blue Ridge handily in the first round, couldn't take a single set from the Crusaders in their back-to-back title game losses.
Before those, the Lobos made it to the 3A title game for a shot at their fifth championship, only to get shut out by Fountain Hills--a Crusaders rival in the North Central Region this season along with Camp Verde, Chino Valley and Wickenburg, which returns four of the conference's top 10 blockers who combined for 245 blocks last fall: seniors Katie Cushman and McKenna Waltman-Clark and juniors Kolbee Davis and Shayna Wimberly.
Jamie Robinson, Snowflake's third head coach since 2018, must replace the production of six senior regulars from last season's rotation. But outside hitter Macee LeSueur, Top 15 in 3A last year with 159 kills and Top 40 with 119 digs, is back for her senior season. So are Kimberlee Eich and Rylee Wengert, 16th in the conference with 228 assists and 157 digs, respectively. The shot is there for Robinson to not just win Snowflake its fifth straight East Region title, but much more. But the Lobos will face new obstacles not just in the form of second-year 3A member Thatcher, who ruled 2A volleyball for most of the previous decade before falling to the Lobos in the 3A quarterfinals last fall, but the return of the Navajo Nation.
In Tuba City, Brittany Laughter takes over the program from 17-year head coach Harlan Barlow, a 2012 state champion with the Warriors, whose year in lockdown effected a move to Chandler to take over the boys volleyball program at Hamilton High School.
Laughter, who faces a home-and-away with Snowflake on two Thursdays, Sept. 2 and 16, inherits a program that is a perfect 33-0 since 2018, enjoying back-to-back undefeated regular seasons.
The only things to stop Tuba City from hoisting the title trophy the last three seasons have been, to date, Northwest Christian, twice, and the pandemic, once. Between that and the departure of Barlow, though, they've been enough to have to replace most of the production on the two-time defending North Region champion.
Laughter will need several sophomores the last time the Warriors played a match to play like the seniors they are this season, and in a hurry. That means middle hitters Daveigh Bedonie and Trista Bennett need to build on their 99 kills and 48 blocks they combined for in 2019.
It also means that outside hitter Lyrissa George, the only junior with experience on the Warriors varsity, must rack up more than 66 digs and 27 aces this season.
Otherwise other high schools like Monument Valley, Page and Payson could bull in to change the balance of power in the North and East Regions.
"Our goal for the 2021 season is simple: state championship," said Danielle Chee, starting her first fall as sole head coach in Page's updated gymnasium after going 16-12-1 and advancing to the 3A quarterfinals as a co-coach in 2019. "The defense sets the rhythm for our offense and is what wins games."
Seniors like middle blocker Cassandra Willie, outside hitter Raquel Rivard, libero Shi'shon Bitsoie and defensive specialist Serenity Lamone survived the shutdown despite having a season taken away from them to "keep that momentum going," Chee said.
"Dealing with COVID had a big impact on them due to the shoes they had to fill on the varsity level," Chee said. "They had to train on their own during a pandemic."
Willie and six-foot sophomore Sofia Cambridge are "quick and always eager to get the block and score for their team defensively," Chee explained, while Bitsoie and Lamone are "always on the floor... being that safety net, making sure nothing drops."
On offense, Willie, Rivard and junior outside hitter Kennabah Yazzie "are our go-to hitters," Chee said. Yazzie and junior setter Summer Begay "have that top spin, float [and] precise serve to throw the opposite team out of system.
"The Lady Sand Devils can execute with our setter who controls the tempo of our game with the help from our versatile hitters" like sophomore outside hitter Leann Clitso, Chee added.
The Sand Devils tied for second in the North Region with Monument Valley with an identical 7-3 record but advanced a round further than the Mustangs, whose returners from that team include middle blockers Kayelani Maiava and Shree Yazzie, setter Melendy Harvey, and outside hitter Aiyanna Nash. Maiava had 62 blocks in 2019 and was 10th in the conference with 284 kills, while Yazzie had 223 kills and 121 digs. Nash had 243 kills, while Harvey had 322 assists to go with 137 digs. The four Mustangs combined for 93 aces.
The last team to win the East before Snowflake was Payson in 2016. Five players return from the 11-7 team that won its play-in before being shut out of the first round of last season's 3A tournament. They now play for first-year head coach Kamae Carnes, who heads a new staff of former Longhorns, assistants Kyleah Sayer and Desirae Huff, with more than 27 years combined coaching experience.
Although only 5 returners, being led by senior captains Emma Macnab and Cadence White, "This team has come together and shown tremendous growth through their summer training," she said. "We expect to have a solid team and are very excited to see what we can accomplish this season."
Junior setter Rylee Carnes, who connects with her hitters and knows them well, according to her mother and head coach, returns to lead the offense. The lone returning full-time starter and captain is middle blocker Cadence White, who forms a 5-foot, 8-inch line at the position along with junior Chancie Deaton. The height on the front line, 5-foot, 10-inch junior Robyn Wilson, also has grown into a "very smart and strong" offensive player, Carnes said, while junior Whitney Roberson "shows exemplary heart and passion" leading three defensive specialists, including co-captain Emma Macnab.
So as the Rez returns to action in the 3A North Region, trade casual observation for critical scrutiny of the teams who have come so close to Northwest Christian, and whose title time may at last have come in 2021.
Kingman Academy, Round Valley, Sedona among challengers to Scottsdale Christian dynasty
A longer, but less-heralded, high school volleyball dynasty exists at Scottsdale Christian Academy, 2A state champion for four years running whose only conference loss last fall was part of the 16-0 regular season of Trivium Prep.
However, those marks, and that domination, came before the return of the North Region and Navajo teams Hopi, Piñon, and Valley (Sanders), who even before Greyhills Academy and Many Farms cancelled their seasons for the second straight year, had a new rival in Ganado, which moved down from the 3A Conference during its lost 2020.
Piñon is the de facto defending North Region champion by virtue of a 15-3 mark in 2019, a game better than Round Valley. Head coach Nellie McCurtain will have the pieces to work with to mount a successful defense of that title, as junior middle hitter Meleila Chieg had a team-leading 153 blocks and 94 digs her freshman season. Another junior, Delyla Denny, added 148 blocks, 106 kills and 46 aces her first season to join four other returners who were freshmen or sophomores in 2019.
The Eagles will be challenged by new 3A member Ganado, who won in a tiebreaker on their home court in their only 2019 meeting before falling in four sets at Show Low High School in the tournament play-in. The Hornets return a statistical monster in senior middle hitter Mya Dalgai, who had 209 kills, 63 blocks and 52 aces with support from senior setter Lauren Burns, who had 109 digs in 2019.
Round Valley was perfect in conference play last season, with the Elks' only loss coming in its rivalry match with 3A semifinalist Snowflake. They seek to join the Eagles and St. Johns in a renewed North that is ready to challenge Scottsdale Prep, Trivium, Chandler Prep and other Phoenix schools used to beating up on each other, only to get beaten by Scottsdale Christian or perennial East power Pima in their quest for the 2A trophy.
"We have very high expectations to do very well and qualify for the state tournament," said Joy Whiting, who starts her eighth season as head coach in St. Johns with just one senior, middle hitter Lizzie Farmer. "Our biggest question this season is how effective[ly] we play the serve [and] serve receive game."
Farmer is "very quick and extremely athletic," Whiting added, and her quiet determination in her new middle blocker position will anchor an otherwise young, but tall, Redskin team that went 8-6 last season and lost its play-in match to Arizona Lutheran Academy. Five-foot, 10-inch junior outside hitters Olivia Wiltbank and Karli Wengert join 5-10 sophomore middle hitter Josie Overson as returning starters along the front line.
"We also have more height and vertical jumping ability at the net this year as we have been working hard on our blocking techniques," Whiting said. "[We] will have more depth this year than in the past, with both [o]utside [h]itters returning to their starting varsity positions.
"Both Karli and Olivia have seasoned experience in this position, and will be a great combination and very hard to stop this season. Josie has worked hard to improve her hitting skill set, and we will look to her for an offens[iv]e threat."
Sophomore setters Ryan Baca and Avery Richardson are new to varsity but "have proven to be quick and agile as they have developed their ball control for setting up the offense," Whiting said. Juniors Naylyn Goodluck and Audrey Patterson will also be on the right side, working to "block on defense and swing hard on offense," Whiting added.
"Our best defensive strength comes from how hard the girls work in practice every day pushing themselves to never let a ball go untouched. Every drill is an all out effort to be the best defensive players they can."
But the Northern Arizona challengers to the Phoenix reign over 2A volleyball lurk not just in the North Region. Kingman Academy junior Dylan Brisco had nearly 200 digs last season, while senior Maliah Gardner was also Top 20 in 2A with 209 assists along with senior Ashlee Steele's 50 blocks, to help lead the Tigers to an 11-5 mark, second to unbeaten Trivium in the West Region.
Sedona Red Rock High School finished fourth in the Central at 8-6, winning its play-in match before falling to Round Valley in a brutal 28-26 final first-round game. Senior Stephanie Medel was 15th in 2A with 241 assists, while 6-foot, 2-inch sophomore Rachel Roderick showed just a hint of her blocking potential as a freshman with 34 blocks, also 15th in the conference.
"With a year of growth from a very young team last year, I expect that our daily efforts in the gym will translate to success," said Corie Murphy, second-year head coach at Northland Prep, who finished two places behind the Scorpions in the Central Region. "We focus on the process, not the outcome. We try to be better every day than the day before."
Murphy's Spartans, who finished 3-8 last year, may not be immediately ready to challenge 15-2 Scottsdale Prep, but they did just miss the cut for the 2A play-ins, where anything can happen.
"So I am hopeful for some playoff action this year," said Murphy, who returns one of the conference's top kill artists in senior outside hitter Maggie Auza. "Maggie Auza will be one of the top outside hitters in our region and will be a go-to in high pressure situations."
Auza joins Hailey Nixon and libero Joy Kim on the right side as returning seniors. Junior middle blocker Bella Moseng, one of 2A's top hitters with 76 kills last season, and sophomore outside hitter Miranda Greene are versatile and have varsity experience at both positions.
Also with varsity experience is sophomore setter and 2A Top 20 assister Caroline Jameson, who has "worked hard in the off-season to improve her setting game," Murphy said, "and will be able to diversify our offense, both in and out of system."
She stressed to look out for junior middle blocker Vanessa Faultner to be a quiet blocking force at the net defensively.
"Defense has been the main focus of our practice," Murphy said. "Our defensive energy and effort have been the driving force in our gym the first few days."
Mogollon carries the banner for Northern AZ 1A title challengers
On her way to an appearance in 2019's 1A Conference championship against St. David, Mogollon head coach Valerie Reynolds sent both Red Mesa and North Region champs Rock Point home.
She would have no idea they would not return for another 22 months.
Reynolds, who has already won a state title in her three previous seasons, is just thankful that her greatest concerns are just playing a different formation this season.
"This year we will play a 6-2," said Reynolds, because she needs junior setter Ellie Hancock, with the second-most assists in the conference as well as the second-most serving aces in all of Arizona, as a hitter as well. "She was my starting setter in a 5-1 offense her freshman and sophomore years. Last year she was awarded [region] Offensive Player of the Year."
Also first-team all-conference, Hancock is supported by five seniors, including all-1A second-team libero Brooke Valdez, who "did an amazing job" with 163 digs at the position last season, Reynolds said.
Middle hitter Emma Cochran is moving over from opposite hitter to join fellow senior block and kill leader Paige Parry in the middle with setter and outside hitter Tylinn Mclaws as well as opposite hitter Kamryn Franco, who is backed up by junior Ila Despain.
"We have more speed this year than we have in the past three years I have coached," Reynolds said. "We also have good blocking this year."
But the 13-2 Mustangs did not cross paths last season with 16-1 Rock Point, who had lost to them the previous season in the state semifinals as a No. 4 seed. Senior hitter Tamira John, the North Region Player of the Year that season, leads the Cougars back, along with second-team all-1A setter Shelby Chee and all-region Honorable Mention middle blocker Arianne Begay.
Their first victim in that year's state tournament was 8-8 Red Mesa, which returns North Region Offensive Player of the Year Jada Begay, a senior outside hitter, along with three other seniors and two juniors.
Also back after a season in quarantine are the second-place St. Michael Cardinals, with a quite healthy roster of five seniors and four juniors, including North Region Offensive Player of the Year Jessica Terry and all-region first-team setter Kalynn Smith.
Mogollon's natural rival is Williams High School, regional runner-up to the Mustangs and the only team that would take the Mustangs to a tiebreaker last season. Before falling in the second round of State to Tempe Prep, Mogollon also represented Williams' only two losses.
Williams looks to overcome Mogollon's dominance this fall with an experienced group of returners, led by senior setter Marci Heap and five juniors, including a pair of first-team all-region performers last season in middle blocker Shaelee Echeverria and setter Rory Stevens.
In third place in the Central Region was 11-5 Ash Fork, led back by junior setter Paola Acosta, sixth in 1A with 295 assists. Paola Ayala was Top 15 in 1A digs with 137 for the 11th-ranked Spartans, while fellow upperclasswoman and defensive specialist Emily Dziubla was just two behind Ayala's 2020 total.
Fourth-place Joseph City will also be murder in the middle this season with the junior-sophomore duo of Kate Edwards and Ajana Tagler. They were both top five in 1A in blocks last season, combining for 137. Senior setter Arami Miller was Top 10 in the conference in assists with 160, but didn't even lead her team in that category. Sophomore Kayle James did with 11 more than Miller at the position for Region Coach of the Year Charlsye Miller, who looks for her team to be more than one game over .500 and first-round postseason fodder for the state runners-up, like they were in 2020.