Amphi over Flowing Wells in 5 sets
September 8, 2021 by Andy Morales, AZPreps365
---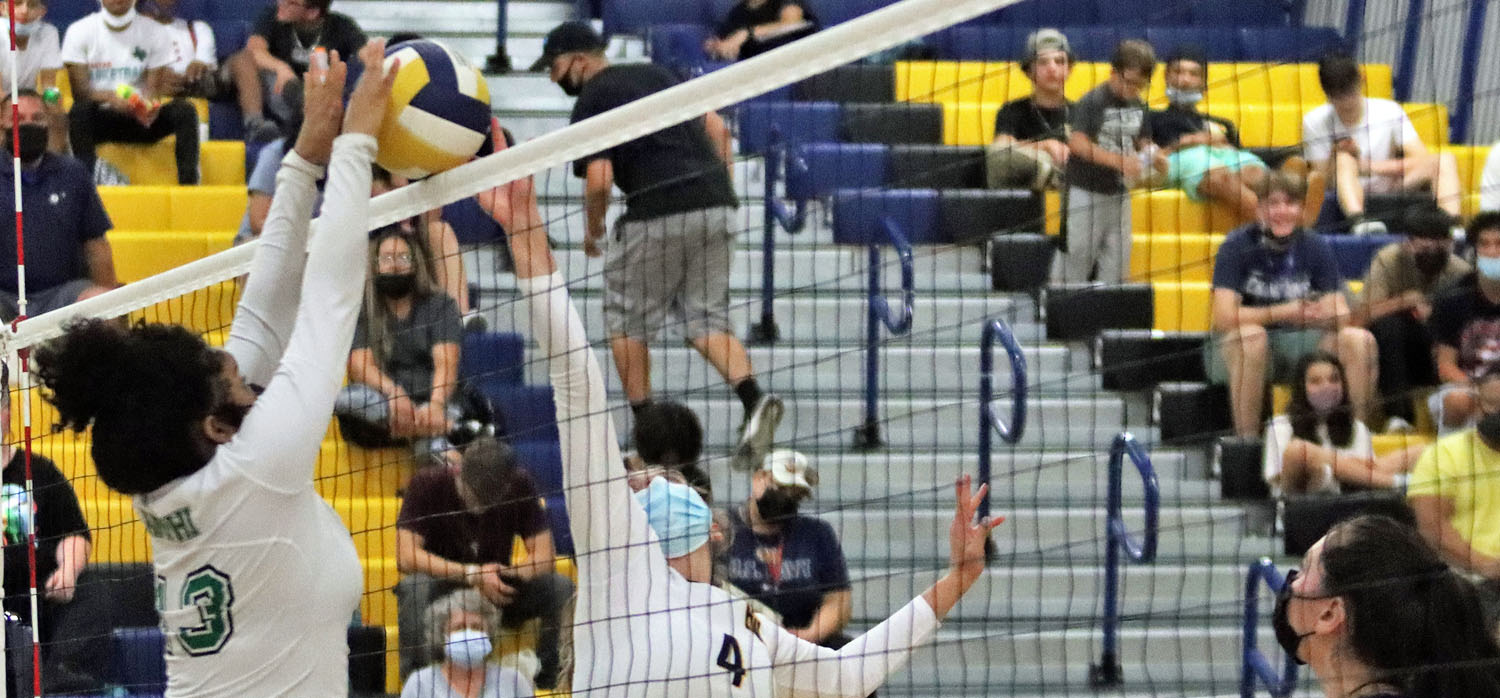 Down 10-5 in the deciding fifth set at Flowing Wells, the Amphitheater Panthers went on a 10-3 run to take the match 3-2. The final moments of that set showed the value of an experienced roster especially at the beginning of a season when developing character and chemistry is at a premium.
"We are very young with only three seniors so we are really struggling to make up what we lost from last year," Flowing Wells head coach Clay Hales explained. "We have a lot of promise and it might be a long season but we have moments of playing well."
The two programs battled to a 24-24 tie in the first set but Amphitheater (1-1) pulled that one out with a set from setter Zayra Lama to hitter Natalie Sandoval serving as an exclamation point. The seniors connected on chances and kills all night with Lama collecting 41 assists and Sandoval following through on 16 of them.
In all, the Panthers brought nine seniors to the match but even that kind of experience can take a team only so far and that came into view in the second set when Flowing Wells (1-2) built a 10-4 lead only to have Amphitheater cut the lead down to 14-12. The Panthers were unable to get any closer due to back-to-back passing mistakes that took the seniors out of their offense and the Caballeros tied things up 1-1 with a 25-18 win.
The Panthers regrouped to take the third set 25-18 but Flowing Wells dominated the fourth set 25-16 to force the fifth set.
"We are full of seniors but we also have some younger players and we are hoping to get them ready for the future," Sandoval said. "Personally, I made some mistakes but I never got myself down and worked hard to clean everything up. We can do better."
Like a true leader Sandoval took it upon herself to shoulder much of the uneven play in the match but service errors and along with some minor communication issues were evident from all areas of the court but there's still plenty of time to get things worked out.
Arianna Alonso added 12 kills for the Panthers and Elizabeth Trausch recorded 22 assist for Flowing Wells with Tressah Moon collecting 8 kills and Leah Liljenquist finished with 7.
Amphitheater hosts Sabino (2-1 in power-ranking games) Thursday night and Flowing Wells will travel to Sunnyside (0-1) before playing host to the Flowing Wells Girls Volleyball Tournament on Friday and Saturday. Willcox, Desert Christian, Rio Rico, Santa Rita, Walden Grove, Desert View, Nogales, Sahuarita, Pueblo, Douglas and Tombstone are slated to join Flowing Wells.
Flowing Wells will honor Hall of Fame coach Ed Nymeyer on the 30th anniversary of his 1991 state championship team.
FRIDAY, SEPT. 10
Willcox vs. Flowing Wells, noon
Desert Christian vs. Rio Rico, noon
Santa Rita vs. Walden Grove, noon
Desert View vs. Nogales, 1 p.m.
Sahuarita vs. Pueblo, 1 p.m.
Douglas vs. Tombstone, 1 p.m.
Tombstone vs. Desert Christian, 2 p.m.
Nogales vs. Santa Rita, 2 p.m.
Pueblo vs. Willcox, 2 p.m.
Walden Grove vs. Desert View, 3 p.m.
Rio Rico vs. Douglas, 3 p.m.
Flowing Wells vs. Sahuarita, 3 p.m.
Santa Rita vs. Desert View, 4 p.m.
Desert Christian vs. Douglas, 4 p.m.
Willcox vs. Sahuarita, 4 p.m.
Pueblo vs. Flowing Wells, 5 p.m.
Tombstone vs. Rio Rico, 5 p.m.
Nogales vs. Walden Grove, 5 p.m.
SATURDAY, SEPT. 11
9 a.m. – 2 p.m. (Bracket Play)