Notes from the North: (Slightly) Early Small School Seeding edition
September 20, 2021 by George Werner, AZPreps365
---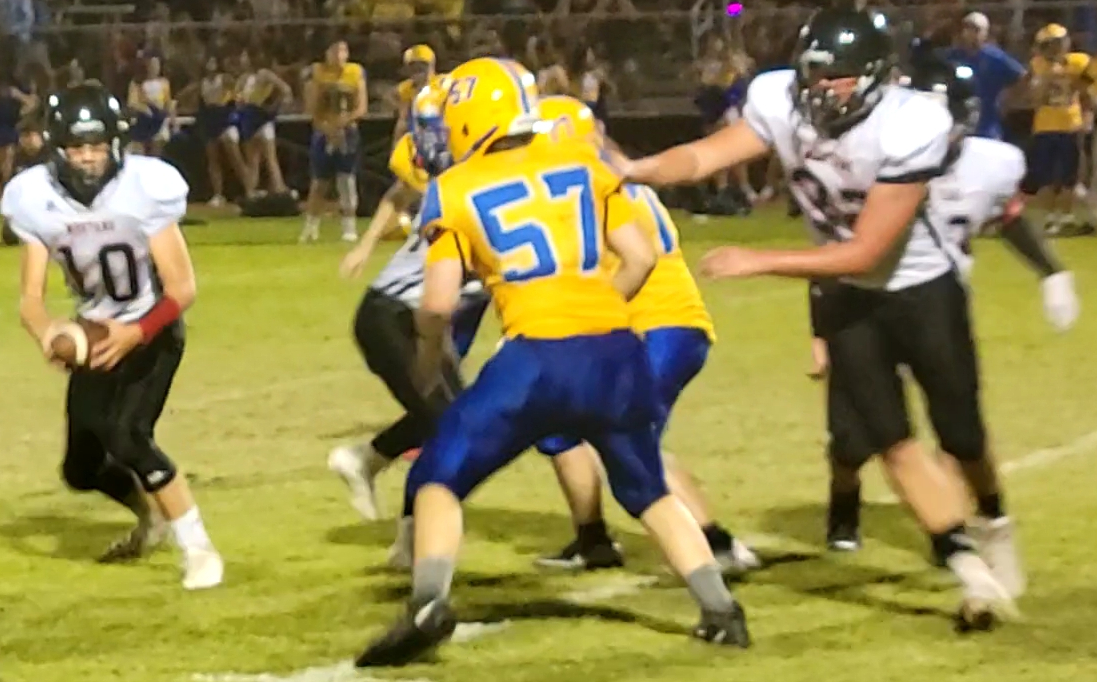 What a crazy weekend for Northern Arizona high school sports it has been! It has made sticking through a tough late summer to welcome back fall, and football, worth it in this Notes from the North--where I pick the teams going to the postseason from the 1A-3A Conferences.
Not only did Chandler Hamilton's crazy last-minute win at Nevada's Bishop Gorman High School make national headlines, but Flagstaff quarterback Bodie Maier threw two touchdowns in the final 90 seconds to overcome an 8-point deficit to Mingus Union High School and stay unbeaten, Coconino's COVID-delayed debut featured 119 yards rushing by a senior who missed all of last season with a cracked skull, and my preseason 3A dark horse American Leadership Academy - Gilbert North knocked off my preseason 3A favorite, Yuma Catholic High School!
First, for this Small School Seedings edition of my column, you'll want to have your copy handy of Sollenberger's 2021 AZ Football Prep Magazine, interactive or in PDF form on AZPreps365.com. Now, for those of you who need some catching-up on the 1A-3A Conference players in volleyball, check out my season preview, then come back to this tab...
Badgers badminton bashes D-I opponents on way to second place
Before that, however, shout out to Prescott High School for not only a 3-0 start in 4A Conference football, but a 6-0 start in badminton.
The Badgers, the Arizona Interscholastic Association's only competitive badminton team north of Phoenix, have been flawless against Northwest Section rival Shadow Mountain. They have not lost a set either to their other Division II opponents: Agua Fria, Cactus, Marcos de Niza, Tempe and Thunderbird high schools.
"I attribute that to having just pure athletes that like to compete and will put the time in to better themselves and their team," said head coach Bobbi Yoder, whose top player, junior Megan Townsend, is her only player to be ranked in the Top 20 despite being undefeated in both singles and doubles Division II play. "I've been blessed to have an amazing group of girls, year after year, that are competitive and that love the sport."
But that is all too easy for Yoder, hungry for a state title in her seventh season. She continues to push for a tougher schedule to get her team ready for the postseason, despite state semifinal and quarterfinal losses to defending state champion Ironwood over the previous three seasons.
"Horizon [at home Thursday, Sept. 23] and the two tournaments we go to are where we will be really challenged and hopefully prepare us for State," Yoder said. "It's frustrating, to say the least, because we would definitely like to have a tougher schedule.
"And [we] have requested that but never really get it."
The Badgers definitely got it at their respective Phoenix tournaments the past two Saturdays, Sept. 11 and 18, at Basha and Westwood high schools.
At the Basha Birdie Bash, senior Nicole Raiss mowed down all eight of her No. 3 flight singles competition from bigger Valley schools like Campo Verde, Desert Vista, Dobson, and Hamilton. Sophomore Riley Crockett went 7-1 to finish runner-up in the No. 4 flight. Townsend and junior Elle Long lost just two matches to finish third as the No. 2 doubles team.
"It was a long day, with a lot of matches," Yoder said. "The Basha Tournament was great for all my girls, though."
A week later, the day after Prescott football kept pace with Flagstaff heading into its Grand Canyon Region opener at golf and volleyball power Lee Williams High School--see below--Yoder's expanded 11-girl roster finished just two wins short of champion Mountain View High School at the Westwood Birdie Blitz in Mesa.
Crockett and junior No. 5 Lauren Farley each went 4-0 in singles play against larger Division I teams like Chandler, McClintock and Queen Creek high schools, while Raiss, Townsend and junior Calli Naylor finished second in both singles and doubles with one loss in each competition. went 3-1 in both singles play and with their doubles partners once in only to fall at Westwood to another Mesa high school, Mountain View.
"I'd like to have it a little more spaced out, but it is what it is," Yoder said. In Division II play, she added, senior Tabitha Bryner and other Badgers fighting to earn a singles or doubles flight "have all done well so far, but we have yet to be really challenged."...
Lee Williams volleyball succeeds, like golf does, versus gauntlet
The Volunteers, after a five-point loss at home to open the season against Northwest Christian, rebounded Sept. 10, winning by a touchdown over regional rival Lake Havasu High School.
But while the Knights don't yet have the support in other sports to join sophomore golfer Brittney Gomez in making their fall mark, Lee Williams has early, in both golf and volleyball.
Through his first eight rounds, senior Cole Finch has shot just over a 35 on largely nine-hole courses to rank among Division II's top five golfers.
His low scores have shot the Volunteers to a 4-1 mark on those courses in easy wins, by 17 strokes or better, over mostly regional opponents. But he has help: fellow upperclassman Brady Clark is just over two strokes behind Finch's average to rank securely in the Division II Top 25. The Volunteers' one team loss came at Flagstaff High School, in which they tied with the Eagles, led by senior Tor Jacobson, for second at Aspen Valley Golf Club, four strokes behind winner Prescott's 173.
Badgers senior Jacob Mcelfresh and junior Scotty Jackson are also Top 25 golfers. But not even they could shoot their team to the fifth-place finish Lee Williams had Aug. 27 and 28 at Grand Canyon University's Arizona Fall Preview. The Volunteers, riding a solid team average in the low 150s, were 10.5 strokes behind winner Red Mountain but placed less than five strokes behind the rest of the top finishers--a field that included larger schools like Corona del Sol and Perry...
Heading down to Prescott for her third region match Thursday, Sept. 16, Volunteers volleyball head coach Riley Blake should look back proudly at her varsity's early-season accomplishments. Lee Williams overcame a 25-4 loss in its first set of the season, part of a 3-0 home setback to Seton Catholic Prep, to edge rivals Mohave and Coconino and go a half-game up on Flagstaff for the Grand Canyon Region lead.
Again, the bounceback began at Lake Havasu, and not until after the Volunteers had dropped the first set. Junior Becca Arave, Lee Williams' only returning all-region mention, had 17 kills. Senior Kenzie Cathey added 15 digs, and sophomore Jade Russell had 25 assists to go with seven aces to overwhelm the Knights by double digits in each of the next three games.
Two days later, the Volunteers dropped the first two sets at home to Mohave before rallying to win the next three by a double-digit average. Since then, Blake's girls have had fun in September, winning three in a row as well as the majority of their 12 matches in eight days across two tournaments.
A 2-1 win Sept. 4 over Paradise Honors was Lee Williams' sole victory at the two-day Wolves Invitational, at Estrella Foothills High School--a victory the Panthers would avenge Thursday, Sept. 16. But the Volunteers, back in Havasu once again Sept. 11, rallied to go 6-3 through a marathon at the Mary Jo Goldey Invitational, including a second tiebreaker victory over Mohave.
Attempting to keep pace with 4-2 Flagstaff, and with a Wednesday, Sept. 22, match at St. Mary's High School looming, the Volunteers still have a lot of volleyball left to be played. But if they can consistently play with the emotion shown in their rallies the first month of play, they are poised to surprise the Eagles and the rest of the 4A field as the top Grand Canyon Region postseason seed...
Coconino, Rez runners rule at Canyon de Chelly, Peaks Invitationals
Chinle High School junior Temyra Bia has made her mark on the cross country fall season early.
Two days after Bia's runner-up finish led the Wildcats girls team to second place against more than 50 other teams at Flagstaff's Peaks Invitational, they would do it again Sept. 11.
Only this time, at the Canyon de Chelly Invitational, Bia would improve on her Flagstaff time by nearly a minute to win the 5K in just over 20:24.
Bia finished almost 1:35 faster than runner-up Abigayle Nez, a Holbrook High School senior who ran the Chinle Market course over 10 seconds faster than she did at altitude Sept. 9 at Flagstaff's Peaks Invitational...
The champion of Flagstaff's girls ascension race, Coconino junior Wheaten Smith, finished fifth Sept. 11.
The Panthers' boys and girls cross-country teams dominated at Canyon de Chelly, however. Coconino won as a team in three of the four high school races behind wins by freshmen Clayton Rhoton and Wylan Smith, who was 29 seconds better than sophomore teammate Sara McCabe in the open competition. Rhoton's finish of 20:53.45 was more than 23 seconds faster than second-place Holbrook and sophomore Tristen Attakai...
Page High School senior Cody Slim led the Sand Devils to the Varsity team win with the best overall 5K finish of 17:13.19--nearly 17 seconds faster than Namath Gene, a senior on third-place Holbrook, fresh off his Flagstaff boys ascension win in a time more than 20 seconds slower...
Mogollon, Monument Valley, Sedona Red Rock top Small School Volleyball Seedings
Now to the Small School Seedings, in which I project the 1A, 2A and 3A Conference postseason tournament players in both football and volleyball.
Here is my system: Below, all potential postseason seeds will be ranked, from Nos. 1 to 16, with Northern Arizona teams in boldface. An asterisk (*) indicates an automatic bid, meaning the starred team is projected to win its region title.
Included in brackets: [Overall won-loss records, followed by any region marks.] These records were updated as of Monday, Sept. 20.
One week from this date, the Arizona Interscholastic Association will meet in order to publish its first power rankings Tuesday, Sept. 28, in each of the small-school 1A through 3A conferences, for both football and volleyball.
It should be noted I am presenting all seeds without comment here, and I am not including candidates for 2A volleyball play-in berths, though you are welcome to send me your feedback on those Nos. 17 to 24 seeds. Just don't be surprised if I publish and debate them in my follow-up Notes from the North, after the actual power rankings are published Wednesday, Sept. 29.
I have no "insider" information or other secret knowledge of the power rankings. These are simply my projections based on available statistics and limited observations of the teams' performances to date. For instance, Monument Valley aided its ranking by repeating as champions of a 12-team preseason tournament Sept. 4 in New Mexico. Let me know if you have additional information on other teams' tournament performances not on the schedule.
So send me your playoff projections, prior to then--with any comment you care to add. Let's see how close we were. With your input, I'd like to keep this going as the season goes along! Ready? Begin:
1A
1. Anthem Prep [6-2, 3-0]*
2. Tempe Prep [6-0]*
3. Mogollon [6-0, 4-0]*
4. North Phoenix Prep [3-4, 2-0]
5. Fort Thomas [5-1]*
6. Rock Point [5-0]*
7. Lincoln Prep [4-2, 1-0]
8. Desert Christian [2-1]*
9. St. David [2-2]
10. St. Michael [5-3, 4-0]
11. Cicero Prep [3-2, 1-0]
12. Joseph City [4-2, 3-1]
13. Hayden [3-3, 1-0]
14. North Valley Christian [2-4, 1-0]
15. Mohave Accelerated [3-3, 2-1]
16. Williams [3-4, 2-1]
2A
1. Chandler Prep [8-0, 2-0]*
2. Sedona Red Rock [6-0, 2-0]*
3. Scottsdale Christian [2-0]
4. Trivium Prep [5-2, 1-0]
5. Ganado [5-1, 1-0]*
6. Arizona Lutheran Academy [5-2, 1-0]*
7. Phoenix Country Day [5-1]*
8. Willcox [5-0]*
9. Veritas Prep [4-1]
10. Sequoia Pathway [6-2, 2-0]
11. St. Augustine [2-3]*
12. Round Valley [3-2, 1-0]
13. Pima [2-2]
14. Desert Heights Prep Academy [3-1, 1-0]
15. Rancho Solano Prep [5-1, 2-1]
16. Kingman Academy [4-1, 0-1]
3A
1. Gilbert Christian [7-0, 2-0]*
2. Snowflake [6-0, 1-0]*
3. Monument Valley [5-0, 1-0]*
4. Thatcher [4-0]*
5. Valley Christian [5-1]
6. Northwest Christian [3-3]*
7. Empire [5-0, 1-0]*
8. Eastmark [5-0]
9. Yuma Catholic [5-1]*
10. Winslow [5-1]
11. Arizona College Prep [4-3, 0-1]
12. Chino Valley [4-2]
13. Tuba City [3-3]
14. Safford [3-2, 2-0]
15. Tanque Verde [3-3, 2-0]
16. Window Rock [1-3]
Alchesay rises with Mogollon, River Valley to top of Small School Football Seedings
One note here, again regarding Monument Valley: the Mustangs were literally a yard away Friday, Sept. 17, from losing their projected automatic bid from the 3A North Region and dropping in the rankings.
"We hung on," said Bryan Begay, who remained head coach on the Mustangs' sidelines after stepping down as Kayenta Unified School District athletic coordinator. "I'm back doing what I love. I still have some years ahead of me."
Maybe one or two fewer years after visiting Kingman backed his defensive line up into their own goal after driving to the Mustangs 1-yard-line with one minute remaining.
"We were down 30-19," Begay recalled. "We took the lead with about five minutes left" after a touchdown run and a 38-yard fade from senior quarterback Andrew Sheppard to junior Albrandon Byjoe.
But were it not for a Kingman 1-yard dive being swallowed up by the Mustang defensive line, Monument Valley's 31-30 comeback win, its position atop its region and perhaps even its projected playoff berth would all have vanished.
As 8-man football only takes the top 12 seeds to the postseason, only 12 teams will be seeded. The football seedings:
1A (8-man)
1. Mogollon [5-0, 1-0]*
2. Mohave Accelerated Learning Center [4-0, 2-0]*
3. Williams [4-1]
4. El Capitan [4-0, 2-0]
5. St. David [3-1, 2-0]
6. Salome [3-1, 1-0]
7. Tempe Prep [3-2, 1-0]*
8. San Manuel [4-0, 2-0]*
9. Hayden [3-2, 2-0]
10. Lincoln Prep [3-2, 1-1]
11. Anthem Prep [2-3, 1-2]
12. Bagdad [2-3, 1-1]
2A
1. Arizona Lutheran Academy [4-0]*
2. Scottsdale Christian Academy [3-1]*
3. Alchesay [3-0, 1-0]*
4. Santa Cruz Valley [2-2]*
5. Benson [2-1]*
6. Scottsdale Prep [4-0, 1-0]
7. Morenci [3-1]
8. Parker [3-0]*
9. Pima [2-2]
10. Chandler Prep [3-1]
11. Arete Prep [2-2]
12. Willcox [4-0]
13. Sequoia Pathway [3-1]
14. St. Johns [2-2]
15. Antelope Union [3-1]*
16. Red Mesa [1-0]*
3A
1. American Leadership Academy - Gilbert North [4-0]*
2. River Valley [4-0]*
3. Valley Christian [4-0]
4. Yuma Catholic [3-1]
5. Snowflake [3-1, 1-0]*
6. Thatcher [4-0, 2-0]
7. Eastmark [2-2]*
8. Bourgade [2-2]*
9. Monument Valley [3-1]*
10. Round Valley [4-0]
11. Show Low [4-0]
12. Pusch Ridge [4-0, 1-0]
13. Safford [4-0]
14. Winslow [3-0]
15. Payson [3-1]
16. Tuba City [2-2]
Next time
The next time: Small School Seedings are discussed and compared with the Arizona Interscholastic Association power rankings--including your hot takes! Until then, check www.azpreps365.com or keep refreshing your AzPreps.com app on your phone for the first power rankings.
Remember, you can always interact with me by following me on Facebook and Twitter at @ProfGWerner, or email me at gwerner@azpreps365.com.