Mustangs unable to muster much against McClintock swim
September 23, 2021 by John Cascella, Arizona State University
---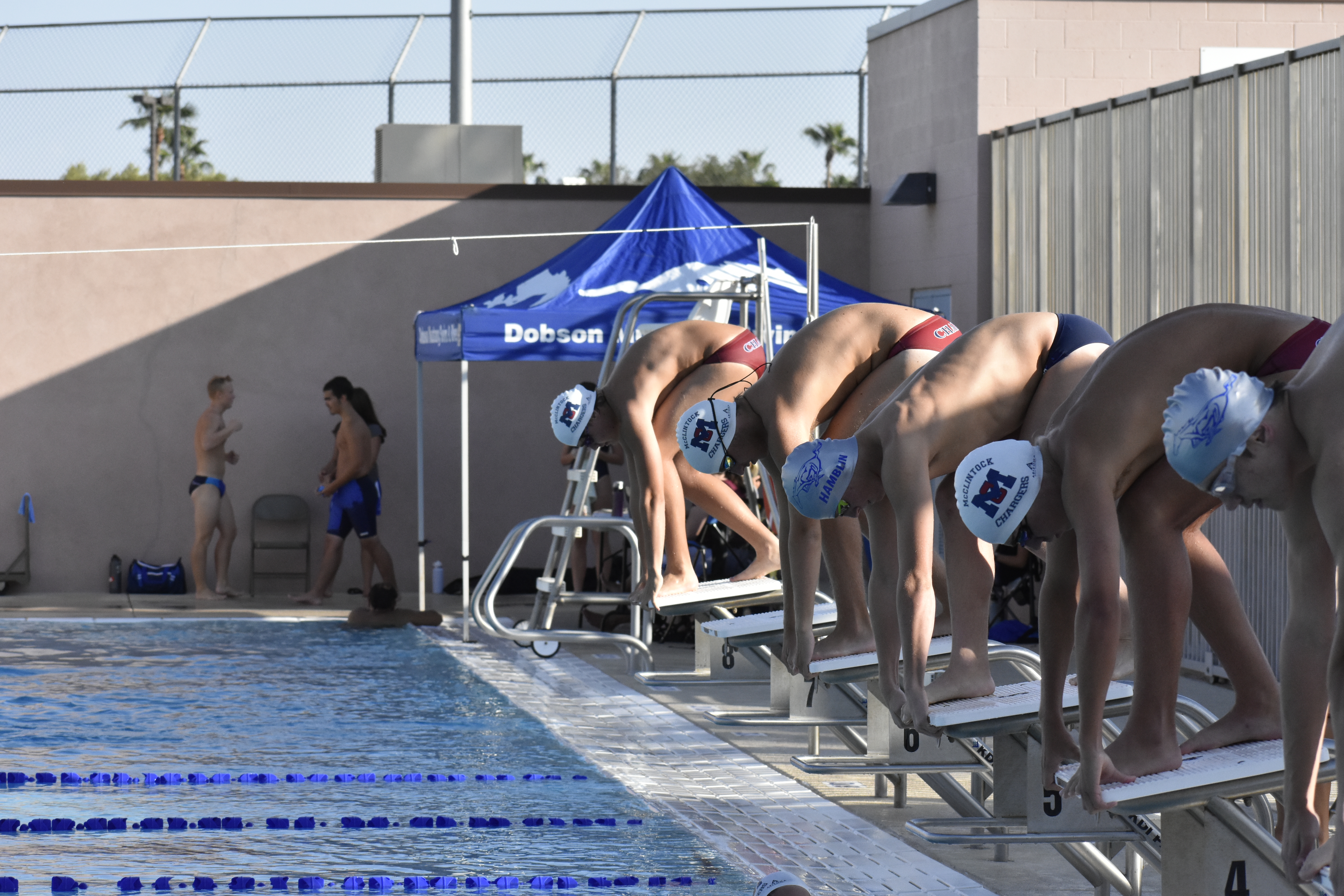 John Cascella is an ASU Cronkite School of Journalism student assigned to cover Dobson High School for AZPreps365.com.
Despite the one-hour bus delay, Dobson was still able to get off the blocks at 4:12 p.m. against the visiting McClintock Chargers. Roster size would be the key factor in Dobsons' loss with McClintock being able to fill more lanes and score more points.
The Dobson boys fell back to .500, losing 129-75, and the girls move to 0-4, losing to the Lady Chargers 126-39. But neither teams' coaches were too invested in their matchup today as they prepare for this weekend's invitational meets.
"I'm more concerned with my meet on Saturday," said McClintock head coach and Olympic gold medalist Melissa Ripley. "A dual meet in Arizona is just a stopping point for the next dual meet… unfortunately in Arizona swimming, it's all about invitationals."
Dobson boys head coach Brian Mellot passed the meet sheet making reins to the boy's senior captain Zack Pierzina, letting him call the shots. Pierzina threw sophomores Kai Valiensi and Ben Wallace into the 100-yard freestyle just to see them, 'duke it out.'
The Dobson boy divers secured second, third, and fourth in today's competition, scoring nine points for the team. Unfortunately, no lady Mustangs competed in the meet.
"We're still building more skills," said Dobson head dive coach Morgan June on what the team will be working on this week. "We're cleaning up the dives we do have and getting new dives … Everybody is on a different page because diving is so individual."
Second place would be the highest Dobson girls scored in their races, but it doesn't help when a seventh of your roster is missing. Instead of their usual seven, Girl's head coach Katie Franklin had six swimmers to work with. Franklin switched up her meet sheet as well, saying, "I'm just trying to make it so that they enjoy themselves and bond together, and they seem to be doing that."
Individually, Pierzina and junior Carson Hamblin scored 24 points for the Mustang men. Pierzina took first in the 200 individual medley (IM) and 100 freestyle while Hamblin won the 50 freestyle and the 100 butterfly. In the 200 IM, Pierzina out-touched McClintock's Brendan Ng with less than a second lead.
Even with the loss, Mellott had good things to say after the meet, spotlighting the importance of switching up what the swimmers swim, especially with their invitational meet fast approaching.
"I knew coming in that their team was bigger and they could fill the heats," said Mellot on preparing for the Chargers. "We had to be in our best stage to get the win."
With the dual meet out of the way, the Mustangs only have tomorrow's practice left to prepare for the invitational. Mellott plans to work with the team on basics like starts and turns to give them time to unwind before racing the following day. He highlighted the team's slowness in their relay starts and plans to continue work on them tomorrow. Relays are a great way to bring more swimmers and score more points at the states meet in November.
On a less serious note, the Mustangs will be closing tomorrow's practice with a game of water polo, which is a treat for any swimmer.