Gilbert Christian Knights Football Off to a Great Start
September 29, 2021 by Laura Fellows, Gilbert Christian High School
---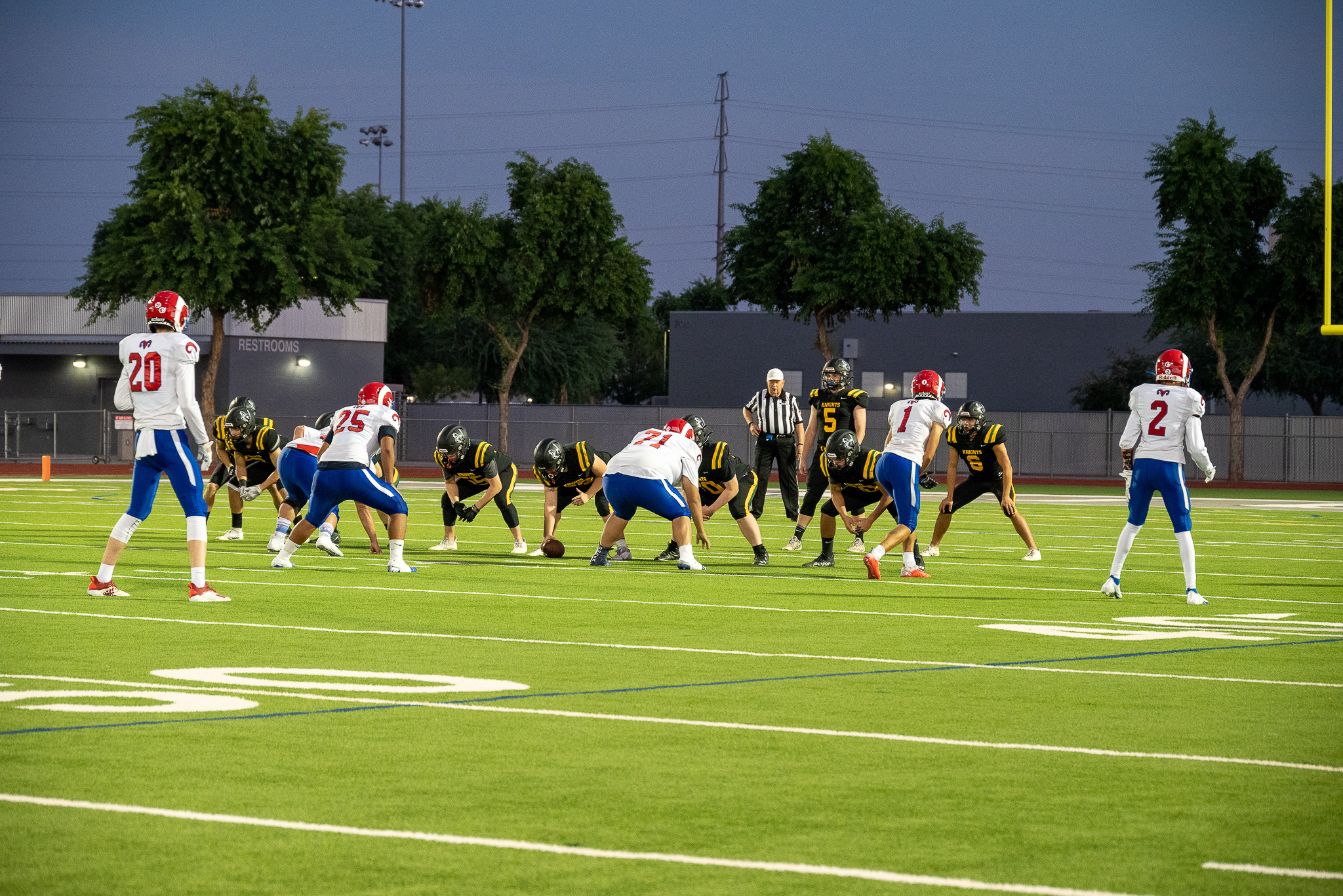 Laura Fellows is the media advisor for Gilbert Christian's Student SID program that contributes content on behalf of the school to AZPreps365.com
Five weeks into the fall football playing season, the Gilbert Christian Football team is number one in their region with a conference record of 3 - 1 and is number four with an overall region record of 3 - 2.
Due to many graduating seniors, Coach Norris and his team are in the process of rebuilding this young and inexperienced team. They currently have 39 players on their roster with only 15 having played high school football before. With each game, the teammates learn more skills to help them become better players.
At their game on August 27th against the Parker Broncs, on the Broncs home field, the Knights came up short, 44 – 17, but there were some notable performances from the Knights:
Matthew Hershey had 163 yards passing, one touchdown through the air and one touchdown on the ground.
Caden Heyn had 80 yards receiving.
Jordon King caught five passes for 34 yards.
Kaleb Powell was perfect on his extra points and kicked a successful 41 yard field goal in his first attempt ever.
Dylan Sharkey, in his first ever football game, had three catches for 29 yards and one touchdown.
Elijio Ledesma had eight tackles on the night and Matthew Hershey added another seven.
Jesse Morales forced a fumble that was recovered by Elijio Ledesma.
On September 3rd, the Knights came up against Antelope Union at Higley High School due to their field being temporarily out of commission. The Knights were able to take home the win 27 - 14.
On September 10th, the Knights came up against the Trojans and were, unfortunately, unable to pull out a win losing 49 – 8. Once again, however, you cannot discount the valuable lessons in play that were gained by this young team.
On September 17th, the Knights made the three and a half hour trip to Kingman to take on the Tigers of Kingman Academy. Weekly practices and experience gained from the first three games of the season helped the Knights pull off a win with a score of 58-6. This team is proving they are battle tested by playing a great game. Notable performances included:
Matthew Hershey was 5/5 passing (two touchdowns) and ran for another touchdown.
Freshman, Tyler Burr, also threw a touchdown pass on a long bomb to Caden Heyn.
Dylan Sharkey scored two touchdowns, one rushing and the other receiving.
Micah Goheen scored two touchdowns as well, one on offense and one on defense with an interception return.
Our defense forced six takeaways on the night and scored twice, once on a safety and the other on Micah's interception return.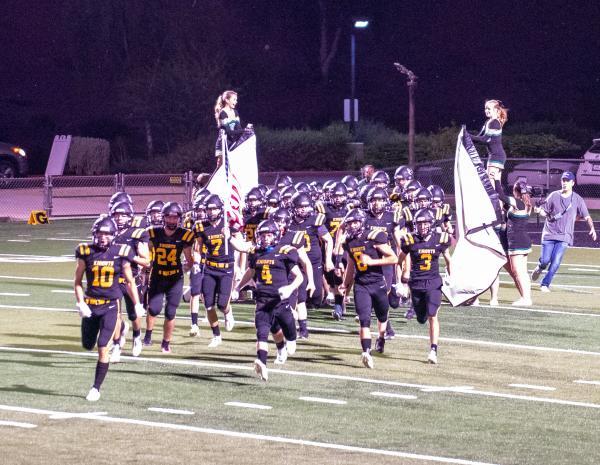 Knights, above, geared up to take the field and get the game started on their newly turfed field on September 24th.
This past Friday, September 24th, the Knights got to play on their new home turf for the first time this season against the Chandler Prep Titans, taking the win with a score of 34 - 7. After a sluggish first half riddled with mistakes, the Knights offense came alive and lit up the scoreboard in the second half. Defensively, they played tough all night, shutting Chandler Prep out in the second half. Once again, notable performances included:
Matthew Hershey 9/14 passing for 138 yards, one touchdown, and 10 carries for 52 yards.
Caden Heyn had two catches for 33 yards and one touchdown.
Kaleb Powell caught five passes for 91 yards and also connected on all of his extra point kicks and was 2/2 on field goals.
Jordon King ran for a touchdown after a poor snap on a field goal attempt.
Caprice Chuichiolo made Gilbert Christian history as she connected on her extra point attempt!
Dylan Sharkey had an interception on defense that was deflected by Caden Heyn.
Josh Lay was a monster on defense with nine total tackles.
Elijio Ledesma was also tough on defense with nine tackles.
Gavin Biesterfeld had a sack on the night, bringing his total on the season to five.
The Knights will begin Region play with back-to-back home games this week and next week! Coach Norris added, "Knight Nation was awesome on Friday night and we need more of that energy over the next couple of weeks. We hope to see you all there to cheer on your team, the Gilbert Christian Knights!"