Pinnacle-Desert Mountain swim meet canceled due to inclement weather
October 1, 2021 by Ethan Schwager, Arizona State University
---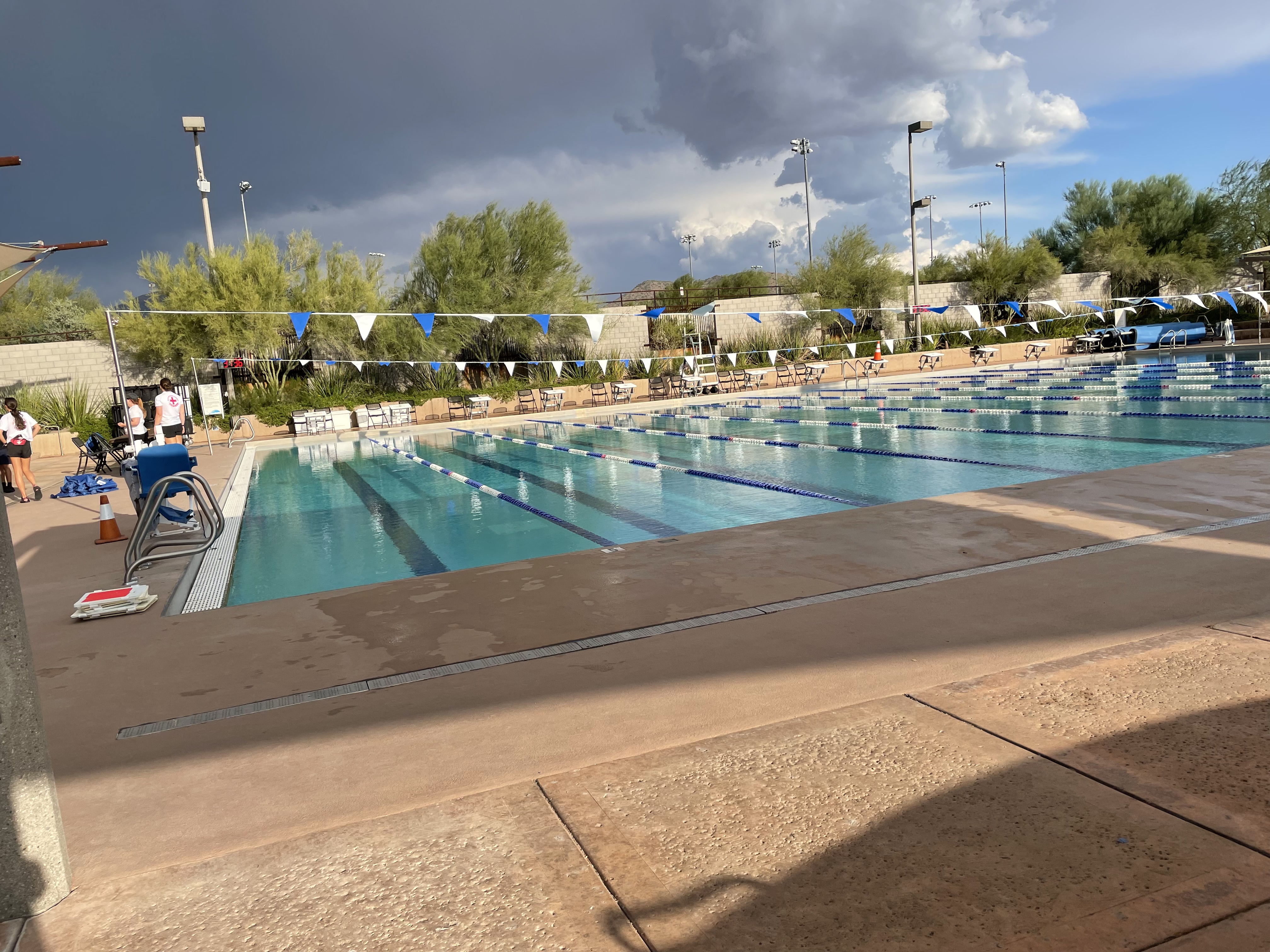 Ethan Schwager is an ASU Cronkite School of Journalism student assigned to cover Pinnacle High School for AZPreps365.com.
There was a lot of energy at McDowell Ranch Park and Aquatic Center during the dual meet between the Pinnacle and Mountain View High School swim and dive teams on Thursday afternoon. Parents and fans were cheering for their athletes and Mountain View students were chanting "This is our house!"
Then, just over halfway through the meet, lifeguards were forced to clear the pool and call it off due to inclement weather.
The facility staff was prepared to call off the meet in the event of lightning and rough weather.
"We use specific weather apps to monitor storms when they come in," McDowell Aquatic Center assistant lifeguard Luke Poupone said. "When lightning strikes within 10 miles of our facility, we close the pool for 30 minutes."
Pinnacle girls swimming coach Andrea Ditter and her team quickly packed up their bags when it became clear the meet could not resume. Some Desert Mountain swimmers stuck around for a little bit longer.
"I'm a little bit disappointed," said Desert Mountain's Jiaxun Song, who was scheduled to swim his events after the halftime break. "I don't get to swim, but I guess I can accept reality."
Thursday's meet started poorly for Pinnacle. Mountain View took control of the early races, winning many of them, and picking up places with swimmers in outside lanes in other races.
There were few bright spots in the first half for Pinnacle, but senior Luca Gissendaner impressed in the 50-yard freestyle in what could only be described as a flawless race. While times weren't made official after the meet, due to the cancellation, Gissendaner's stroke looked second-to-none in the all-out sprint.
For the girls, Jordyn Spector swam an impressive 200-yard freestyle, winning the event while closing out strong on the last 25 yards.
Both swimmers were unable to compete in their best events, the 100-yard breaststroke for Gissendaner and the 500-yard freestyle for Spector.
Following the 50-yard freestyle, meet officials decided to skip the scheduled halftime break with dark clouds overlooking the mountains right outside of the pool.
Two more events were completed, both 100-yard butterfly races, before lifeguards were forced to clear the pool deck.
The lifeguard Poupone acknowledged that it was best to cancel the meet in order to avoid a large indoor crowd waiting around for a long period of time.
"We just decided that it would be best to cancel the meet and close the pool, so we wouldn't have everyone waiting inside [the main lobby of the aquatic center]," Poupone said.
Pinnacle will be in action next on Oct. 7 against Sunnyslope at Paradise Valley Pool. The Pioneers will look to stay competitive, as they are now only a couple weeks out from the 2021 PVUSD District Invitational.