Blue Ridge rides Harris' immaculate reception to win at Prescott
October 1, 2021 by George Werner, AZPreps365
---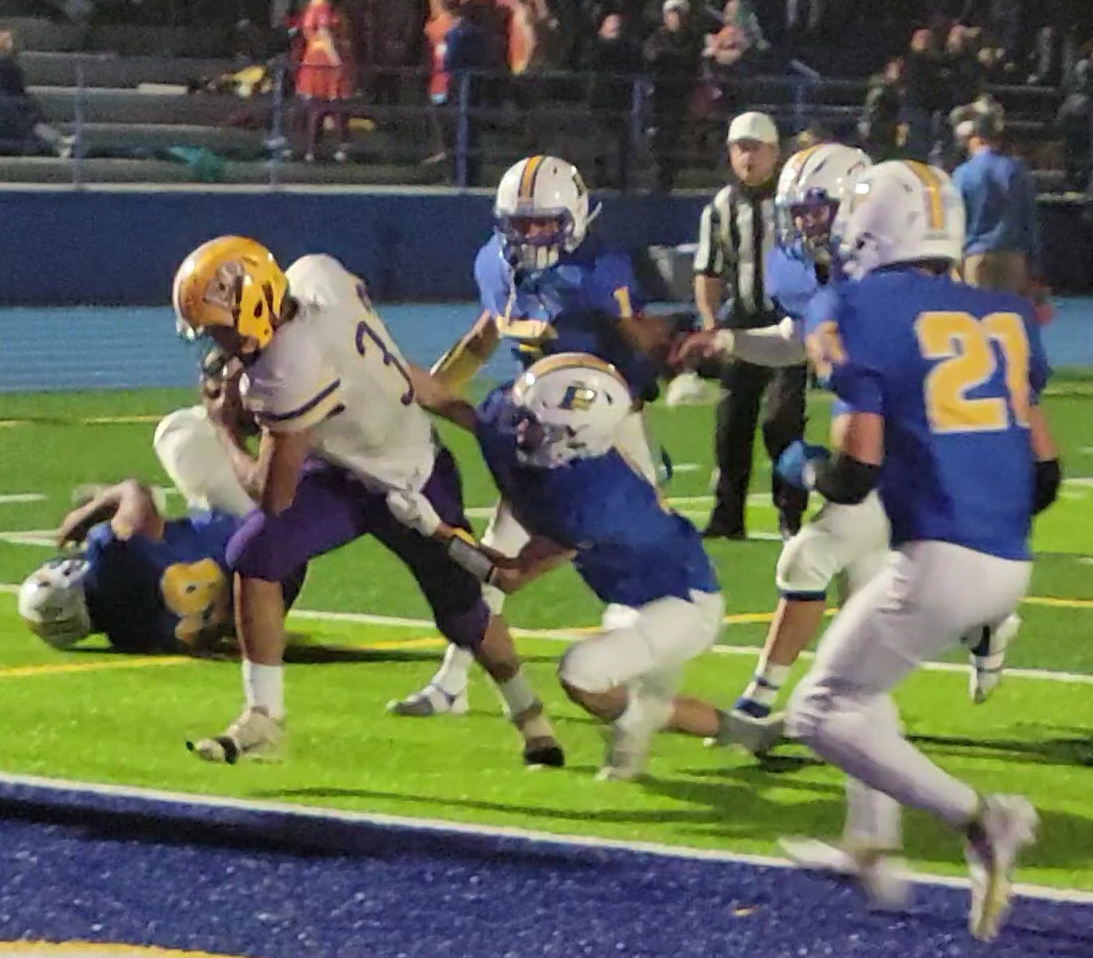 Nearly half a century after Pittsburgh Steelers Hall of Fame running back Franco Harris' immortal play, Blue Ridge High School fullback Franko Harris had an Immaculate Reception of his own.
Like the NFL rookie did in 1972, the junior caught a ball up for grabs just before it hit the turf, running it three yards into the end zone Thursday, Sept. 30, in a 15-13 win at Prescott.
"All I did was stay in my zone [and] read it," Harris said after his teammate, Cody Wallace, flung the football backwards right before the senior holder got tackled off a botched extra-point attempt in the second quarter. "I wasn't expecting it to come over [his] head. I saw it get tipped off the guys' fingers, caught it, and my first instinct was to get in the end zone."
Harris' conversion of an eight-yard touchdown run by senior fullback Sam Montoya with 7:15 to play in the first half managed to improve, by two points, on that first playoff win for the Steelers, who went on to win their first of six Super Bowls the next season.
The next month, in which Blue Ridge winds up its regular season facing four other postseason-ranked regional rivals, will tell if Harris' heroics laid a similar foundation for greater success.
"Franko kicked some butt," said new head coach Jeremy Hathcock, 2-0 since getting shut out at home by Snowflake, 41-0, in his region opener. "I mean, he's a warrior, both ways. Never left the field."
Harris, who also opened the scoring with a four-yard dive nine minutes into the game, provided the highlights of the most impressive win in Hathcock's first season.
"By far," said Hathcock, whose takedown of one of the powers of the 4A Conference was his second straight win after retooling his offense to run a double-wing formation. "It's one of the best wins we've had here in a long time. I don't know the last time we've beaten a 4A team.
"We played a physical game. We beat a great football team."
The run-heavy attack dominated both time of possession and the line of scrimmage for the second straight week, teaming Harris with Montoya and junior Seth Slaughter, all of whom had to sustain in-game injuries after two other running backs ahead of them on the Blue Ridge depth chart were injured against Snowflake.
"We lost to Snowflake in a bad way, [so] we took it on ourselves as coaches to correct a lot of things," Hathcock said. "And our kids respond.
"Our running backs did a great job being patient, setting the edge on their defense [and] staying in the push."
But then, the lights went out.
Even though their power was restored after just a moment, on a night when Hathcock's next opponent, Winslow, eked out its own two-point win at another 4A Conference power, Flagstaff, that should have been a sign the 15-0 lead was not safe.
A minute-and-a-half later, with 5:29 to play, it wasn't.
Harris, nursing a sprained right wrist, attempted to punt but saw the snap skip by him. He recovered the ball at his own 4-yard-line, only to be tackled immediately for a turnover on downs.
"Actually, I haven't seen a lot of those," Hathcock said. "So that's what makes it even worse."
Badgers junior Cody Leopold took the direct snap the very next play and stretched the ball just over the goal line.
Still, after the Blue Ridge defense stuffed a Badger rush on the subsequent two-point conversion attempt, it remained a two-possession game.
"What was going through all of our minds was, we need to be physical, we need to know our assignments, and we gotta get first downs if we want to come out of this game [with] victory," Harris said. "My line stepped up tonight: They really did a great job doing their assignments, knowing what to do [and] what's coming. Those guys did it all for us."
So Hathcock's strategy with the football remained the same: "Hold on to it."
Even though it meant giving Prescott the ball at the Blue Ridge 27 with 2:15 to play. Hathcock, not wanting to risk another punt, elected to go for it on fourth down, dropping back senior quarterback Hunter Martinez.
Martinez was sacked and injured on the play, again turning the ball over on downs. Wallace "will be ready," Hathcock said, if Martinez cannot go behind center Thursday, Oct. 7, against the Bulldogs.
Badgers quarterback Alex Vaughan needed just five more yards and 45 more seconds to take advantage, finding fellow junior Landen Aurich low and center from 22 yards to pull within two after the extra point with less than 1:30 to play.
Hathcock braced his special teams for the subsequent onside kick. It never came.
"I don't know why they didn't onside-kick it," he said. "I'm going to be honest: It blows my mind."
Prescott's assistant coaches, having burned all of their second-half time outs and minus their head coach, Cody Collett--recuperating from a Sept. 10 heart attack--instead chose a line drive kickoff away from the second wave of Blue Ridge up men. The kick bounced harmlessly out of bounds for a penalty.
Hathcock could at last celebrate.
"It's a lot of practice during the week," Harris added. "But all we've got to do is execute: stay humble, keep our heads down and do our jobs."