ALA Gilbert North VB captures own Spiketown Invite
October 2, 2021 by Les Willsey, AZPreps365
---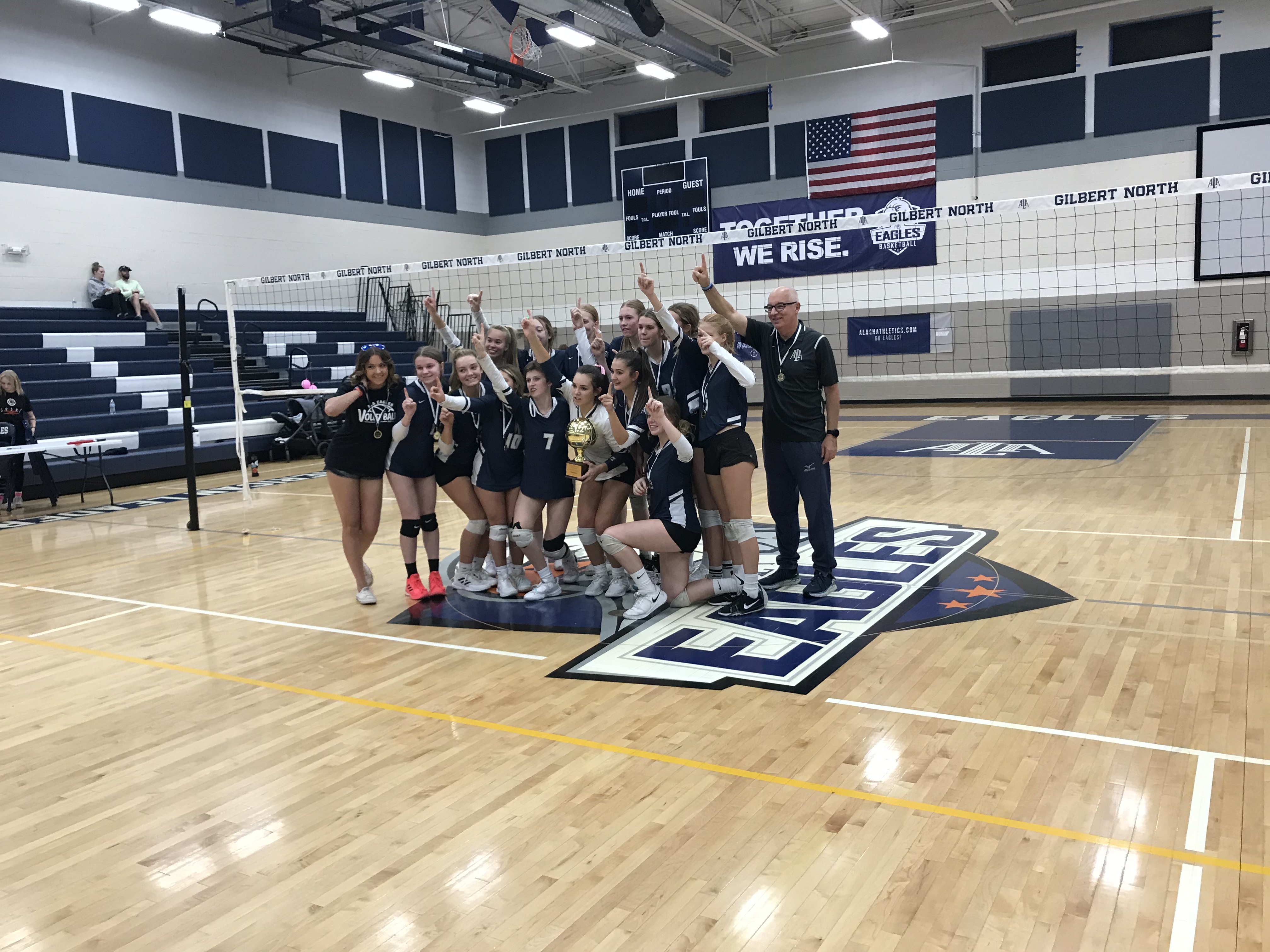 American Leadership Academy Gilbert North's volleyball team played the role of rude host this weekend. The Eagles won the elite bracket of their two-day Spiketown Invite Saturday afternoon with a 25-21, 25-20 victory over Valley Christian in the Gold Bracket final at ALA Gilbert North.
The tournament featured 12 teams, seven of those in the 3A top 12 of the latest AIA 3A power rankings. Included in that group was #1 Snowflake, #2 Valley Christian, #3 Thatcher and #4 Gilbert Christian.
ALA Gilbert's triumph in the Gold Bracket final avenged a power-ranking loss just two days ago to Valley Christian. Valley Christian garnered a sweep (3-0) in that match.
ALA Gilbert North coach Steve Crook didn't lose sight of the fact Valley Christian was playing without one of its top three attack leaders - Korah Nordin. On the flipe side, his team got the services for the first time this season of transfer Addisyn Brinkerhoff, who was eligible to play as of Friday after sitting out the required time of half her team's power-ranking matches.
"It's always nice to be able to beat Valley Christian because they are one of the top 3A teams every year," Crook said. "We had some advantages, but we played well and got early leads. Those helped us a lot. It was good for us to win this with the top four teams in the conference playing here."
ALA Gilbert North jumped out to 6-1 and 11-5 leads in the first set. Valley Christian led only once the entire match (1-0 in the first set). The second set was worse for the Trojans as they spotted the Eagles a 10-0 advantage. The only run Valley Christian made of note was cutting a 23-10 deficit in the second set to 24-20 before ALA Gilbert North secured match point.
Unofficial attack leaders from the match for ALA Gilbert North were Brinkerhoff (8 kills), Brooklin Bogle (7 kills) and Paige Howard (6 kills). Valley Christian was paced by Cara Braun and Kate Phillips with five kills apiece.
The Silver Bracket championship saw 3A Arizona College Prep defeat 4A American Leadership Queen Creek in three sets, 25-20, 20-25, 15-13. Then rest of the tournament field was 3A Thatcher, 2A Pima, 3A Gilbert Christian, 3A Snowflake, 2A Horizon Honors and 3A Blue Ridge.
Twelve players comprised the all-tournament team: Elli Wolthuis and Kali Nielsen, Gilbert Christian; Laney Morris and Kylee Dodge, Thatcher; Bogle and Howard, ALA Gilbert North; Braun and Phillips, Valley Christian; Macee LeSueur and Rylee Wingert, Snowflake and Aubrie Sherwood and Samantha Pippo, Pima.